As an official matter, the concern was that the goal celebrations might, as ESPN put it, "incite Balkan political tensions." After their crucial World Cup goals against Serbia, Switzerland's two Albanian-Kosovar stars, Granit Xhaka and Xherdan Shaqiri, both had flashed a "double eagle" gesture with their hands. This was an allusion to the eagle on the Albanian flag — a pointed political statement directed at the nation that had committed genocide against Kosovars and still rejects Kosovo's claim to independence.
In the aftermath of the game, FIFA debated whether to punish the players. Its disciplinary code recommends a two-game punishment for "anyone who provokes the general public during a match."
Back home in Switzerland, though, the criticism ran in a different direction. Right-wing nationalists were upset that Xhaka and Shaqiri had celebrated another country while wearing the Swiss colors. The gestures were proof that they ― and many of their teammates ― weren't "Swiss enough" to represent Switzerland at the World Cup.
"The two goals were scored for Kosovo, not Switzerland," Natalie Rickli, a National Council member from the anti-immigrant Swiss People's Party, tweeted. "At the World Cup we support Switzerland and we play for Switzerland."
The angry responses, fueled by the same anti-immigrant hysteria that has gripped Europe and other parts of the world in recent years, were as predictable as they were bigoted. None of the World Cup's 32 teams has benefited from immigration as richly as Switzerland has, and none stands more firmly than the Swiss at the crux of the European panic over nationalism and identity.
Eight of Switzerland's 23 World Cup players were born abroad, more than any other European team present in Russia, and more than all but three of the tournament's teams overall. The Swiss roster has seven players with ties to the Balkans, including Xhaka and Shaqiri. The squad includes a player born in the Ivory Coast, one from Cape Verde and three born in Cameroon. Defender Manuel Akanji is the child of a Swiss mother and Nigerian father; midfielder Denis Zakaria's parents are of Sudanese and Congolese descent.
Were it not for those immigrants ― many of whom play for top clubs across Europe's best leagues ― Switzerland almost certainly wouldn't be in Russia at all.
The country those players represent, however, has taken an increasingly skeptical view of immigrants like them, seeing their success not as a benefit of their presence but as an indictment of expanded immigration that has diluted the Swiss identity.
And many across Switzerland seem to agree with them. Rickli's Swiss People's Party holds 65 of the 200 seats in the Swiss National Council ― more than any other party ― gaining 11 seats in 2015 elections. The SVP, as the party is known, won nearly 30 percent of the national vote, breaking a single-party record it had previously set a decade earlier.
The SVP has successfully pushed measures to limit both immigration and cultural symbolism associated with foreigners and other religions ― Islam, in particular. In 2009, 57 percent of the Swiss population approved a measure that would prohibit the construction of new minarets in the country. Five years later, voters narrowly approved a referendum to limit immigration by placing quotas on the number of migrants allowed to enter the country. Switzerland has also considered banning Muslim women from wearing burqas.
The SVP has expanded its power primarily by railing against the sort of immigration that makes the Swiss national team what it is, and it has used the team's shifting identity to make its case. Before the World Cup, SVP member Ronald Koeppel called the national team "a seasoned troupe of foreign mercenaries with Balkan accents," according to the AFP. Koeppel also referred to its African-born players as "ensuisses," a derogatory term for foreigners.
"You can sort of see the football team as a microcosm," said Natalia Banulescu-Bogdan, an associate director at the Migration Policy Institute who specializes in European immigration. "You have significant levels of immigration, and you have people with dual identities. And there's a question of, is identity a zero-sum game? Can you be Swiss and Kosovar-Albanian? Can you be Swiss and Muslim? Can you show pride in the country of your birth, and the country of your ancestry?"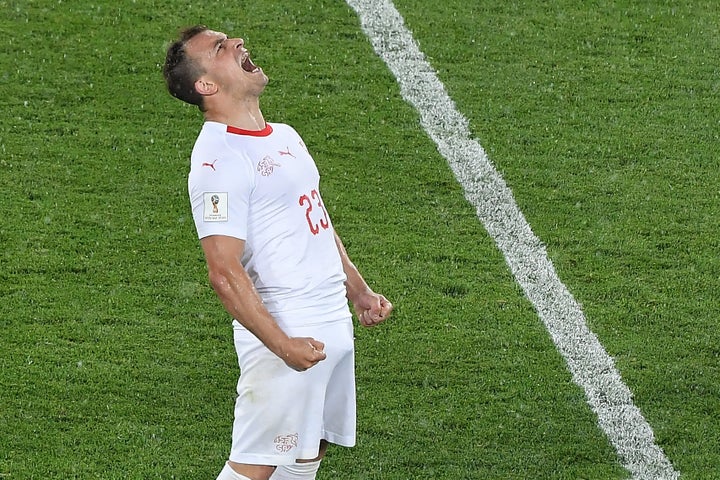 Switzerland has long had a large foreign-born population ― between 1960 and 1990, the percentage of the nation's population that was born elsewhere hovered between 17 and 18 percent. But because most of those immigrants arrived from Italy, Spain and other western European nations, the boundaries of Swiss identity rarely stretched beyond Eurocentric whiteness.
In the late 1990s and 2000s, though, Switzerland rapidly began accepting new immigrants, and migration from the Balkans, Africa, Turkey and the Middle East began to increase. Between 1990 and 1994, the country naturalized roughly 10,000 immigrants per year. That number increased to an average of 35,000 between 2000 and 2005, and hit its peak in 2006, when naturalizations nearly reached 50,000.
By 2016, there were more than 2 million foreign-born people living in Switzerland, accounting for nearly a quarter of the nation's population. Even today, most of them come from countries within the European Union, especially Germany, Italy and Portugal.
But there are also an estimated 110,000 Kosovars in Switzerland, and at least 300,000 people from Croatia, Macedonia, Serbia or Bosnia. More than 100,000 Africans and 60,000 Turks now call Switzerland home. And those totals don't necessarily account for people who were born inside the nation's borders to first- or second-generation immigrant parents.
That has shaped the identity of the national team. When Switzerland qualified for the World Cup in 1994, every player on its roster had been born in the country. The next time Switzerland qualified, in 2006, roughly half of the team was made up of first- or second-generation immigrants, and the question of whether "the Swiss team was really Swiss" began to emerge.
Three years later, Xhaka and Shaqiri were the faces of a group of young immigrants that led Switzerland to an unexpected victory at the 2009 U-17 World Cup, a tournament for which the Swiss had not previously, and have not since, qualified.
As the group of young stars aged, the Swiss national team emerged as one of Europe's highest-ranked teams, and one of the world's most ethnically diverse, too. Across Europe, they were "Swiss, but not as we know it." No team at the 2014 World Cup or Euro 2016 tournament had more players with links to foreign countries than Switzerland. In 2014, 15 of the 23 players on its World Cup roster were born abroad or had immediate ties to other countries, including Bosnia, Albania, Macedonia, Cape Verde, the Ivory Coast, Italy, Croatia, Chile and Turkey.
Despite the SVP's hysteria, Switzerland hasn't taken in large raw numbers of Balkan or Muslim immigrants and refugees, especially compared with other European countries, and its asylum claims have dropped in recent years, Banulescu-Bogdan said. Many Swiss, meanwhile, take pride in the diversity that is inherent in a nation with four official languages, no national religion and few cultural markers that qualify as uniquely Swiss.
But that also makes the national team a powerful focal point for immigration zealots like the SVP, since it is one unifying force where Switzerland's changing identity is most apparent.
"What we find with public attitudes on migration is that the volume of migration alone is not what determines public anxiety," Banulescu-Bogdan said. "It's really about the pace of change, and whether things have happened faster than what people anticipated or prepared for, and the visibility of that change."
Xhaka and Shaqiri are no strangers to Switzerland's immigration and identity debates. During national team matches, Shaqiri often takes the field wearing cleats adorned with both Albanian and Kosovar flags, a decision that has earned him criticism from Swiss fans and politicians. Xhaka faced media criticism over his perceived lack of effort during a match against Albania in 2015 ― some wondered if he'd purposely missed a chance on goal in order to avoid scoring against a country for which he'd once been eligible to play. (Xhaka's brother, Taulant, plays for Albania.)
Swiss national team members, too, have weighed in on the identity of their teammates.
"To me it is not about the`true Swiss' and the 'other Swiss,' rather it is about the question whether people still can identify with the national team," Swiss national team captain Stephan Lichtsteiner told a right-wing newspaper in 2015.
The SVP has not been universally successful ― in the last two decades, the Swiss have rejected as many anti-immigration ballot measures as they've approved. The party's zealotry has also forced Switzerland's citizens to deal with the complexities of immigration policy ― to contemplate, much as the British have had to do since Brexit, the complications their hastily supported policies could impose on their labor supply, freedom of movement and relations within the European Union, which helped persuade Switzerland to water down the strict language of the 2014 referendum.
Xhaka and Shaqiri's celebrations also carried their own complexities for any angry Swiss fans to consider. Had FIFA decided to suspend the duo for Switzerland's final group stage match against Costa Rica on Wednesday, the national team may not have advanced to the World Cup's knockout stages for the second consecutive tournament. Instead, it only fined the two players, along with a third who had joined them in making the pro-Kosovo double-eagle gesture: the team's captain, Stephan Lichtsteiner.
Neither Xhaka nor Shaqiri scored in Switzerland's draw against Costa Rica on Wednesday. Instead, the goals came from Macedonia-born Blerim Dzemaili and Josip Drmic, the son of Croatian parents — maybe not Swiss enough for the country's right-wing but Swiss enough to count as two goals. Switzerland are on to the Round of 16.
Calling all HuffPost superfans!
Sign up for membership to become a founding member and help shape HuffPost's next chapter