"Just winging it" has a completely different meaning for Brandon Mikesell.
In the video, Mikesell soars past jagged cliffs and a pastoral farmhouse, then almost grazes a stand of trees before ultimately zooming down a long trench and pulling his parachute.
In an email to The Huffington Post, Mikesell described himself as "the complete opposite" of an adrenaline addict.
"The same thing that is running through most people's head when standing at the edge of a cliff is what's running through my head," he said. "The nervous shakes, butterflies in my stomach, the paralyzing feeling in my body, and extreme sweating."
But it's all worthwhile once he takes the plunge.
"As soon as I step off that cliff I feel absolutely nothing! It is extremely peaceful, and all my worries and fears go away. My training has taken over and I am not feeling or thinking about anything as I fly through the air. I am living in the moment and that's what it is all about for me."
He told TomorroWoman he felt like the only person who had a stuttering problem when he was growing up.
Mikesell added that he's completed over a thousand jumps before venturing into more technical flights like the one featured in this video, so, yeah, don't try this at home.
This story has been updated with comments from Brandon Mikesell.
Related
Before You Go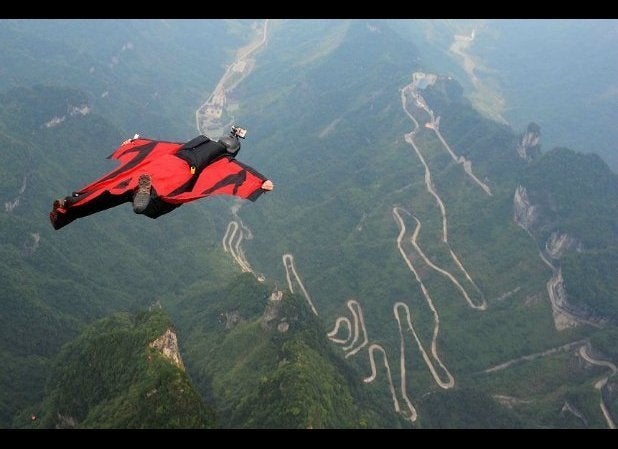 The World's Most Extreme Sports Competitions
Popular in the Community