Abuse of a child is against the law worldwide. Unless international laws are enforced, it makes no difference.
Brooklyn based Street Artist Swoon is lending her name and her talent to a legal organization which seeks justice for women and girls who have been raped and otherwise abused.
The fine artist whose work has appeared in the street, galleries, and museums over the last decade recently visited eastern Kenya with Mike Snelle, Director of London's Black Rat Projects, to participate in planning discussions for a project they will be doing this year in partnership with Equality Effect. The international organization of lawyers works to protect children and women around the world in conjunction with rescue centers, as well as to ensure that their rights are respected.
While in Kenya, Swoon lead a series of art workshops at a rescue center for girls between ages 4 and 16 years. These girls are part of project called "160 Girls" and its purpose is to take the Kenyan government to court and cause it to enforce existing international laws to hold perpetrators of violence accountable for their actions. Seeking justice and empowerment for girls and women, the campaign and association relies on contributions to assure that these girls see their day in court. Swoon intends to lend her name and efforts to raise funds and awareness throughout this year with plans for an auction and a special piece she is creating about the girls.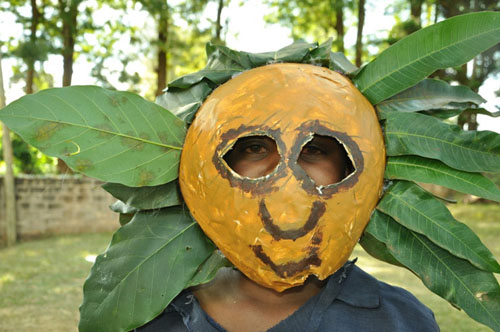 Swoon in Kenya (photo © Patrick Njeru Njagi)
Aside from laying plans for the program Swoon participated and taught a workshop on making colorful masks and head dresses with some of the girls in the center. The power of creativity in healing cannot be doubted, and participants reported how much fun it was to create their art project. Hopefully this workshop and others like it will continue to help the girls feel empowered and to gain self-confidence through having an outlet of creative expression.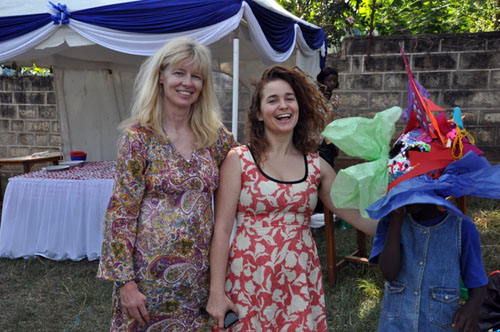 Swoon with Fiona Sampson, The Executive Director of Equality Effect and a girl with a new mask she created. (photo © Patrick Njeru Njagi)
Below are some photos of the workshops and the outstanding results of the students creativity. Please note: BSA has blurred some of the girls' faces to protect their identities.
We talked with Mike Snelle to learn more about the organization and his involvement with Swoon.
Brooklyn Street Art: How did you first learn of Equality Effect and why is their work important?Mike Snelle: Fiona Sampson, who runs Equality Effect came into the gallery one day and she sent me an email afterwards. Her email address is @theequalityeffect, which seemed to be an interesting address so I looked up what they did. Reading their website I knew what they were doing was really important so I reached out to see if there was any way we could help.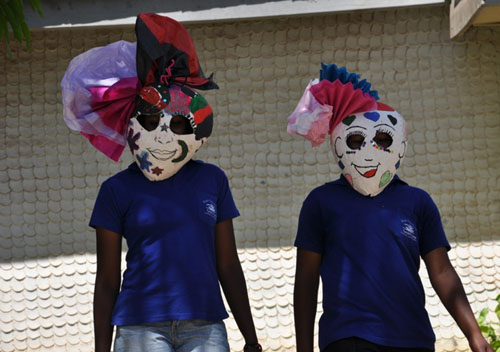 Swoon in Kenya (photo © Patrick Njeru Njagi)
I also thought that Swoon might be interested too. The Equality Effect are basically a human rights charity who are looking to use the law to protect and enforce people's human rights. International human rights laws already exist to protect the vulnerable but are often not enforced. What the Equality Effect do is take on governments on the behalf of the people whose human rights are being violated. I think this is part of what is necessary to affect deep lasting change.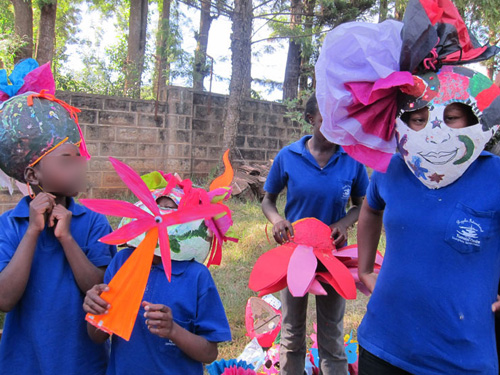 Swoon in Kenya (photo © Patrick Njeru Njagi)
Brooklyn Street Art: What role do you find galleries and artists can play in helping an organization like this to reach its goals?Mike Snelle: I feel like this is a conversation I have been having with artists like Swoon and Matt Small for several years; How to be an artist, or for that matter a gallery, and to contribute to the wider world and not stay within the limited confines of the art world. The art world is a funny isolated place and it feels important to reach outside of its boundaries to connect with people who are affecting change in the real world. For me it's about how to represent artists, do shows and sell works but not wake up with that empty sensation that you could be doing more with your life. It's about using the skills and contacts you have from the art world and then diverting those resources in a different direction.
It's particularly rewarding to work with artists because they can offer an on-the-ground experience, as well as help in raising awareness. This is an uplifting, creative, joyful experience for the kids. Following this there is a fundraising element. In this case an auction with the first work being a portrait of one of the girls made by Swoon.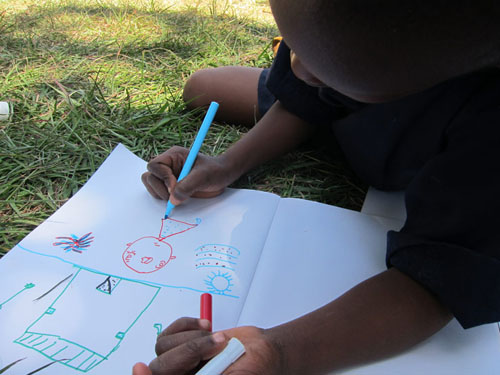 Swoon in Kenya (photo © Swoon)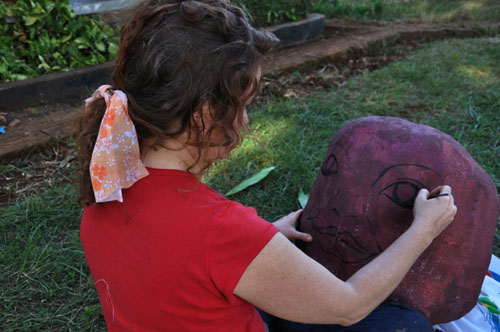 Swoon working on her piece at the workshop in Kenya. (photo © Patrick Njeru Njagi)
Brooklyn Street Art: What was your experience like during your time with the workshops at the rescue centre?Mike Snelle: I am still processing it a bit. It was simultaneously hard and joyful. You are working with twenty-five children between five and sixteen, all of whom are engaging, fun, creative human beings doing something fun and joyful. At the same time each of them has a difficult and traumatic story. It's an intense experience.
There were some really amazing people there and I guess that most of all I feel like I learned about a kind of compassion that some people have which is enduring and powerful and that somehow doesn't exhaust the person who has it. And something about how the most effective change is possible by listening to people on the ground who understand the community they are from in a way that's impossible to do from the outside where you can only impose a preconceived idea of what is needed in a way that is inevitably inaccurate. I think this is what the Equality effect do really well - partner with people on the ground and listen to what they need.
Swoon's completed piece. (photo © Patrick Njeru Njagi)
It was also important for me watching Swoon and Dana and Paulie-Anne and seeing that the more "present" you can be and more open you are, the easier you can create genuine human connections. And you know, kids have an amazing resilience, and the joy they get from making things is the same joy that I recognise from my own children. It was a lot, this trip. I think I'm still learning from it. We saw a hospital there that had been built but didn't have any equipment in yet. They had raised the money for the building but not for anything else. Asking about it we were told that if you believe in something, and just start it, then other people believe too and it will come to be. This seems like a thing. I'm rambling. It was a little overwhelming.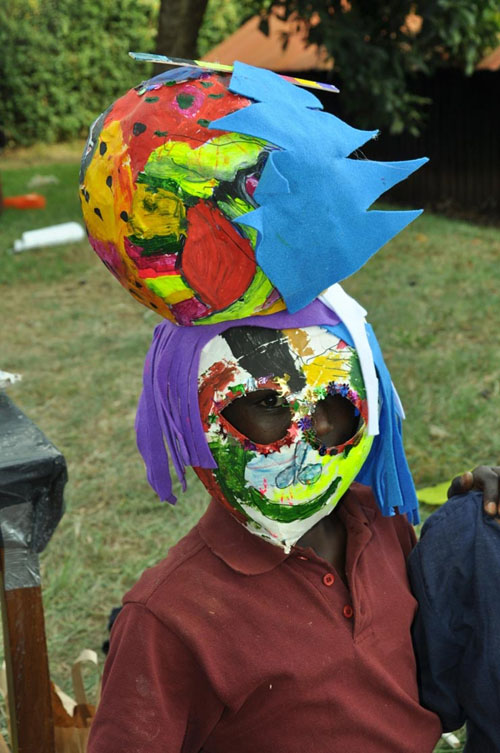 Swoon in Kenya (photo © Patrick Njeru Njagi)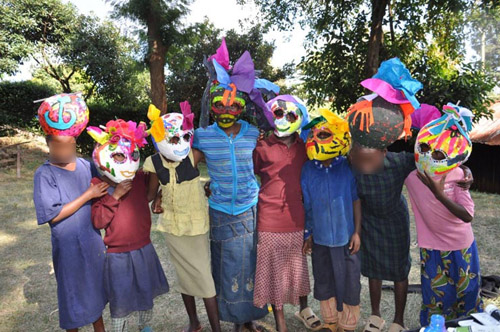 Students lining up to show off their brand new creations. (photo © Patrick Njeru Njagi)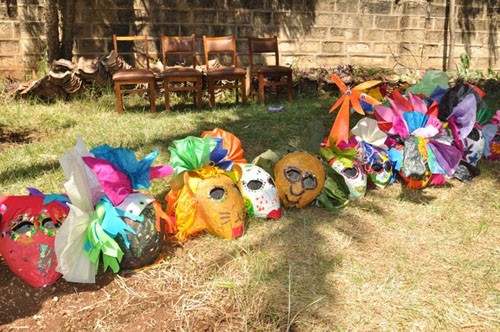 Swoon in Kenya (photo © Patrick Njeru Njagi)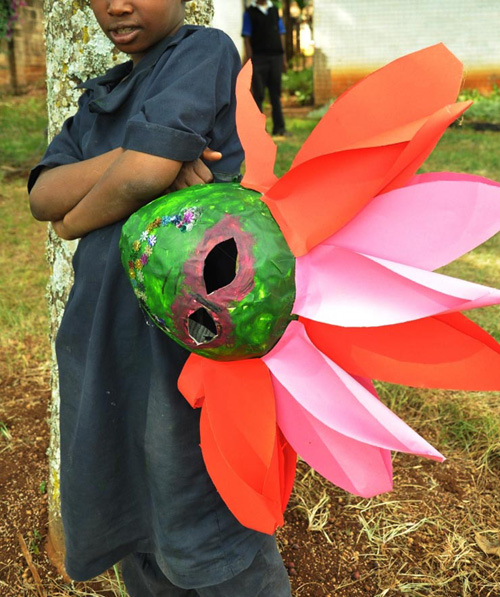 Swoon in Kenya (photo © Patrick Njeru Njagi)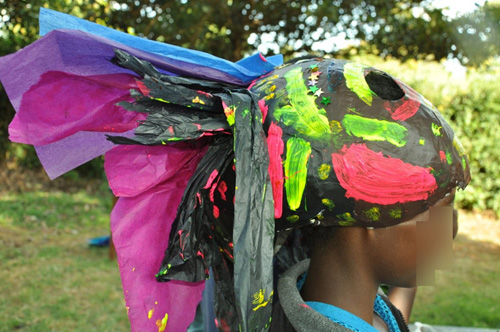 An elaborate head dress completed. (photo © Patrick Njeru Njagi)
<<>>><><><<>BSA<<>>><><><<>BSA<<>>><><><<>BSA
The Equality Effect is a non-profit organization that uses international human rights law to improve the lives of women and girls.
Read all posts by Steven P. Harrington and Jaime Rojo on The Huffington Post HERE.
Support HuffPost
The Stakes Have Never Been Higher
Related
Popular in the Community