On the outskirts of North Braddock, a tiny tree-lined town in the center of Pennsylvania's rust belt, there sits an abandoned 1900s Lutheran church. Once a gemstone dotted in the area's industrial steel industry, its façade is crumbling like the communities that once formed around it. Braddock may have lost 80 to 90 percent of its population to greener pastures when the industry collapsed some years back, but with the combined efforts of street artist Swoon, local arts organization Transformazium and cash-strapped art enthusiasts, its people are about to get a dose of color tossed back into their society.
Braddock Tiles is a collaborative art project launching today that gives as much as it gets. It aims to build an artisan micro-factory inside the church's walls to manufacture 20,000 honeycomb-shaped tiles that will restore the church's arches with a cacophony of candy-colored inlays.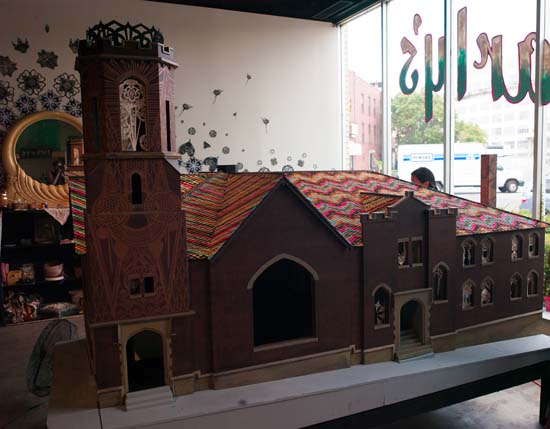 A scale model replica of the Braddock Tiles Factory church.
"I think having a landmark structure with thousands of beautifully colored tiles made by people in the area will change the mood of that block, instead of people just seeing houses get demolished or cookie cutter constructions go up," Swoon says of the project. "They're witnessing and participating in a hands on, people-powered reconstruction of the neighborhood's spaces."
In order to fundraise finances for this realization, over forty stellar artists, photographers and illustrators -- such as Saber, Revok, Logan Hicks, How & Nosm, Gaia and Swoon herself -- have donated digital prints for sale at braddocktiles.org.
The kicker? Each print, regardless of the artist, will set its owner back a measly $45. With many of the artists involved selling similar prints for hundreds of dollars, not only is Braddock Tiles creating accessibility for avid young art collectors, but also allowing those donating to contribute to the revitalization of Braddock.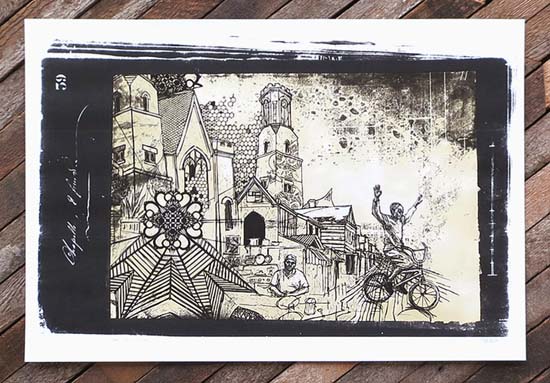 Swoon's art print Cross Section: Hawkins Ave, available here.
Each image has been professionally printed by Swoon's studio onto archival Canson Mi-Teintes paper in an edition of 250 and comes stamped with a Braddock Tiles authenticity seal. The full list of artists can be seen here.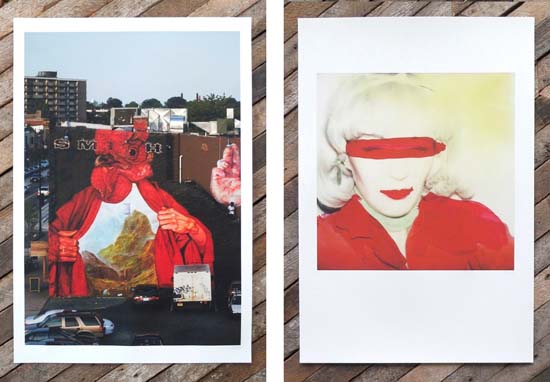 L-R: Gaia's art print The Dusk Of H Street, available here; Maripol's art print Red Riding Hood, available here.
All money raised will go towards materials and infrastructure, creating paid jobs for the people of Braddock and setting up the micro-factory to operate long term, thereby providing a cultural nucleus to attract visitors from nearby areas. Not only will the Braddock Tile Factory become the town's new creative hub but also create handcraft-based job sustainability for the once-fledgling community.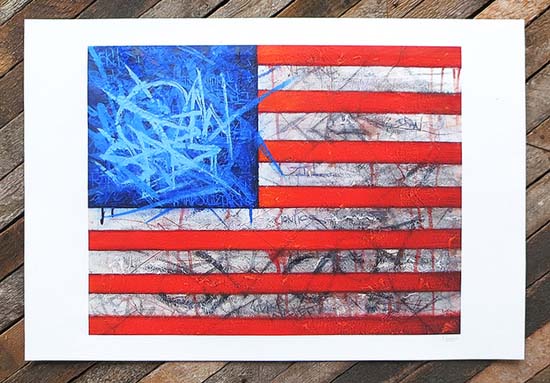 Saber's art print Death Head Wasp Defense Concepts, available here.
"I am hoping to grow the space into something truly unique and wonderful; a place of education, community building and creativity," Swoon says. "That dream is still unfolding, so right now we are taking the reconstruction of the building one piece at a time and making each of those pieces a special event of its own."
To purchase a print and assist the project, head to braddocktiles.org, or keep up to speed with new additions (such as whispers of Faile, ROA and Jamie Rojo prints soon to be released) on their Facebook page.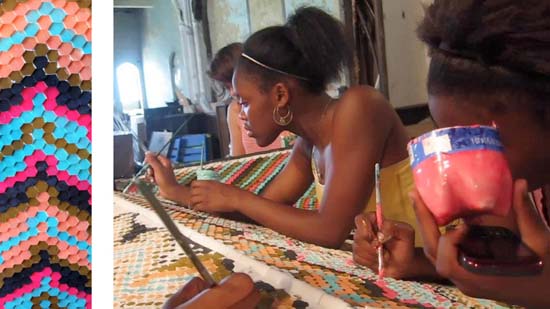 L-R: interpretation of honeycomb pattern design; Braddock's residents creating the scale model replica.
REAL LIFE. REAL NEWS. REAL VOICES.
Help us tell more of the stories that matter from voices that too often remain unheard.