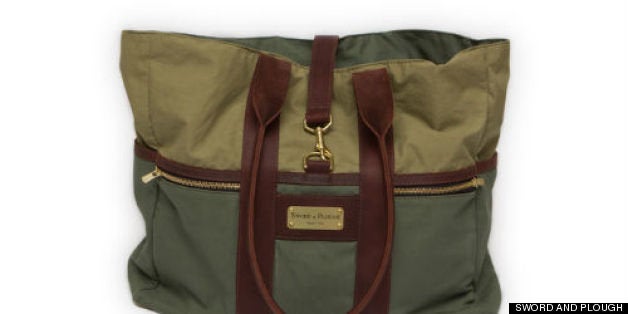 I recently had the opportunity to meet a talented team of entrepreneurs who launched a brand named Sword & Plough that employs veterans to repurpose military canvas into stylish bags. It's a simple idea with hugely inspiring implications. The more I learned the more excited I was by their business model and vision, not to mention the bags are gorgeous. On top of it all, each piece is manufactured in the United States and 10 percent of profits are donated to the Wounded Warrior Project and Veteran Green Jobs.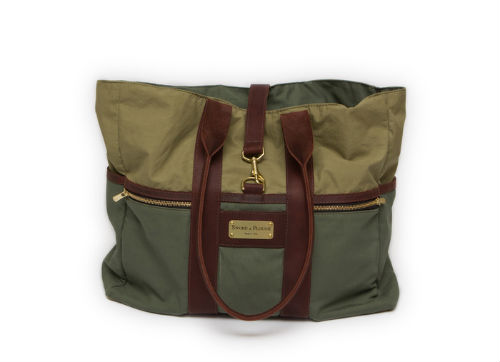 The idea behind Sword & Plough started with Emily Núñez, an officer in the U.S. Army Military Intelligence Branch. Through conversations with colleagues and veterans, she was disturbed by the difficulties that faced veterans trying to return to civilian life, specifically in re-entering the workforce. Through the help of the Middlebury Center for Social Entrepreneurship, which was made possible by Alan Hassenfeld, Emily was able to explore the possibility of repurposing military canvas into handbags.
At the prompting of her sister Betsy, they entered their idea in Harvard's Pitch for Change competition and won first place. As a result, they were awarded $6,500 and free consulting to start their business. As of this week, bags and other products are available for purchase on Kickstarter.
The brand launches at a critical time when veterans are increasingly faced with the challenge of re-entering the workforce. According to the U.S. Department of Labor the current unemployment rate for post-9/11 veterans is 9.2 percent, significantly higher than the U.S. unemployment rate of 7.4 percent.
Recognizing this tremendous gap, the company has four bottom lines:
People: Sword & Plough originates from genuine inspiration and care for its veterans sewers, as well as the community it has created around its mission.
Purpose: Sword & Plough is "repurposed for a purpose™." They have the goals of facilitating veteran employment, reducing waste, and making a profit, but also have the goal of increasing awareness of the military and veteran reintegration issues in civilian communities. The essence of this important mission is to strengthen civil-military relations.
Planet: Sword & Plough bags are made in the U.S. with care for the planet. By using recycled materials they use up to 95 percent less energy and raw materials than bags made from non-recycled materials.
Profit: Sword & Plough is a registered Limited Liability Company (LLC) with a goal of making significant profit. In the future they will look into becoming a registered B Corporation.
Since launching this week, the company has had remarkable success. With an original goal of raising $20,000 in 30 days, they surpassed it on day one. I'm thrilled for the team and can't wait to see what they come up with for their next line of bags.
Related
Popular in the Community