It may be hard to swallow, but sword swallowers do more than entertain people by sticking things down their throats. A few have been on the cutting edge of medicine as well.
"Most people don't realize the contributions sword swallowers have made in the fields of science and medicine over the past 150 years," Meyer told HuffPost Weird News. "In 1868, a sword swallower was used by Dr. Adolf Kussmaul in Freiburg, Germany, to develop the first rigid endoscopy. It was a long thin tube with a mirror and a candle at the end and the sword swallower -- whose name has been lost to history -- was the guinea pig."
In addition, a sword swallower underwent the first esophageal electrocardiogram in Wales in 1906, but again, his name has been lost to history.
Meyer just doesn't think that's right. "Sword swallowers go unrecognized, but their physical and mental abilities to shut off bodily reflexes is very helpful to scientists studying the inner workings of the body," he said.
Meyer has made his own contribution to medical science as well with a ground-breaking research paper titled "Sword Swallowing And Its Side Effects," which was published in the December 2006 British Medical Journal and is considered the first comprehensive medical study in the 4,000 year history of sword swallowing.
But while science is starting to recognize the cutting-edge information sword swallowers can provide, Meyer and other "knifers" have been trying to show the world the contributions of sword swallowers by holding World Sword Swallower's Day every February for the last six years.
On Feb. 25 this year, dozens of the world's estimated 200 sword-swallowing men and women will be showing up at various Ripley's Believe It Or Not! Odditoriums around the world to swallow their swords at exactly 2:25 p.m. local time for 12 seconds.
"We set it up because there's President's Day, Mother's Day, Father's Day and we wanted to raise awareness of how sword swallowers have contributed to science and medicine," said Meyer, who will be performing at the Orlando Ripley's museum.
Why February? Well, it's National Swallowing Disorders Month and the participating swordsmen and women plan to raise money for esophogeal cancer research and a relief fund for injured sword swallowers set up by the SSAI.
PHOTOS: DAN MEYER AT HUFFPOST (Story continues below)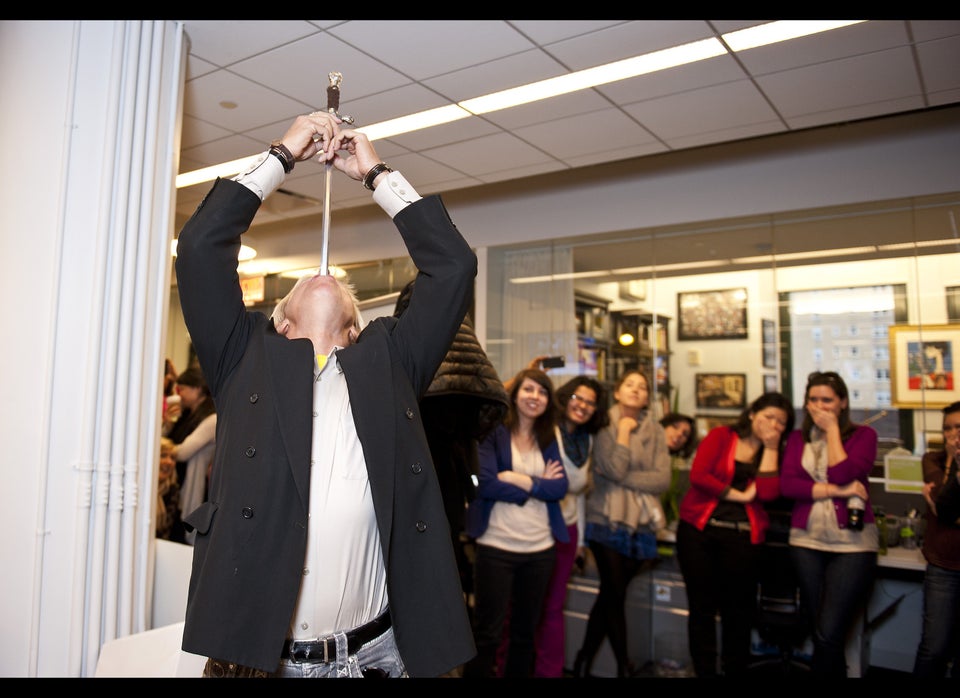 Sword Swallower - Dan Meyer
The relief fund is important for sword swallowers like George "The Gentle Giant" McArthur, who said that training himself to swallow long objects has had major physical effects on his body.
"Being a sword swallower means being aware of the passageways in a way the average person is not," said the 7-foot, 3-inch McArthur. "Once you learn the skill, you have to effect the various sphincter muscles down the throat and be aware so something doesn't go down the wrong passageway."
He said sword swallowing can also be a pain in the neck -- literally.
"I am more prone to neck pain as well," said McArthur, who will be performing at the Hollywood Odditorium. "I have to position the neck so a sword can go straight down. But that means my neck is now in a different position than it was six years ago."
Ripley's will be matching every dollar raised by the sword swallowers. According to spokesman Tim O'Brien, it's the group's way of paying respect to the art form, which he said has been a part of the organization since founder Robert Ripley created the first Odditorium in 1933.
"Ripley brought sword swallowing to the forefront," O'Brien said. "Everywhere he set up an Odditorium, he always had sword swallowing."
O'Brien said that sword swallowing has managed to remain "unbelievable" compared to other once-standard sideshow attractions.
"Ward Hall, a famous sideshow promoter, told me, 'It used to be when you had a sideshow, you had to have a fat person and a tattooed person, but now you can see that just going to a mall.' That's not the case with sword swallowing."
In addition to raising awareness for the important contributions sword swallowers have made to science and medicine, McArthur said there is another, just as important, part of Sword Swallowers Day.
He explained, "The day shows that an art form that was slowly vanishing is coming back now more than any time in the last 50 years."
Support HuffPost
The Stakes Have Never Been Higher
Related
Popular in the Community