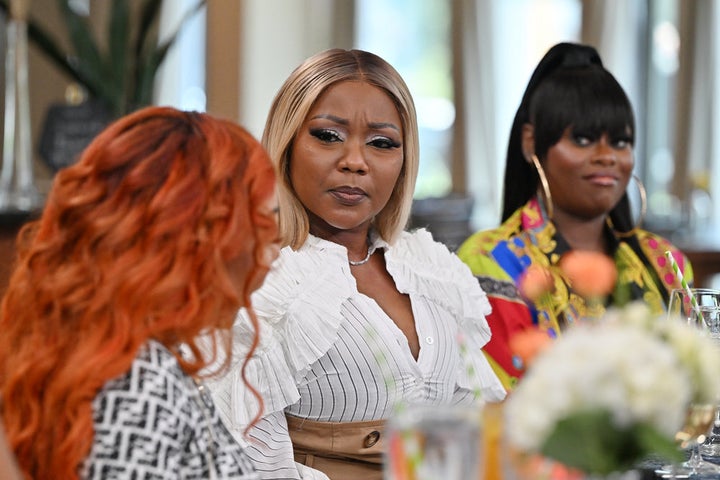 Bravo's six-part limited series "SWV & Xscape: Queens of R&B" will conclude on Sunday, and for some fans of both legendary R&B groups from the 1990s, it's the best thing for all parties involved.
Last November, Xscape's Tameka "Tiny" Harris teased that the special would make for captivating television.
"Let me tell you, it's gonna be the number one show on the network," she jokingly told ET. "It went from a reality show to a whole movie."
Tiny couldn't have predicted how much audiences would be talking about the show, but "SWV & Xscape: The Queens of R&B" reached a series high in ratings in its penultimate episode. Based on all of the commentary surrounding the show, it's likely that its viewership will only rise for the finale.
Making a successful TV show is worth celebrating, but the ultimate goal was to launch a joint tour with two legendary girl groups — which is why no matter what airs in the actual finale, the special will end with disappointment if you consider what might have been.
This show is less about two groups coming together and more about one group imploding while managing to piss off the other.
In the first episode, we learn that two members of Xscape, sisters Tamika and LaTocha Scott, are at odds with each other — culminating in Tamika accusing her sister of stealing $30,000 in royalties from her some years back.
LaTocha has staunchly denied her sister's claims. But Tamika posted a YouTube video of receipts and called LaTocha and her husband, Rocky Bivens, the "simplest criminals in the world." Then Tamika shared a screenshot of a text she believes was sent from the couple threatening to release a sex tape of her.
Meanwhile, as Xscape was working with SWV on a test show in California with the hope of touring, LaTocha was once again trying to launch a solo career — without telling her group members — via a new gospel deal with Motown.
(As for that gospel deal, Tamika recently said on "Watch What Happens Live" that the deal was originally offered to both sisters.)
That move only frustrated Kandi Burruss, who noted that LaTocha was being noticeably distant from the group and recalled her behavior when Xscape originally disbanded.
For those of us who watched Xscape's other limited series, "Xscape: Still Kickin' It," we knew that the members had their issues, but assumed, perhaps, that they had reestablished enough rapport at least to work together and make money this time around.
How can a group with so much inner turmoil successfully work with others?
"SWV & Xscape: Queens of R&B" reminds me of "Ladies' Night," a BET reality series SWV did with another group, Salt-N-Pepa.
On that show, Salt-N-Pepa had plenty of internal problems — namely with their DJ, Spinderella. Much like Xscape is doing now, Salt-N-Pepa often downplayed SWV and the value they would bring to any potential tour bill.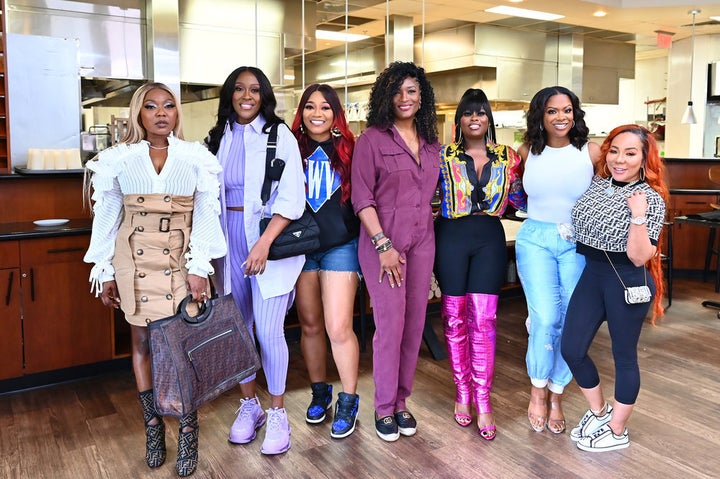 This tension comes to a head on "SWV & Xscape" by Episode 3. Audiences see the two groups in conflict over who gets to headline. SWV wants to co-headline, putting aside egos and sharing top billing. Xscape feels like they should be headliners.
Kandi, Tiny and Tamika make the case that the reality-TV successes of Kandi and Tiny have provided them with the kind of social media capital that makes Xscape the more marquee act.
On paper, SWV has sold 30 million records globally to Xscape's 9 million. Domestic album sales are closer, but SWV, which was undoubtedly the more successful group in the 1990s, still leads.
However, as Xscape members keep arguing both on the show and in way too many YouTube videos, they have more pull these days, as evidenced by their successful arena tour a few years ago.
I went to that Xscape tour and loved it; "Off the Hook" is a classic in this house. However, context matters: The group reunited following a hugely successful special airing on Bravo and brought Monica and Tamar Braxton, two popular R&B artists with their own built-in TV audiences, on tour with them.
More recently, Xscape, with three or four members, do spot dates as headliners or co-headliners — sometimes with several other groups on the bill. (In June, Xscape is performing with Ginuwine, Tyrese and other artists in San Francisco and Atlanta. LaTocha is noticeably not pictured on either flier.)
I don't say that as a diss, but perhaps the reason series producer Mona Scott-Young approached each group about doing the show was to re-create the magic of launching a successful arena tour in a way that hadn't been done before.
Instead, we have almost every corner of the internet arguing over which group is bigger. I fault Kandi and Tiny for that because they have repeatedly argued their points on social media — often in ways that, understandably, might sound insulting to SWV.
"I just felt like it could have been done a lot better," SWV's Leanne "Lelee" Lyons told Insider. "Something that could have been so amazing and great just ended up being a show full of insults."
It's no wonder that SWV's Cheryl "Coko" Gamble, when asked what the highlight of the show was, said, "Getting paid." Taj Johnson-George quipped, "Going home."
Can this tour be salvaged?
Earlier this week, Tamika Scott told TMZ that she accepts her sister LaTocha's apology, and in spite of how things might seem, Xscape and SWV "are good."
She went on to say that "if the numbers are right," the groups will go on tour.
But when SWV appeared on "Sherri" on Thursday, they said they were "OK" with Xscape while expressing some mild regret for doing the show. They don't seem over what has been said, repeating their claims of being disrespected. As for any joint tour, Coko said, "If it's fair, we'll be there in our overalls and flats," a nod to Tiny's diss of the group's usual stage attire.
But, much like the end of "Ladies' Night," Coko assured the crowd that SWV is going on tour soon — with someone else. (As of now, they have announced two concert dates in April and May.)
For what it's worth, I hope the groups do figure out how to do a co-headlining tour.
Free advice: Xscape should open with "Just Kickin' It," SWV should close with "Weak," the groups should interact onstage as originally promised, and they should all try working out the logistics through their management — perhaps off camera.
Popular in the Community