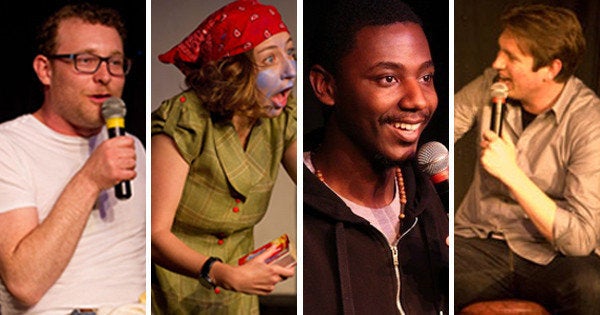 SXSW Comedy was bigger than ever this year, and thusly, so was our coverage. Between the four HuffPost Comedy editors -- Carol Hartsell, Ross Luippold, Katla McGlynn and Christine Friar -- that were on the ground giving live updates on the shows (we counted going to about 35 total over 9 days), we're proud to say that we provided the most exhaustive coverage of the comedy programming at the festival that you'll find anywhere. Be sure to read our live blog of commentary, photos, videos, interviews and more that we collected from March 8 - 18.
For a more exhaustive look at each day of the festival, check out the daily recaps provided by the indespinsible Samantha Pitchel, who clocked in double duty by blogging for us as well as running various duties for SXSW Comedy. Thanks, Samantha!
Below, find our final thoughts on what stood out to us the most at the festival.
BEST OVERALL SHOW
"You Made It Weird with Pete Holmes," with guests Judd Apatow, Todd Barry, Chris Gethard and Kumail Nanjiani
One of the biggest stories to come out of SXSW Comedy this year was the dominance of the comedy podcast. Eight different podcasts performed live editions in Austin this year, but the standout among many, many excellent shows was Pete Holmes' "You Made It Weird." It wasn't just because of the star power brought by Judd Apatow, who agreed to be on the show less than a day before. In fact, some of the best moments of the show occurred when the other comedians on the show (Todd Barry, Chris Gethard and Kumail Nanjiani) realized that their conversation flowed so effortlessly and naturally that they were upstaging Apatow and needed to take it down a notch. Any show that includes a candid discussion of sensitive men shamelessly comparing the number of "pumps" that they delivered when losing their respective virginities immediately followed by an impromptu, awkward Hollywood pitch meeting (unbeknownst to Gethard, Apatow recently had bought his new memoir) is a winner. A weird, weird winner. You can download the live episode here.
MVPs
James Adomian and Pete Holmes
Let's get one thing out of the way: You don't get to appear on the bill at SXSW without being a great comedian. Period. But we were particularly impressed by James Adomian for the first half of the festival, and Pete Holmes for the second. Adomian ran the gamut on the "Comedy Bang! Bang!" trio of shows: He performed nearly half an hour of master-class stand-up comedy on the showcase, acted in character as the truly disgusting food critic Merrill Shindler on the "CBB" podcast, and lit up an otherwise uncomfortable show with his conspiracy theory-obsessed Jesse Ventura impression on the IFC live TV show preview. Adomian left town after only a few days, but his presence at the first half of SXSW Comedy was undeniably felt.
Pete Holmes was also strong right out of the gate: His first show, a live taping of his podcast "You Made It Weird," was our favorite overall of the festival. Live podcasts can be hit-or-miss, but Holmes did an outstanding job letting the comedy breathe in the midst of a high-octane conversation between vastly different personalities. He really shone during his stand-up set on the Upright Citizen's Brigade's Best Damn Stand-Up show, which he closed after an unexpected 10-minute drop-in set by Ron White (Edit note: We previously miswrote that it was The Super Serious Show). He also performed exceptionally on The Set List, where comics were given an impromptu topic to riff on with no prior warning. His mix of warmness, quick crowd work and energetic charm set him apart in a lineup of comics who are all at the top of their game.
OTHER STANDOUTS
Seth Morris: In character as Bob Ducca, Scott Aukerman's pathetic "ex-stepfather," Morris provided two of the most memorable moments of the first few days. At the second "Comedy Bang! Bang!" stand-up showcase, he stripped down to his underwear, and in a moment that will be burned in the minds of SXSW attendees forever, revealed parts of his manhood that podcast audiences will never glimpse. At the "Bang! Bang!" podcast, he again played Ducca, and provided a spectacular moment near the end when he realized how uncomfortable he made the panel and the audience by saying the name of Rick Perry's infamous ranch aloud -- and then improvised an entire rap about it, repeating the name as much as possible.
John Hodgman: Most people don't think of Hodgman as a stand-up comic per se, but his performances at the Super Serious Show were some of the most memorable of the festival (and not just because he gave us a private tour backstage). In the second show, he started his set at around 1:00 a.m. by stomping onstage clad in sunglasses before violently knocking over the mic stand, kicking off his boots and throwing Doritos Jacked chips all over the stage -- a far cry from the mild-mannered personality seen on "The Daily Show" and in Apple commercials.
"Comedy Bang! Bang!": We saw three different incarnations of "CBB" at SXSW, and each one had their own unique feel. Scott Aukerman's "CBB" stand-up showcase made its fifth appearance in as many years at the festival, this time featuring Seth Morris as the unforgettable Bob Ducca, James Adomian's gay villian and Barnes & Noble impressions, and a full set of home-runners that left us howling on the first night of the Comedy programming. The highlight of the live "CBB" podcast had to be Tim Heidecker's failed attempt at generating buzz for a #RIPNewt memorial after the show. Finally, the live version of the upcoming "CBB" TV show at the IFC Crossroads House went hilariously off the rails when Tim Heidecker wrestled James Adomian, Kumail Nanjiani kicked some douchebag out of the front row for failing to shut the hell up, and the crowd gave Reggie Watts the most attention of all. (You can download the live podcast here.)
"Bob's Burgers" Live: When an animated show with as many stand-up comedians voicing its characters as "Bob's Burgers" puts on a live performance, you really get to see how much raw comedic power is behind the cartoon. Show regulars Eugene Mirman, Kristen Schaal, Dan Mintz and Larry Murphy, along with with fellow comedian (and future "Bunk" host on IFC) Kurt Braunholer did a noteworthy stand-up showcase at Esther's Follies that the audience loved. It was obvious that people were excited to see the voices from the show telling jokes the characters normally wouldn't say.
Greg Proops: Although we weren't able to enjoy Proops' commentary on political comedy and the Internet due to his falling ill before a panel he was scheduled to appear on, we did get to see him perform several times during the festival. He killed it playing The Leonard Maltin game on Doug Benson's "Doug Loves Movies" where James Adomian also did an eriely spot-on impression of him. Proops had us learning new things on his live "Smartest Man In The World" podcast and even showed us his perfect Wolf Blitzer impression backstage.
Gabe & Jenny: Most of Gabe Liedman and Jenny Slate's comedy is unprintable on a family blog, but just take it from us that if there was a Nobel Prize for poop jokes they would walk away with it each year, while pooping.
Beth Stelling: With the limited number of female comedians appearing at SXSW, each one that performed made a big impression on us. We mentioned Kristen Schaal, Jenny Slate and Martha Kelly already, and Jessi Klein and Brooke Van Poppelen also had excellent sets. But the standout to us had to be Chicago-based comedian Beth Stelling, who we East Coasters hadn't had the opportunity to see much of previously. Her stand-up is so accessible and smart, she has no problem getting the men in her audience to crack up over a tilted uterus joke. A+.
Chris Gethard: A favorite of the New York improv crowd, Gethard brought his bizarro talk show, "The Chris Gethard Show," to SXSW... on the Austin Convention Center trade room floor. While techies and industry types were scouring start-up booths to find the hottest deals on vacations and apps (or whatever it is they do exactly), Gethard and his merry band of outcasts were busy playing The Carnival of Human Exploitation, which is pretty much exactly what it sounds like. Balloons, hula hoops, and silly string were only part of the ruckus that went down alongside the regular cast of improvisers and musicians that make up Gethard's show. It ended with a parade of chanting audience members following around The Human Fish (a hairy man in swim trunks, goggles and flippers) who was swinging around a giant dildo. All in all, a success. Gethard also was promoting his wonderful new book, "A Bad Idea I'm About To Do," and experienced possibly the most surreal moment that a comedian could have when Judd Apatow told him had recently bought it, and teased him about optioning it -- in front of a live crowd.
"Sleepwalk With Me": Mike Birbiglia's sublimely affecting film could be summed up as such: A struggling comedian's anxieties about life and commitment become manifest in a life-threatening sleep disorder. But "Sleepwalk With Me" is so much more than that. It inspires familiarity not just in those who already know the restless heart of comedy, but in anyone who's ever had to negotiate a conflict between love and career. It's also a genuinely funny, soul-searching road movie. And who doesn't like those?
Jerrod Carmichael: Every now and then, it seems like a comic pops up on everyone's radar at once and nobody can quite explain why. In Jerrod's case, his instantaneous rise among stand-up observers is easily explained: His relaxed delivery, intelligent and sharp, insightful stand-up make him a joy to watch. Keep an eye on this one.
The Venues: Esther's Follies is normally a theater that houses a long-running improv show meant to appeal to families and tourists, but during SXSW, it transforms into a wonderful stage for stand-up comedy in the heart of downtown Austin. At least, it was during the Interactive portion, because during the latter part of the festival, it was impossible to ignore the bass-heavy dubstep bleeding through the walls, not to mention the less-than-friendly volunteers that Music seems to attract. But the large lobby, full bar and welcoming grotto made Esther's the easy champ. Good thing, because the vast majority of shows took place there. Less well-equipped for comedy shows was the IFC Crossroads house (located at Vice Bar this year). The triple-decker open-space bar is a spectacular space for a party, but was not an ideal venue for the "Comedy Bang! Bang!" or "Bunk" live previews, as evidenced by some restless crowds and a separate bar that was unfortunately close to the onstage shenanigans.
Austin Comedians: Although several great Austin comics were conspicuously absent from this year's lineup (there were rumors that the upcoming Moontower festival would not allow some performers to appear at both Austin events), it was great to see the vibrant Austin comedy community of stand-ups perform alongside national headliners. Chris Cubas, Martha Kelly and Nick Mullen all had great sets, both at Austin specific showcases and otherwise.
That's it. We're exhausted. See you next year, SXSW!
Popular in the Community