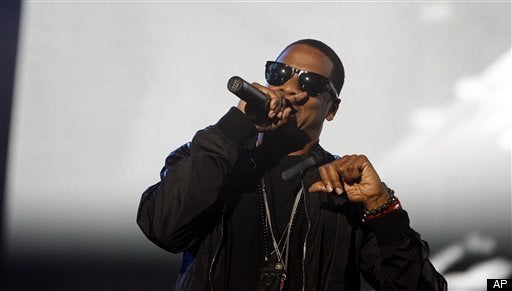 Along with hosting a wide array of content, SXSW Interactive has become a showplace for companies trying to bring their brands to life for the thousands of people who attend the conference. As the price of a SXSW badge continues to rise, and the conference continues to spread its wings through larger parts of Austin with more than 15 sites spread out the city, larger brand activations have also grown from swag giveaways to include content and programming featuring experts on par with those speaking at panels.
After a few days of unexpected Austin rain, I joined Kristin Ciccone and Grace Meiners of the AOL Advertising team for a walk around Austin to see how marketers brought brands to life. Here were some of our favorites:
American Express Sync with Jay-Z Show
It's hard to discount the amazing job American Express did at SXSW. By launching their new Twitter sync product which allows you to tweet with hashtags to "load" discounts to your American Express card for major partners including Whole Foods, Zappos, McDonald's, Virgin America and more, they were able to redefine social commerce.
But on top of that, they offered up an amazing launch incentive for people to sync -- a live performance featuring none other than Jay-Z, in as small of a venue as he has played in years -- which required people to sync their cards, and present them early in the morning to receive tickets. I was lucky enough to qualify for tickets, and the show was amazing. The post show tweets on #JayZSyncShow were full of thanks to American Express for making things possible. Nothing better for brand sentiment than that.
Pepsi brought back their Zeitgeist screen for another year, featuring social content contributed by conference attendees, on a giant screen designed to have the feel of a train station. The space also featured a series of product demos and nutritional facts, a social vending machine, and an interactive phone booth that words can't even describe. Pepsi also hosted a schedule of brainstorming sessions featuring Gary Vaynerchuk, Toby Daniels of CrowdCentric, and Alexis Ohanian, founder of Reddit, amongst others. But my pick for the coolest swag of the conference, and the best interactive experience was the "What If" program, where they gave 200 conference attendees specially designed LiveScribe pens (pens with a little camera inside to record drawings and gestures) and notebooks to share their SXSW experience. Read Kristin's interview with the folks who designed the program and learn more about the inspiration behind it.
Featuring a "social" refrigerator that opened only after 10 people checked in on Foursquare, a MakerBot Replicator 3D printer, a precision laser cutter, some folks welding (!) things, sample of products by Quirky (a brand that makes products submitted and voted on by users) and regularly scheduled demonstrations with people who, well, make stuff, the GE Garage was a genius way to bring GE's component business to life for consumers. Take a deeper look at GE Garage on our Advertising Blog.
Spotify's home away from home, east of the Convention Center, featured a home-y experience, live musical acts, and a respite from the craziness going on downtown. It opened its doors right in the gap between SXSW Interactive and SXSW Music, as the company sees itself as innovating in both worlds. We caught up with their crew and enjoyed a little chillout time.
After my last post previewing some of the must-see panels at SXSW Interactive, one of the best e-mails I got was a request to come play Buddy the cat in a new iPad game called You vs Cat. I was more than happy to oblige, after all -- cats and tech are pretty much the center of the Internet universe. Kristin and Grace and I dropped by to meet Buddy, play the game (we lost) and learned a little more about the inspiration for the product.
Spotsi, a Portland-based startup that builds an app that facilitates user generated tours, took a very low tech and local approach to their activation -- knife throwing! It was one of the more Texas things that we did and we talked with their CEO about the unexpected connection between their app and knife throwing.
All in all, the marketers were out in force again this year, competing in a noisier than ever atmosphere. But for me, the brands who "won" SXSW were the ones who cut through the noise by telling their brand stories in the most actionable way possible.
(Thanks to Emily Hom for her editing support.)
Popular in the Community