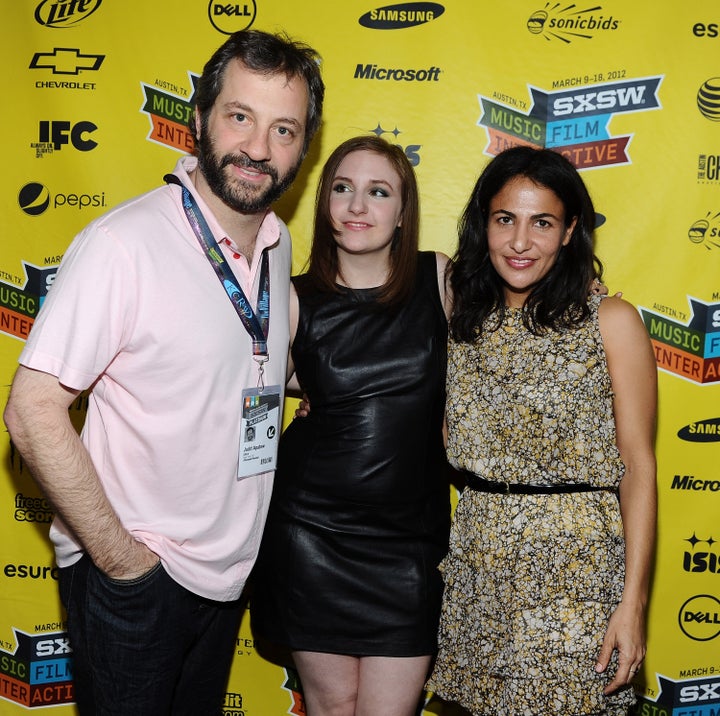 "Woo!" shouted an excited Lena Dunham before the first public screening of "Girls," which premiered at SXSW on Monday afternoon. It was an unbridled show of enthusiasm from the 25-year-old creator, writer, director and star of the new HBO series (debuts April 15), and it was at least part of what got executive producer Judd Apatow so excited about working with her in the first place. "I need a positive person around because I'm bitter and dead inside now," Apatow said to laughs before the screening. "So it's nice to be with someone who is happy and reminds us all that you can do this work and enjoy it and not just do it because of your wounds."
Executive produced by Apatow and Jenni Konner ("Undeclared"), Dunham's "Girls" is poised to become the next buzz-worthy HBO comedy that you and your friends obsessively watch, regardless of gender. (That's not just because the series has blanketed SXSW this week with coffee cups, posters and bicycles. "Girls" does know its target hipster audience, as music cues from LCD Soundsystem and Robyn attest.)
Sharply written, with laughs wrung from both wry societal observations and awkward social interactions, the show focuses on Hannah (Dunham), a recent college graduate living in New York, who has just been financially cut off by her parents (Peter Scolari and "Freaks and Geeks" mom, Becky Ann Baker). While "Girls" traipses through much of the same territory that Dunham dealt with in her breakout feature film "Tiny Furniture" (which premiered at SXSW in 2010 and put the New York native on the map), it feels decidedly more mature and polished. That newfound bit of professionalism might come from the fact that Dunham found herself surrounded by some very heady creative minds, something she called a "blessing."
"These people are definitely supporting me," she said of Apatow and Konner after showing the first three episodes. "Although I wrote many of the episodes alone, it's an extremely collaborative process. Judd and Jenni are constantly involved in reading and pitching ideas. I had the privilege of co-writing episodes with both of them. There's a part that's communal, and part that is personal."
Recalled Apatow: "When we set up the pilot script at HBO, we did a deal where Lena would write the next four episodes. Then we saw Lena had written five by herself -- a lot of times when you ask people to write five, then they write one-and-a-half, freak out, and have a meltdown. Lena just wrote five and they were all pretty great. Then we had to figure out how to incorporate a staff and other voices to pitch and challenge Lena. It's a dance between wanting to let her disappear, and then also trying how to figure out how not to distract her by pitching her things."
As for how Dunham initially pitched HBO on the idea of giving the young filmmaker her own series?
"It was the kind of pitch you can only do when you don't know anything about pitch meetings," she said with a laugh. "I was like, 'Here's a show I'd like to watch. It would be really fun!' I didn't give a real serious pitch, I just gave a sense of a world and a kind of girl who I felt hadn't been represented before. Then Jenni and Judd got involved and we started to build these characters who are sort of different archetypes in a way, but also really specific girls figuring out their way to the city."
That world includes not just Dunham's Hannah, but also Marnie (played by Allison Williams, Brian's daughter), Hannah's roommate-cum-beffie, and Jessa (Jemima Kirk from "Tiny Furniture"), her ne'er-do-well friend.
"I've never been around so many women before. It was a new thing," Apatow said. "There's no bongs in the room with them. There's no bongs or penises. And they don't really like pornography. It was all very new to me."
Kidding aside, the executive producer behind "Freaks and Geeks" -- as well as feature films like "Knocked Up" and "The 40-Year-Old Virgin" and countless other comedies -- said that "Girls" has been one of his favorite experiences yet.
"It's always 100 times better than I ever would have imagined, how she'd execute it," he said of Dunham. "There's a few times in my career where there's been something good [on the page], but when they do it, it's way better. 'Anchorman' was like that. It was funny, but when they did it, it was like, "Oh my God, that's amazing." And this has been like that."
"Girls" premieres on April 15 on HBO.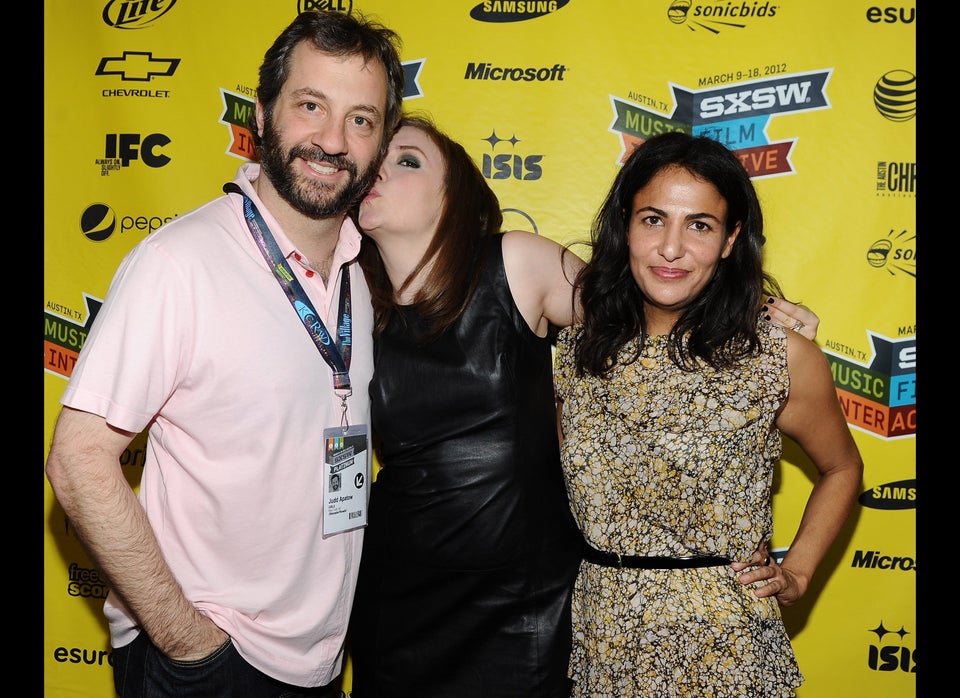 Celebs At SXSW On Monday
Popular in the Community