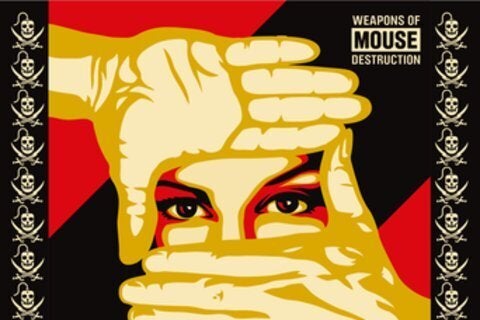 Before launching what's arguably Iran's best and least-loved show, Arbabi, who grew up in the US, worked as a war correspondent for Voice of America. While working, he began to draw cartoons for the hell of it. Their subject was nearly always the hijab -- with a recurring joke centered simply on the image of a woman as a black mound with eyes. In one of his cartoons, an unidentifiable woman in full hijab appears on a milk carton, with the caption, "Have You Seen Me?"
"I found humor was more real than journalism," Arbabi said. He explained the particular targets he trained his sights on: the hijab, and the "hypocrisy" of Islamic tenets against drinking and gambling. "If you ever want to go to Vegas, pick a Muslim. They're beasts," Arbabi said.
To the left of Arbabi was a striking poster in service of the group hosting him, the Weapons of Mouse Destruction campaign. The poster is the work of counter-cultural iconographer Shepard Fairey, who enlisted Twitter co-founder Evan Williams to open his eyes for the camera: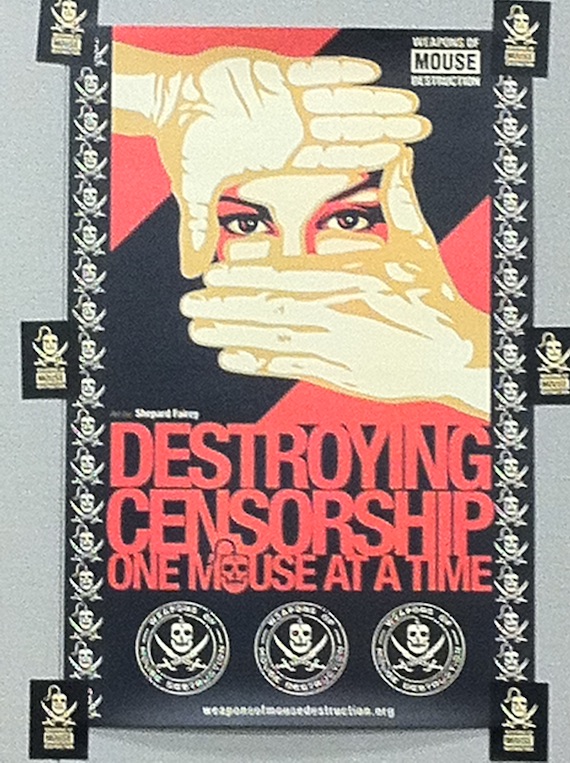 Like Williams, Arbabi is the ideal poster boy for Weapons of Mouse Destruction, a social media-driven awareness campaign about government censorship in places like Iran and China. Arbabi's show is more than a nuisance for the Iranian government -- the way he describes it, "Parazit" is enemy no. 1.
The show began as a one-off experiment for Voice Of America. Emboldened by an online interest in his cartoons, Arbabi convinced his employers he could make them something like a hit. Today it's exactly that, despite the fact that Iran has declared "Parazit" illegal to watch.
"They started breaking down [satellite] dishes. You'd think they're after Bin Laden here," Arbabi said, noting that the government has invested $1 billion in developing a "halal" or Western-free internet.
But "Parazit" isn't any weaker for the counter-attacks. On the contrary, Arbabi claims the streets of Tehran are quieter on the mornings he airs, emptied of people watching the show. As of today, "Parazit" is five Facebook Likes shy of 837,000 (to put that in perspective, The Huffington Post has 554,000 Likes). What Jonathan Franzen criticized as a too-easy show of approval is in this case the opposite. Someone who chooses to Like "Parazit" is also implicitly choosing to let the Iranian government know about it.
For more information on Weapons of Mouse Destruction, visit weaponsofmousedestruction.org. "Parazit" episodes are available on YouTube.
CORRECTION: A previous version of this story stated that "Parazit" is an Iranian TV show. It is in fact a Persian-language TV program, broadcast by Voice of America.
Related
Popular in the Community