With interactive map!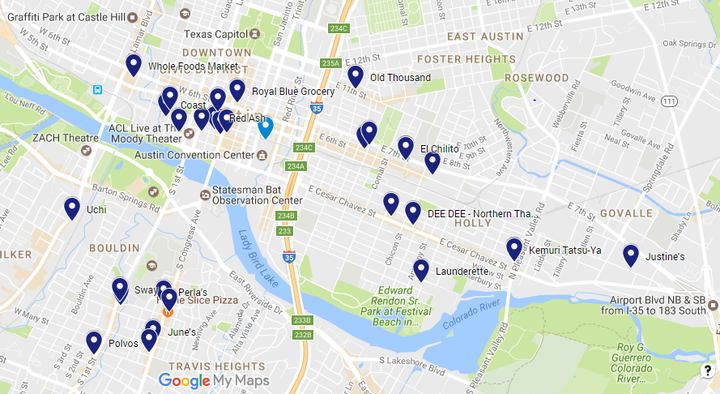 It seems like it wasn't that long ago when PF Changs and Hooters were some of the best bets for sustenance during SXSW in downtown Austin. My, how the times have changed and luckily for visitors and locals alike, the Austin food scene has been exploding with rising talent and culinary contributions expanding way beyond usual chains, taco shops, and BBQ joints. There are great food options all over town and just because the city is nuts right now, doesn't mean you can't eat like a native-in-the-know wherever the day or night takes you. During SXSW, typically meal choices are dictated by geography, mood and the free Tito's/taco tally, so here are some local favorites whether you want to just grab food between panels or seek to dedicate the night to a delicious sit-down meal and moment of sanity.
Dee Dee Thai - A new trailer just east of I -35 with a menu that is excellent , small and authentic, but not for the faint of heart when it comes to spice. You'll find Dee Dee in the same park as La Barbeque - also great, but a 2 hour wait year-round.
Launderette - A super cute restaurant in the Holly area, which was named a 2016 restaurant of the year by Food & Wine magazine. This bright spot lives up to the hype with creative small plates, a crab toast to die for and a delightful birthday cake ice cream sandwich. Highly recommended for lunch, brunch or dinner (whenever you can get in, really). They don't take reservations for parties under 6.
Thai-Kun at Whislers - This trailer and bar(s) are the perfect marriage of excellent Thai food, solid cocktails and a late night mezcalaria open on Friday and Saturday. The Thai-Kun Fried Chicken and Waterfall Pork make for particularly great bar food.
Licha's Cantina - A lovely place for an outdoor, elevated Chilaquiles /Paloma brunch, along with a typically relaxed music showcase scene out back for the duration of SXSW Music.
El Chilito - The fish tacos and signature mole salsa will make your heart sing. They have some solid breakfast tacos as well, which are served all day.
Counter Café - This place is an institution for a reason with everything from a legendary burger to house-made berry granola. So much more than than a greasy spoon diner, the ingredients are quality and it's like you can taste the love in each dish. Open for breakfast and lunch only.
Veracruz All Natural - This trailer on Cesar Chavez slings what are widely considered some of the best tacos in town and they are particularly well-known for fish tacos and migas. Also don't miss their nectar of the gods aquas frescas, which can help revive from a hangover or blend very well with vodka.
Kemuri Tatsu-ya i- This place is always hopping as s a stand-out newcomer izakaya with a menu grounded in the smoked-meats. They have a a full bar with great whiskey cocktails, sake of course, and an obsession-worthy Gouda and Brisket "Hot Pocketz" on the menu that make it worth the wait for a table.
Old Thousand - A hip Chinese/American hybrid with new takes on old favorites in dishes like the Mapo Dofu and brisket fried rice. Cocktails include "Nasty Woman" and "Bad Hombre", which go with some of their special in -house artwork (check out the Trump "homage"by the bathroom). They also do takeout.
Justine's - A time-tested, sceney-yet-casual French bistro with dark lighting, strong martinis, and great people watching. The food here isn't as much of the star of the show as the ambiance but it's always a good time and I regularly crave their French fries and steak tartar.
SouthBites trailer park - A really good, close-by alternative to whatever is in the convention center. Lick Honest Ice Creams and the Korean-Mexican fusion of Shark Tank fame at Chi'Lantro (try the Kimchi fries!) make for particularly strong choices.
Second Bar and Kitchen - A super reliable and crowd-pleasing place to grab a nice meal close to the convention center with everything from burgers and cheese plates to delicious fries and specialty drinks.
COUNTER 3. FIVE. VII - This place is tucked away in a townhouse-style building on Congress and offers fantastic multi-course meals in a U-shaped chef's counter setting. Call ahead for that, but it also has a quaint, walk-in bar area at the front, perfect for chatting with new friends and drinking old fashioneds.
Red Ash - This rustic, high-end Italian concept is fast becoming a neighborhood go-to spot and a great place to cozy up to the bar if you can score a seat. It also serves some exceptional steaks, strong martinis with Gorgonzola olives and what might be the best Bolognese in town, which amounts to a perfect place to meet your friend with an expense account.
Kebabilicious - I once heard someone say that the Beef and Lamb Pita Wrap from this place was so good, he'd continue eating one even if someone sprinkled a little cyanide on top — which pretty much sums up the attitude of its cult following. Head to the trailer on Congress during lunch time (when you have minute because there will be a line) or the brick and mortar on the East side for lunch and dinnertime hours.
Casino El Camino - Another Austin institution known for its dynamite burger and Bloody Marys. It's also the best choice for a dark, low-key bar to see refuge on dirty 6th street.
Royal Blue Grocery - Like exits on an airplane, take note of where the closest one is to you at any given time when you're out and about downtown. There are several locations, and chances are they will come in handy at some point during the festival with important provisions like kombucha, wine, gourmet salads and Nutella Rice Krispies treats.
Perla's - The patio is always a winner and makes for the perfect place to slurp some oysters and people watch on South Congress.
June's All Day - A sweet new bistro with seriously tasty food like smoked salmon niçoise salad and steaming bowls of matzo ball caldo. The wine list is also part of the main event.
Home Slice - Known for slinging some of the city's best New York-style slices in a sit-down restaurant. It also has a convenient to-go spot next door if you don't want to wait for a table.
Sway - This is some seriously delicious fancy Thai if you want to have a night out away from the downtown masses. It can get really loud inside so it's best to go in a small group and/or sit outside, but the salt and pepper tofu, peanut curry and whole branzino, along with the lively nighttime vibes, make it all worthwhile.
Elizabeth Street - An awesome place to start the day with its upscale French Vietnamese menu. If you like Asian food in the morning, try it for brunch and don't miss the truly exceptional fresh spring rolls and French macaroons.
Polvos - This is an interior Mexican joint that's been around forever and will cure anything that ails you with the power of its Mexican Martini, queso and fantastic fish fajitas.
Uchi - This highly lauded spot (that is opening a new store in Denver!) continues to shine with some of the best Japanese food in the country. If I had a chance for one baller, civilized meal during SXSW, this would be it and I'd definitely order the hama chili and zero sen roll.
Final thoughts: a secret of SXSW is that with all the competition from parties and panels, restaurants can be less busy than expected, so don't be afraid to try your luck at a place where it's typically hard to get a reservation. There's also no shame in consuming all the free tacos you can handle, and with the magic of SXSW, there's even a chance that somewhere impossible like Franklin BBQ will be catering your next party.
Popular in the Community