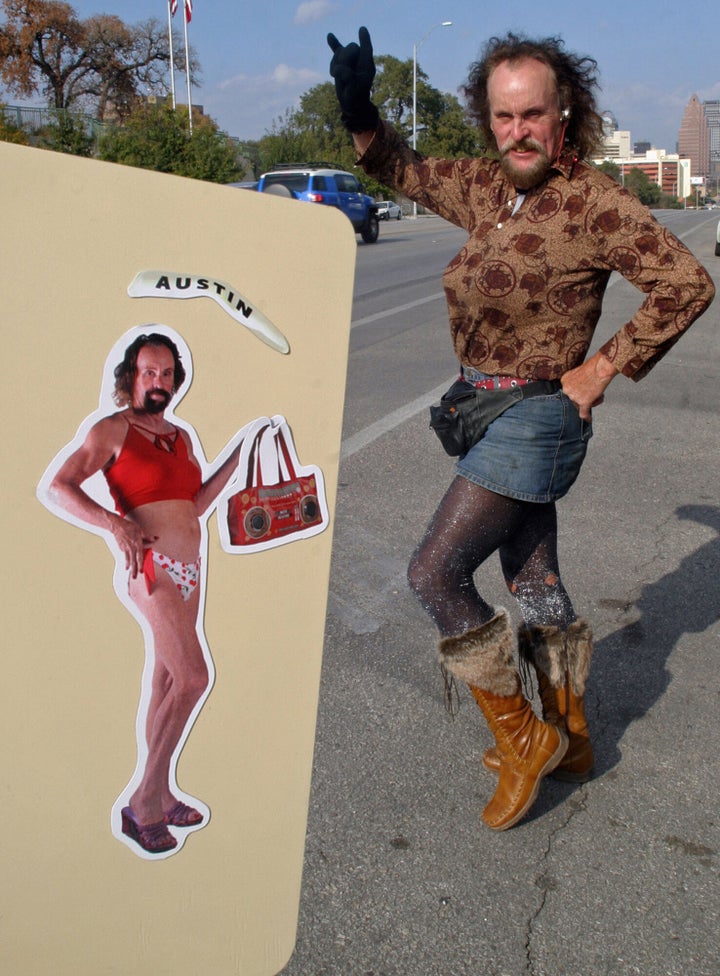 Leslie, Austin, Texas' ambassador of weird, died Thursday at the age of 60 at Christopher House, an inpatient hospice center. His death comes on the heels of one of the city's most well-known, now least weird events, South by Southwest. With the growing corporate side of a once-homegrown music festival, and news of Leslie's death, it's hard to ignore the weakened weight the city's slogan "Keep Austin Weird" carries.
Texas is more well known for it's record-breaking droughts, wide open spaces and football than it is its quirks. But the state capital has gained attention for its weirdness in myriad ways.
Watch below for a University of Texas commercial narrated by Walter Cronkite (it mentions breakfast tacos):
So why is there a recent, more mainstream draw to the city? Despite the countrywide recession, Austin has thrived, hitting a number of "fastest growing cities," "lowest unemployment rate" lists. In a country so focused on recessionary woes; what's not appealing about an economically thriving town with warm weather, live music and Tex-Mex tacos?
Though the reasons why the city is growing are numbered and not always clear, there are more concrete ways the city is growing less weird. That contradiction between weird and normal, local and corporate is happening with SXSW.
In response to the growing attendance, and ticket prices, an onslaught of unofficial and free SXSW events happen every year. Now, even those are getting out of hand. This once go-local idea is not even accessible to the locals anymore.
It's this bombardment of corporate chaos that puts a strain on the strange; every time another massive out-of-state company moves in to one of the recently built downtown skyscrapers, or a big-name musician graces a stage that used to be reserved for a small band, is when the city loses a little. What the city has gained in monetary value, it's lost in weirdness.
It's truly hard to say which direction the city will go, and the question deserves further exploration than this article. Living in Austin, though, I never had to buy and wear the Keep Austin Weird shirts because it was a phrase used by Townies for something I always knew was true. Now, even though I live 1,745 miles away in Brooklyn, Austin will always be home and Austin will always be weird to me. In addition to Bevo for UT (Hook 'Em!), Leslie will always be my Mascot of Austin. I just hope people that move there for the booming music scene and economy will realize that, too. So please y'all, Keep Austin Weird.
Calling all HuffPost superfans!
Sign up for membership to become a founding member and help shape HuffPost's next chapter