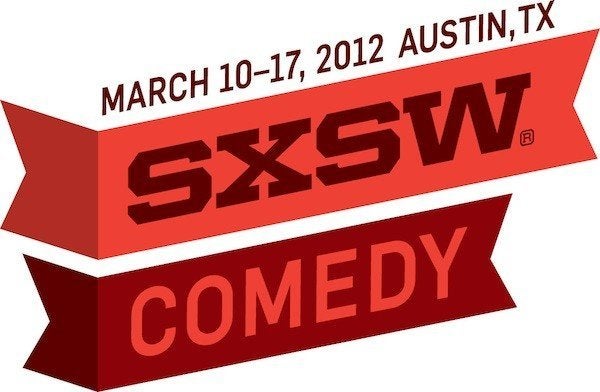 Warmth! Sun! Ethically questionable wi-fi! Media mergers! Jay-Z! Oh Day Three, when the South By gossip really starts heating up, but everyone's a little too beer/burrito hungover to really get behind it. The weather, finally feeling Austin-y, gave everyone an excuse to throw some shades over sleep deprived eyes and stumble to the just-opened trade show in search of swag (we hear Just For Laughs Montreal has a booth with some sweet hats, just sayin').
The day started with the panel "Podcasting: Breeding a New Class of Comedy Nerd." Speakers Scott Aukerman, Doug Benson, Emily Gordon, Kumail Nanjiani, and Kevin Pollak each brought a completely unique take on the topic of self-produced, self-distributed shows; Aukerman's Comedy Bang! Bang! is an eclectic showcase of improv and interviews (and his Earwolf network is arguably the best in the biz), Benson's Doug Loves Movies talks topical and recent releases, Gordon and Nanjiani's The Indoor Kids is humor-heavy but focused on tech and gaming, and The Kevin Pollak Chat Show helped pioneer live-streaming web series. The gist? Podcasting is the perfect medium for performers with big ambition, a small budget and -- importantly -- an interesting idea (as Gordon and Nanjiani prove, it pays to pursue your true interests instead of trying to fit someone else's format).
Austin sketch act Stag Comedy kicked off the comedy lineup at the Next Stage (Kevin Allison's RISK! appears Tuesday, with The Chris Gethard Show taking over on Wednesday and Stand Up! Records showcasing Thursday). One of Austin's most accomplished groups, Stag blends witty, weird sketch and video, with an aesthetic that's half Tim and Eric, half The State, and always awesome. While the Next Stage, nestled in the corner of the SXSWi trade show, is sort of in the middle of the cluster-eff of apps and CMS start-ups hawking their wares, the group's high energy (and high volume) attracted a sizeable crowd.
Over at Esther's, the live podcast recordings continued with The Kevin Pollak Chat Show, featuring guest Eugene Mirman. TKPCS (which has recently featured some pretty insane Christopher Walken impressions) gets silly sometimes, but also touches on process and craft and all that fun stuff, so the audience (and you, next week) heard Mirman reminisce about his grade school book reports as well as reveal that he's working on a pilot for Comedy Central (with several Onion staffers as co-writers). Talking about choosing projects and finding inspiration, Pollak threw out the gem, "If you're not creating, you're waiting," which got waves of I-hear-you-man nods from the audience.
Next up, The Super Serious Show took over for two rounds of its T.J. Miller-hosted stand-up showcase, featuring Kyle Kinane, John Hodgman, Kumail Nanjiani, Jonah Ray, Aparna Nancherla, Jerrod Carmichael, Reggie Watts, Gabe Liedman and Jenny Slate, and a video from Billy Eichner. The lineup was seriously stacked, with Esther's more packed than I've ever seen it and backstage bro downs so heartwarming it made the evening feel a little like comedy summer camp. The huge crowd was electric all night, punctuating every line of Gabe and Jenny's performance (of a steamy screenplay culminating: "Finally, they fall on the floor in a heap of Jewish cum") with raucous laughter, and almost breathlessly silent as Carmichael paused to deliver the punchline of a particularly brilliant Beyonce bit. Eichner premiered a clip from his game show, Billy on the Street, in which he gives cash prizes to strangers who agree with his pop culture preferences (the clip's best Q: "Which makes more sense, Tori Spelling or a crop circle?" I'll let you guess the correct answer.)
Then there was the highly anticipated Comedy Bang! Bang! preview at the IFC House. Hosted by Scott Aukerman, accompanied by Reggie Watts, and featuring guests Tim Heidecker and ex-governor Jesse Ventura, the show opened with a song about Scientology and featured plenty of audience interaction (like when Heidecker asked everyone to sit on the beer-splattered floor of dingy Sixth Street bar Vice, then called out a Laughspin.com contrib for the site's lukewarm review of his album -- things that sound awkward but went over swimmingly with the supercharged crowd). They showed a few clips from the series, which starts in June, and I gotta say, I've never been more psyched about a premiere. With Aukerman's straight man style, a slew of all-star guests that reads like a roster of the most talented comics out there, and a completely fearless approach to integrating a niche scene with an accessible format, I've got high hopes for #CBBTV.
It's a three-way tie for the night's overall best moment. There's Liedman and Eichner's adorable post-show Twitter exchange, which makes me REALLY want to see these two team up on something (anything, please? #gabeandbilly?) Then there's the image of John Hodgman, sitting barefoot and cross-legged at the side of stage, watching Watts close out the second show with a set of stand-up and his signature beat-building. But my favorite was when Watts, who'd been laughing so hard I swear I saw his halo-fro swaying gently from the aftershock, called Carmichael over the second he stepped offstage for an emphatic round of compliments. Carmichael, who's been performing for 3+ years and is still a relative 'new face,' so impressed Watts that he couldn't stop gushing, plugging the younger comic between handshakes and hugs after the show. So, you heard it here, straight from Reggie Watts: keep an eye on Jerrod Carmichael.