 South By Southwest, the Austin arts festival widely known for its Music, Film and Interactive events, has announced its 2011 Comedy lineup. Drawing both established stars and rising new talent in the world of comedy, this year's festival (which takes place March 12-19) appears to cater to an audience more actively using new media to get their comedy.
Unlike in the past, SXSW Comedy will take place concurrently with the Film and Interactive festivals. Comedians expected to appear during this portion of SXSW are Michael Ian Black, Thomas Lennon, Anthony Jeselnik, and Dave Foley.
Also during the Film and Interactive portions of SXSW:
"John Oliver's New York Stand-Up Show": The "Daily Show" correspondent will bring a special live version of his Comedy Central stand-up show to Austin on March 14, which will feature stand-up sets from Kumail Nanjiani, Brendon Walsh, Al Madrigal, and Pete Holmes, all of whom appear on season two of the show.
"Comedy-Death Ray": This notorious stand-up showcase, normally held weekly at the Upright Citizens Brigade Theatre in Los Angeles, will once again take place at SXSW. The show, which is curated by Scott Aukerman, has been one of the hottest tickets at SXSW in years past.
This year, SXSW is featuring live performances of four of most popular comedy podcasts:
"WTF with Marc Maron": Maron, a presence on the stand-up comedy scene for over two decades, will record a special live taping of his podcast. His twice-weekly show delivers insightful and often soul-baring conversations with comedians, writers and other artists he's met throughout his varied career.
"Comedy Death-Ray Radio": Scott Aukerman will host a live version of his radio show that consists of interviews, sketches, characters and music from members of the comedy scene.
"The Nerdist": Chris Hardwick and his co-hosts Jonah Ray and Matt Mira will also perform their podcast live with a special guest(s). Hardwick's unique background as both a comedian and self-proclaimed nerd (he hosted "Web Soup" and regularly writes for Wired) fits well with SXSW's bent towards technology and innovation.
"Doug Loves Movies": Doug Benson fills out the festival's podcast roster with his weekly podcast where he and his comedian friends riff on anything movie-related, known for the famous Leonard Maltin Game.
The Music portion of SXSW will include Comedy events as well:
"The Benson Interruption": In addition to bringing his live podcast to SXSW, Benson will also do a special performance of his popular L.A. show (which was recently adapted into a Comedy Central series) where he interjects his opinions into other comedians' acts as they perform.
Two final nights of stand-up showcases held during the Music festival, featuring SXSW returnees Tig Notaro, Donald Glover, Glenn Wool, Eugene Mirman and a special appearance by Aziz Ansari.
Finally, here's a complete list of comedians scheduled to appear at the festival:
Scott Aukerman, Matt Bearden, Doug Benson, Michael Ian Black, Kurt Braunohler, Rob Cantrell, Chris Cubas, Joe Derosa, Chris Fairbanks, Dave Foley, Brett Gelman, Donald Glover, Chris Hardwick, Andy Haynes, Pete Holmes, Anthony Jeselnik, Howard Kremer, Ben Kronberg, Tom Lennon, Darryl Lenox, Al Madrigal, Marc Maron, Doug Mellard, Eugene Mirman, Kumail Nanjiani, Tig Notaro, John Oliver, Brody Stevens, Bryson Turner, Brendon Walsh, Glenn Wool, Hampton Yount.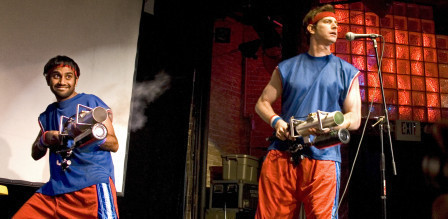 Photos courtesy Cassie Wright.

Popular in the Community