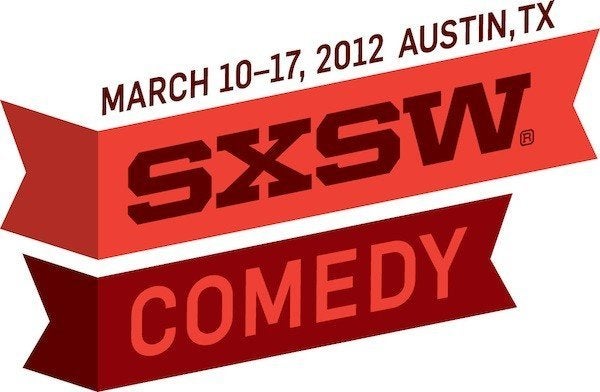 It's the first official day of SXSW Comedy 2012 and the excitement is palpable. And the dim mist blanketing Austin, heavy with the scent of breakfast taco bacon grease and humidity, is, too, but the dismal, makes-you-wanna-nap-forever weather didn't deter comedy fans from coming out early (for those of us who can't imagine making the 9:30 a.m. SXSW Yoga meet-up, 2 p.m. counts as 'early'). Baratunde Thurston's keynote presentation, a talk on how comedy can change the way we see and interpret the world around us, drew a massive crowd. "The Onion changed my life," I overheard one attendee gush to a friend as they filed into the ballroom. "Baratunde is like, my Bob Woodward."
Thurston's talk wasn't technically a part of SXSW Comedy programming; yet another of SXSW Interactive's comedy-focused panels, which seem to multiply exponentially each year, the keynote's high profile -- and huge crowd -- illustrate humor's increasing allure across industries (a topic that HuffPost Comedy's own Carol Hartsell talked about on the Friday afternoon panel, "Political Comedy 2.0").
But I digress! The real fun began at 4 p.m. at Esther's Follies, aka SXSW Comedy HQ for the next eight days. The first official comedy show of the 2012 conference was fittingly hosted by Doug Benson, a SXSW staple since 2009, who kicked things off with a live taping of his Doug Loves Movies podcast. The show was punctuated by its usual absurdity; comics Greg Proops and James Adomian, and filmmakers Ti West (The Innkeepers) and Joe Lynch (Holliston), enjoyed a few raucous rounds of the Leonard Maltin game and Build-A-Title, with Proops getting competitive as the panel struggled to complete an epic string ending in 'extra-terrestrial' (spoiler alert: they couldn't). The show's MVP was definitely Adomian, who showed up late, drenched and straight from the airport, and still managed to nail it by throwing in a Space Jam reference and an eerily perfect Proops-pression.
It was a Proops-heavy evening, with DLM followed by a taping of the former Whose Line star's podcast, The Smartest Man in the World. More a fireside chat than a discussion, the show features Proops letting the audience into his inner monologue, pontificating on whatever comes up and ending with a few questions from the audience. Bonus: if you weren't able to make it to Austin, you can still get an authentic SXSW experience by listening to this episode later and letting the wail of police sirens, intermittently cascading into the theater from Sixth Street, transport you.
Comedy Bang! Bang!, Scott Aukerman's podcast / stage show / highly anticipated forthcoming IFC series, capped off the night with two curated stand-up showcases. It was a magical evening, featuring sets from Proops, Adomian, Seth Morris and Dan Mintz, plus local Austin comics Chris Cubas and Martha Kelly. From the moment Hot Saucerman stepped onstage, warming up the crowd with a scripted bit involving an overly-affectionate dog owner and wrapping up with an earnest rendition of Springsteen's "Hungry Heart," the audience was hooked, howling through highlights like Adomian's impression of a Barnes and Noble and Mintz's deadpan, deliciously dark act.
The hands-down highlight of the night, though, was Seth Morris, who brought his alter ego, the uncomfortable, lovable Bob Ducca, to both shows. The elderly character (host of Earwolf's Affirmation Nation with Bob Ducca) notoriously suffers from a litany of odd ailments (my favorite: "Mickey Rooney's sugar babies"), but as attendees of the late show saw firsthand, there's nothing wrong with his, ahem, package; the set, capped off with an enthusiastic striptease including the removal of at least three band-aids, was a little more revealing than Morris intended; but nobody, least of all Morris himself, seemed to mind (even when he bent over slowly, balls bared, to retrieve each item of discarded clothing as he exited the stage).
Nudity, impressions, awkwardness, the faint smell of smoke wafting off Benson and into the first few rows -- what else could a comedy fan ask for?