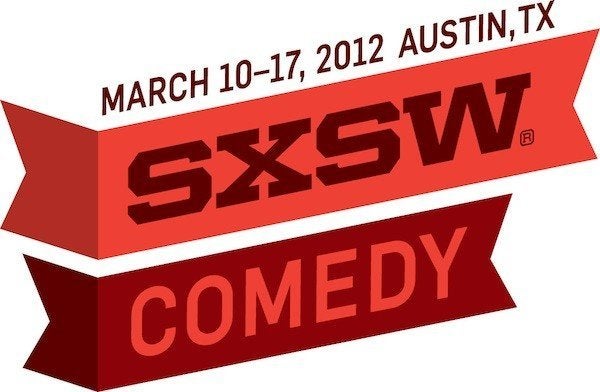 Day Two of SXSW Comedy (and Day Three of the festival proper) may have been the foggiest yet, but the ever-intrepid SXSW crowd didn't seem to care, flooding Sixth Street with parades of party buses and those 'pubcrawler' bikes embedded with kegs. Networking!
Before the afternoon of official podcasts and showcases got underway, the first panel of SXSW Comedy, "What The Internet Finds Funny," brought Adam Frucci (Splitsider), Doree Shafrir (Buzzfeed), Jesse David Fox (Vulture), and Christine Friar (HuffPost Comedy) together to talk about the content that draws their readers in. Along with the requisite nods to the importance of cat videos and the Internet's ability to unite niche fan groups, Fox coined the term "boob base": the driving interest behind a given site's core readership -- like, y'know, fratty, boob-heavy humor. (Buzzfeed's boob base? "Cat boobs," which 100 percent works for me.)
The afternoon's live podcast recordings were amazing, and the best part is they'll be up next week for everyone else to hear/me to replay obsessively to see if you can hear me howl, Springer-style, when Comedy Bang! Bang! guest Bob Ducca revealed the shocking news that he was never, legally, Scott Aukerman's stepdad. (SXSW: furthering your improvised narratives, one twist at a time.)
But first: WTF with Marc Maron, with guest Jeffrey Tambor. Tambor, just off stage from hosting his acclaimed acting workshop with Matt Newton (Face to Face) and Kate Sheil (All Saints), is a dream guest for Maron's interrogatory show. From Three's Company to Max Headroom, he's appeared on scores of classic comedies in addition to his top-billed roles on (hey now!) The Larry Sanders Show and Arrested Development; few people have better stories, or more insight into the industry. And of course, Maron didn't shy away from asking about the controversial, like how Tambor stole his SXSW hotel room (oh and, his brief foray into Scientology). The only thing you won't be able to experience on the recording? Maron had some mind-blowing Pez-inspired posters printed up, and stuck around after the show to sign copies for fans. (Just print one out. We'll tell everyone you were really there.)
Next up: Comedy Bang! Bang!, a podcast on par with (and sometimes more revered than) Maron's among many a die-hard comedy nerd. On the other end of some spectrum from WTF, Scott Aukerman's multi-disciplinary show features mini-interviews, musical interludes, and improvised character bits, counting performers like Paul F. Tompkins, Eddie Pepitone and James Adomian as oft-appearing MVPs. On this episode (which will be available online Monday, March 18) Aukerman presided over a panel featuring CBB theme composer / band leader / general musical genius Reggie Watts, Tim Heidecker -- in town screening The Comedy, and possibly also shilling for Doritos Jacked (you'll see) -- Adomian and Seth Morris (who, you'll recall, bared it all at Saturday's CBB Live). Morris reprised his Bob Ducca character who, infamously ill with a million obscure diseases, listed the one's he's picked up on this trip to Texas:
Artistic lethargy, SXSWNile virus, slacker sac, Richard Linklater sour belly, hit by multiple food trucks, Daniel Johnston gallstones, Barton Springs HPV, Roky Erickson-derived demonic genius, BBQ comas, and racism.
Plus, Heidecker broke the news of Newt Gingrich's (totally fake, disclaimer, obviously) death, attempting to rally the crowd to nearby Stubbs' for an impromptu memorial. The panelists namedropped some popular Austin eateries (County Line, Salt Lick, and Franklin's, for BBQ) when Adomian appeared as Los Angeles food critic Merrill Shindler, snacking into the mic (enjoy, future listeners!) and luring Ducca on an imaginary dinner date. "There's nothing more rewarding than fucking off into a field a blueberries," Adomian / Shindler concludes, in a context you'll have to hear to figure out. The ep ends in an epic rap battle featuring repeated (repeated) callouts to one Texas governor's controversially-named vacation home.
The cast of Bob's Burgers -- Eugene Mirman, Kristen Schaal, Larry Murphy, Dan Mintz, and Kurt Braunohler -- closed out the night with two shows, where they previewed clips from the just-premiered second season. All incredible voice actors, the five comics each have their own incredibly unique voice in stand-up; each takes risks you don't often see onstage, doing characters, using props, incorporating scripted bits and deliberate low-energy delivery (a dangerous, but rewarding, trick to work with) and even, in Schaal's case, some very impressively-choreographed dance moves. From Mirman reading his grade school birthday cards to Mormon founder Joseph Smith to Murphy's awesomely awkward act, the cast had absurdity covered in spades, closing out the night with some jokes from Schaal, who finished with an epic retelling of Hans Christian Andersen's Little Match Girl, complete with some dirty dancing with Braunohler.
Schaal gets the Day Two MVP award for her completely endearing recovery during a missed bit in the second show (her backpedal and good-natured "Get it together!" had the already adoring crowd in her palm even more than they had been), and, most importantly, her Kate Bush-soundtracked, flawless moves.