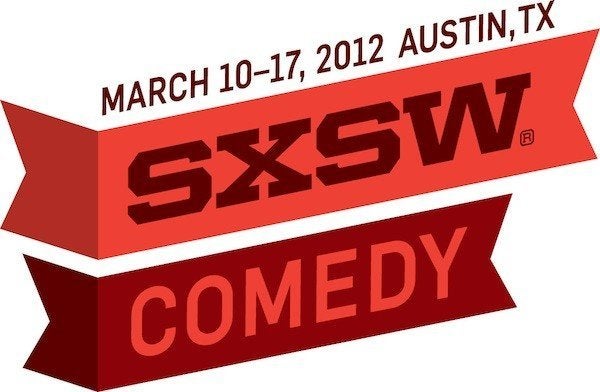 By the mid-point of SXSW Comedy (and Day Five of the festival itself), you're probably over being jealous of everyone in Austin; with four more days to go, and four without sleep already down, the 'oh my god we're only halfway through this' panic is starting to set in. Luckily, Tuesday kept spirits up with perhaps the best all-around night of comedy on the Esther's Follies stage this week, from a satisfyingly awkward episode of Pete Holmes' You Made It Weird podcast to an absolutely stellar set of improv from the UCB All Stars, capping things off with a stand-up showcase featuring an unexpected visit from Tater Salad himself, Mr. Ron White.
But first, on the Next Stage, Kevin Allison's RISK!, a storytelling show that revels in the wonderful way the truth tends to be stranger -- and, usually, more awkward -- than fiction. Guests included Brian Brushwood, Violet Blue, Seth Morris, and Kambri Crews, who drew a huge crowd to the trade show stage as they spun true tales you'll be able to hear on the forthcoming podcast episode.
Speaking of podcasts: are you a fan of You Made It Weird with Pete Holmes? If you're not familiar with the show, it features the electrically high-energy host grilling guests ostensibly on comedy but, really, most episodes are pretty heavy on the sex talk, with Holmes unafraid to spill details of his divorce, breakups, awkward one night stands, whatever. Guests need to be prepared to do the same, so it was super exciting when last-minute addition Judd Apatow was announced; who doesn't want to hear more of the Freaks and Geeks producer's most awkward high school memories? The live recording was rounded out by public access host / author Chris Gethard and stand-ups Kumail Nanjiani and Todd Barry (plus a quick walk on from a tuxedo-clad Doug Benson), and you're lucky it'll be available online soon, because it was a genuinely fascinating, and funny, show. While, of course, virginity (and the number of thrusts it takes to lose it) was a hot topic, the talk also touched on how Nanjiani and Apatow met their wives (Emily Gordon and Leslie Mann, respectively), Holmes' stint studying improv under Gethard, and Barry's completely rational fear of lightning (and love of seat belts). The hands-down highlight, though, was the moment when Apatow told Gethard he'd just bought his book of autobiographical essays, A Bad Idea I'm About To Do. While Gethard immediately, visibly broke into a sweat at the prospect of either impressing or disappointing the comedy guru, for the rest of the night all anyone could talk about was the chemistry between the two ("I could buy it even if I didn't want to buy it," the producer joked good-naturedly when Holmes suggested he take out an option). As the show wound down, Apatow quipped, "This is so much more amusing than what I did on the Marc Maron show." Don't miss this episode (or the latest one, which features guests Jason and Randy Sklar, also appearing at SXSW Comedy this weekend.)
Next up, the UCB All Stars, a team of improvisers from the Upright Citizen's Brigade's New York and Los Angeles theaters, took the stage for SXSW Comedy's first ever all-improv show. Holmes (who appeared on all three of the night's lineups) started the set off with some stories, letting performers Gethard, Shannon O'Neill, Alex Fernie, Joe Wengert, Connor Ratliff, Katie Dippold, and Adam Frucci set up scenes. Descriptions of improv usually get lost in translation, so let's just say this show set the bar pretty damn high for anyone aiming at 'Best Improv Set in Austin 2012.'
UCB also presented the late night showcase, The Best Damn Stand-Up, which was hosted by Wengert and included Gethard, Holmes, Eliza Skinner, and Gabe Liedman and Jenny Slate -- plus Ron 'Tater Salad' White, who dropped in unexpectedly to do 10 minutes but took a second to congratulate the pair both on and backstage for their lovably lewd act (a reading of a screenplay that's pretty much Gabe and Jenny erotic fan fic). While his cigar-totin', fuck-all-y'all attitude was outside the vibe of the rest of the show, the crowd went crazy when they heard his name, genuinely psyched to see a longtime legend bookended by two of the best acts out now.
Holmes was the star of Day Four, and not just because he helmed all three shows; by the third, in which he followed White to close out the night, he took the stage visibly exhausted but left with a genuinely wide smile, having bounced back and completely won the crowd over with his riffs (and his infectious laugh). Plus, there's the possibility that, when the Apatow-produced adaptation of Gethard's book wins an Oscar, they'll be able to thank Holmes for making it happen. Fingers crossed!