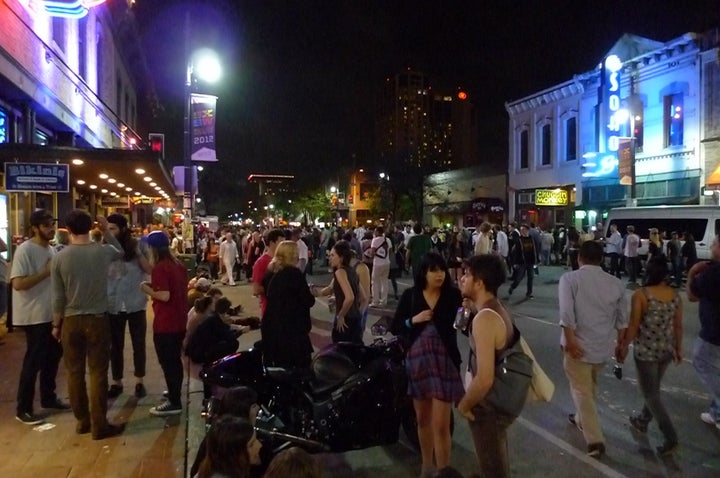 Day Six and somehow, everyone is still awake (and able to totally nail it on the SXSW Comedy stage); high fives all around!
The Stand Up! Records showcase started the day off at the ACC, with Brooke Van Poppelen alongside former Texans Ryan Stout and Brendon Walsh. The comedy label takes pride in presenting smart, sometimes political acts (having put out albums from Al Madrigal, Lewis Black, Greg Proops, Andy Richie, Jackie Kashian, and more -- including noted badasses The Unbookables). Over at Esther's, TuneIn radio curated a line-up that featured Jessi Klein, Louis Katz, Andres du Bouchet, and Mike Birbiglia, hosted by Chicago comic (Sweet!) Beth Stelling. Birbiglia's film Sleepwalk With Me is screening all week, earning well-deserved, highly complimentary reviews, and the audience was psyched to see the stand-up take a break from the film fest to do what he does best on the Esther's stage. Though every set in the show was stellar, the high-energy highlight was definitely du Bouchet, who's known for his brilliant character bits with absurd premises (authoring a sex manual from a finch's POV, for example). To amp up the crowd, he took the stage as warm-up act Danny Yeahyeah, nearly inciting a riot as he led the house through at least 40 rounds of his never-gets-old game, 'Yeah':
Next up, the Made in Austin showcase highlighted some hometown heroes past and present, from Brendon Walsh (who won the 2004 Funniest Person in Austin contest), Martha Kelly (FPIA 2000), and Mike MacRae (a voice actor and comic who's appeared on Premium Blend and The Late Show with David Letterman) to Nick Mullen (a two-time FPIA finalist), Cody Hustak (a master of the awkward pause), and host Chris Cubas (who placed in the top three at last year's FPIA and is always a crowd favorite in Austin clubs).
Closing out the night, Paul Provenza and Troy Conrad presented their Set List show, featuring Kristine Levine, Brendan Walsh, Mike Lawrence, Nick Turner, Kurt Braunohler, Todd Barry, Andres du Bouchet, Mike Birbiglia, and Pete Holmes. In this improv-inspired show, comics see a set-up onscreen, onstage, and have to make up a related bit on the spot (examples: "post-Scientology cigarette," for Birbiglia; "Koran humor," for Lawrence; and, appropriately, "Jesus strategy" for headliner Holmes, who was unsurprisingly called back for an encore set). Performers rolled with the weird format with varying ease; Lawrence spent more time making fun of the suggestions than crafting topical jokes (which worked just as well), and Todd Barry's generally over-it attitude made the act more an inside joke between him and the crowd, which made for an equally satisfying set. Zinger of the Night goes to Nick Turner, for his lightning-fast response to the suggestion "Smurf tragedy": "Remember that Smurfs movie?"
(Also? 'Awesome Bro of the Night' goes to America's sweetheart Mike Birbiglia, who bummed a cigarette and insisted I accept a $50 in return, "On behalf of everyone who ever has or will bum a cigarette," and also because, "It'll make a good story." True! Can we clone this guy so he can be everyone's best friend already?!)