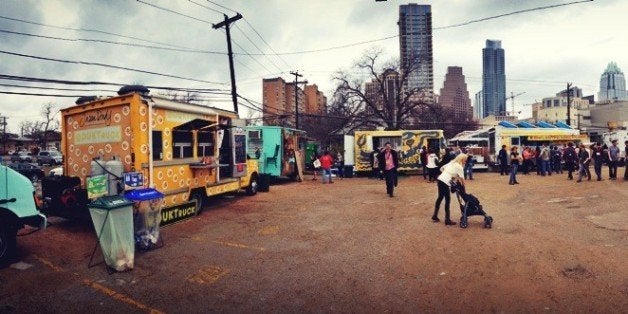 Austin has once again been taken over by South by Southwest. To the casual observer, it may appear that this is merely a music festival; however, look closer -- with your stomach eyes --and you will realize that this is also an opportunity to showcase the city's diverse, experimental and delicious cuisine. Present year round, Austin's food trucks are the perfect way to sample a smorgasbord of treats and feed the thousands of concert goers. Below is a list of Austin's finest and the dishes you need to try:
Why: Texans love their brisket -- the definitive meat for Texas BBQ. Micklethewait's brisket is tender, juicy and has just the right amount of seasoned crust. Do yourself a favor and go. to. here. Bonus, in its normal location on Rosewood Ave., Micklethewait is only five minutes away from another popular Austin BBQ spot notorious for its hours-long wait times.
Must-order Item: The Frito Pie is the must order item at Mickelthewait. A heartier version of the classic frito, chili and cheese dish, Mickelthewait tops their pie with two large lamb-chorizo sausages. This dish more than any other was a conversation starter among other hungry Southbyers.
(During SXSW, the truck is located at the SouthBites food trailer park at 604 Driskill St)

Why: You can't have completed a food truck tour of Austin without a visit to the East Side King truck. East Side King is the creation of chefs Paul Qui (winner of Top Chef Season 9) and Moto Utsunomiya. The chefs are inspired by "Asian cultures, rock bands and Austin's laid-back, experimental and fun-loving vibe." The trucks are covered in the artwork of Peelander Yellow and embody Austin's creative, colorful and free spirit.
Must-order Item: The beet home fries at Eastside King are insane. The beets are first roasted which gives them a slightly sweet flavor and soft texture. They are then fried to get the crispy outer crust and served with a tangy mayo. Sweet beets and creamy mayo, is there really more that needs to be said?
(During SXSW, there are several trucks across the city as well as the location at the SouthBites food trailer park at 604 Driskill St)
Must-order Item: You must get the cinnamon sugar mini donuts in a big bag. The donuts also come in small bags, but please just get the big bag and save yourself the second trip to the truck. Actually, you might make a second... or third trip even with the large bags because these bite-sized donuts are the most perfect light, crispy pillows of deliciousness that melt in your mouth. They are reminiscent of funnel cake and I want them always.
Why: In Texas, we eat tacos all day -- breakfast, lunch and dinner. For those of you that do not understand the concept of breakfast tacos (which are different than breakfast burritos), do yourselves a favor and get educated at Veracruz All Natural.
Must-order Item: The homemade tortillas, hot sauce and fillings of potatoes, egg, cheese, beans and bacon make these the best breakfast tacos in town.
Why: Chi'lantro does the fusion cuisine that permeates Austin's food truck scene right. The Korean-Mexican hybrid is just what you want for late-night snacking and combines two of the most perfect foods -- tacos and kimchi.
Must-order Item: The kimchi fries are smothered in cheese, sriracha and a creamy "magic" sauce. They are then topped off with -- pay attention -- caramelized kimchi and Korean BBQ. This sweet, tangy, savory and spicy dish is one of my favorite food experiences.
(During SXSW, there are several trucks across the city as well as the location at the SouthBites food trailer park at 604 Driskill St)
Why: Hey Cupcake! was one of the first (now ubiquitous) silver airstream food trailers in Austin. As the name would suggest, they serve large, richly wonderful cupcakes. Bonus, if you just HAVE to have cupcakes and cannot make the trip to the truck... they will deliver the goodness to you.
Must-order Item: For those of you with a sweet tooth, the red velvet cupcake is to die for, with its moist, soft cake and sweet cream cheese frosting.
(The original location is on 1511 S. Congress)
Why: The Peached Tortilla combines Southern and Asian flavors to perfection. The truck is so popular that The Peached Tortilla will open a brick and mortar location in Fall 2014.
Must-order Item: The BBQ Brisket Burrito is stuffed with dry rubbed brisket, cilantro lime rice, creamy slaw and a smoky roasted peach BBQ sauce. And as if this burrito couldn't be any more perfect, it also includes everyone's favorite--a fried egg. If you are in search of a hearty meal, eat this.

(During SXSW, the truck is located at the SouthBites food trailer park at 604 Driskill St)
Why: Hey! You Gonna Eat or What? is the official winner of the 2013 Truck by Truckwest Taste-Off. This food truck serves up large sandwiches and lots of 'tude. To the unaccustomed, the snarky chefs can be abrasive at first but that's just part of the experience. They always ensure to come out and make sure you are enjoying your food and that you leave well fed and happy.
Must-order Item: The Shiner Bock Monte Cristo is THE sandwich to order and the reason behind the truck's 2013 win. This humongous sandwich is stacked with cheddar, provolone, mesquite-smoked turkey and pit-smoked ham and then fried in batter made from Texas' finest brew Shiner Bock. Topped off with a dusting of powder sugar and a side of cherry-fig jam, this sandwich will leave you stuffed. Power through your food coma by walking along South Congress and take the opportunity to visit Austin's weird and wonderful boutiques.
(1318 South Congress but they will move locations shortly to Zilker Park)
Why: Gourdough's specializes in some big, fat donuts. These donuts are not for the faint of heart. At their pub location, they serve donut burgers, which will fill the donut-burger sized hole in your heart. It literally completes you.
Must-order Item: The Flying Pig donut is topped with bacon strips and covered in a maple glaze. In one bite, you will get all the breakfast flavors you need. Mmmm, donuts.
(During SXSW, there are several trucks across the city as well as the location at the SouthBites food trailer park at 604 Driskill St)
Why: Torchy's Tacos has damn good tacos, enough said. Austinites take their tacos seriously and everyone has their favorites, but my loyalties lie firmly with Torchy's.
Must-order Item: You cannot go wrong with any of Torchy's offerings, but do try the Trailer Park taco. This taco is filled with fried chicken, green chiles, pico de gallo, cheese and poblano sauce. Order it trashy and they will replace the lettuce with their queso. That's right, they will cover your taco in queso. For the vegetarians, the Fried Avocado taco is your go-to. Be sure to order a side of their queso as well. This cheesy, gooey wonderfulness was recently voted best queso by Austinites.
(1311 S. 1st as well as several brick and mortar locations across the city)
Whether you're in town for SXSW or planning a visit, you have not experienced Austin until you have done so through a tour of food trucks. Get out there, get weird and eat some dang tacos -- preferably, all day.