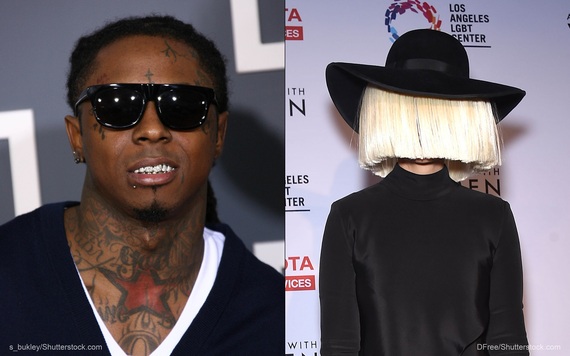 By Andrew Lisa, Contributor
South by Southwest (SXSW) is an annual conference and arts festival held in Austin, Texas. Among the largest and most influential music festivals worldwide, the 2015 SXSW hosted 2,200 musical acts from 62 countries.
The 2016 festival runs from March 11 through March 20. Learn about the biggest artists attending the event this year.
SXSW Headliners and Artists in 2016
The 2016 South by Southwest will be headlined by some of the most popular and successful artists in the industry. The Strokes, complete with Julian Casablancas, was the opening headliner on March 11 at Samsung's three-day Galaxy Lite Fest.
Australian superstar Sia headlined on March 13 to close out the Samsung festival. Elle King of "Ex's & Oh's" fame also made an appearance while Collegrove -- comprised of rappers 2 Chainz and Lil Wayne -- performed on March 12.
From March 16 to March 19, the Bud Light Factory will be hosting more than 30 artists, including stars like The Roots, Santigold, Rae Sremmurd and Yo Gotti. The Roots will be joined on stage by Phantogram and Big Boi, a hip-hop artist most famous for performing alongside Andre 3000 in Outkast.
Lil Wayne Net Worth: $150 Million
Lil Wayne has a net worth of $150 million. The New Orleans-born rapper and producer has been pulling in eight-figure annual earnings for the better part of a decade. In 2015 alone he pulled in $15 million. Even in 2010, when Lil Wayne was jailed for eight months for criminal possession of a weapon, he pulled in $23 million.
While the rapper continues to sing, Lil Wayne has been acting on the side for Samsung commercials. In a Samsung Galaxy S7 Edge commercial, the rapper gives his phone a champagne bath to boast its water resistance; in another, Lil Wayne surfs with Wesley Snipes.
Lil Wayne's "Carter V" music album will be the rapper's 12th studio album. It will be released by Young Money Entertainment and Republic Records.
2 Chainz Net Worth: $6 Million
Performing "Gotta Lotta" alongside Lil Wayne at SXSW on "Jimmy Kimmel Live," the rapper has had a lucrative musical career. Much of 2 Chainz's net worth is owed to the success of his albums.
In 2012, his album "T.R.U. Story" sold 623,000 copies, making him an estimated $627,000. One year later, "B.O.A.T.S. II: Me Time" sold 221,000 copies for $223,000.
In 2015, 2 Chainz announced he was forming his own record label, The Real University. The label has signed collaborators Cap.1 & Skooly and Fresh, formerly known as Short Dawg of Young Money.
Big Boi Net Worth: $40 Million
Born Antwan André Patton, Big Boi has a net worth of $40 million. Famous for his role in the successful hip-hop act Outkast, Big Boi has made millions off his music.
In 2007 and 2009, he earned $8 million. In more recent years, however, his earnings have allegedly dropped. In 2012, for instance, he earned an estimated $67,000 off the sales of his album "Vicious Lies and Dangerous Rumors."
In 2016, he recorded a song that will be featured on the soundtrack for Bounce TV's "Saints & Sinners," a TV drama about members of a Georgia church. He appears on a remix of Ditrick Haddon's "Sinners (Saved by Grace)."
Sia Net Worth: $20 Million
Sia's net worth of $20 million can be traced to 2005, when the HBO series "Six Feet Under" used her song "Breathe Me" as background music during the final scene. Sales of her song skyrocketed, eventually hitting 1.2 million copies sold.
Since then, Sia has performed and developed hits alongside Katy Perry, Britney Spears, Rihanna and Beyonce.
In early 2016, Sia released her latest album, "This Is Acting," which sold 81,000 copies its first week and debuted at number four on the Billboard 200. Not long after, Sia joined James Corden for Carpool Karaoke, a segment on "The Late Late Show With James Corden" where famous musicians sing alongside the host and discuss their musical careers.
Elle King Net Worth: $2 Million
The daughter of comedian Rob Schneider, Elle King appeared in several movies before releasing her debut album, "The Elle King EP," in 2012. The "Elle King EP" reached No. 34 on the US Heatseekers chart.
The bulk of Elle King's $2 million net worth, however, can be traced to her success with "Ex's and Oh's." The 2015 song reached No. 1 on both the US Rock and US Alternative charts, as well as No. 10 on the Billboard Hot 100.
Julian Casablancas Net Worth: $10 Million
The Strokes frontrunner Julian Casablancas has a net worth of $10 million. The Strokes' 2001 debut album, "Is This It," was both a critical and commercial success.
The Strokes put out two more successful albums, "Room on Fire" in 2003 and "First Impressions of Earth" in 2006. Both albums were certified gold and peaked at No. 4 in the U.S. music charts.
Casablancas has worked with numerous artists, producing music with Queens of the Stone Age, Santigold and Pharrell. At SXSW 2016, Casablancas covered The Velvet Underground's "White Light, White Heart" for the "Vinyl" soundtrack.
SXSW Artists Performing in 2017
Already confirmed for SXSW 2017 is Crystal Castles, an emo act out of Canada; indie band Joan of Arc; and Mexico's 3Ball MTY. New York's Dirty Fences will also be performing, as well as London's Micachu and the Shapes, and Pure Bathing Culture from Portland, Ore.
With humble beginnings as a festival designed to showcase local talent, South by Southwest is now among the most important events in the global music community. Global sensations like the Dixie Chicks, The Fugees, Black Eyed Peas, Amy Winehouse and Johnny Cash are among the festival's veterans.
More from GOBankingRates:
Calling all HuffPost superfans!
Sign up for membership to become a founding member and help shape HuffPost's next chapter