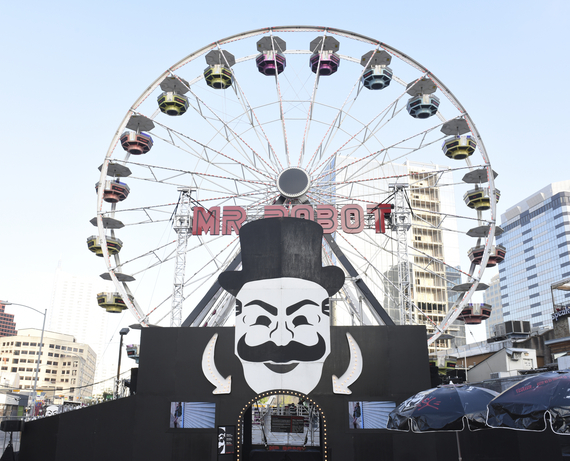 The South By South West Festival of 2016 finally finished this week. In the end it seemed, more sprawlingly than ever, to take over the city of Austin for even longer than I previously remember - and I've now been an attendee for a dozen years or so.
Maybe the (literally) biggest sign of how the Festival - or festivals, if we count the divisions of Film, Music and Interactive as separate entities - held gaudy sway over the entire Texan capital was the gigantic fairground Ferris wheel prominently erected for the events' duration on Congress Avenue ... suddenly an extra anchor for that main drag, second only to the great domed State Capitol at its northern end.
The wheel, with free rides offered to everyone every day, was an emblem for - and a thank-you gift from - the USA Networks TV show Mr Robot, which had its roll-out at 2015's "South By". The Ferris wheel and its attendant carnival attractions, including a video-game arcade and photo-booth, are all drawn from totemic features (actually around Coney Island) appearing in the series itself.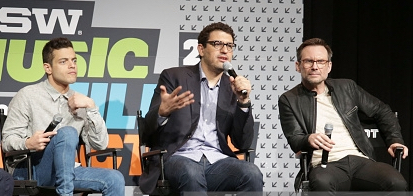 Given an initial boost by the SXSW premiere, the show (due to air its second season this summer) has gone on to bask in enormous success measured in ratings, critical approval, a Golden Globe Award and - very important here - a vast online and social media following. Top cast-members Christian Slater (right) and Rami Malek (left), plus show-runner and originator Sam Esmail (center) took part in a hugely-attended South By panel discussion that filled 3 conjoined, giant ballrooms in the Austin Convention Center.
The session was part of an annually more salient element of the Festival - what the billing described as "Convergence" between the various genres, media of expression, and creative disciplines that are represented here year after year.
The Mr Robot session marked in particular a coming-together of Interactive technology with Film, or more precisely with the "Episodic" televisual sub-division of Film, to copy the organizers' own ever-precise taxonomy. The basic subject-matter of the show, after all, concerns interactive media itself -- in particular wicked corporate domination of society via computer, and techie hacktivists' resistance efforts on behalf of the powerless "99 percent".
The session's apt subject-line was "Coding on Camera: MR ROBOT and Authenticity on TV". It spoke pointedly to one characterizing feature of the series, one that endears it to South By-ers -- its determination to avoid what Esmail called the frequently "cheesy" and unconvincing televisual portrayals of computer work, especially hacking. Thanks in large part to FBI cybercrime experts working as consultants with both writer and actors, it's never gibberish that gets typed on screen, but always workable, plausible code.
Above and beyond all that careful detail, of course, is the show's overall dramatic power -- generated mainly in the sharp ways that Slater and Malek, working with a smart, emotionally real screenplay, convey convincingly the beating hearts inside lonely, disaffected characters. The empathetic lead given especially by Slater is an strong source of sheer, honest humanity set against a background of, yes, lots and lots of hardware and software, and even that self-consciously recurring 1990s aesthetic.
In the session the most rousing cheers and applause rose to the rafters when a young female participant included in her otherwise probing contribution a note of thanks to the program-makers for "making a career in tech look very cool".
Here's taste of that essential human-ness that I find persuasive ... and below that, a taste of Season 2, coming in June.
****
Read more of David Tereshchuk's media industry insights at his online column, "The Media Beat", with accompanying video and audio. Listen also to "The Media Beat" podcasts on demand from Connecticut's NPR station WHDD - and at iTunes.
REAL LIFE. REAL NEWS. REAL VOICES.
Help us tell more of the stories that matter from voices that too often remain unheard.