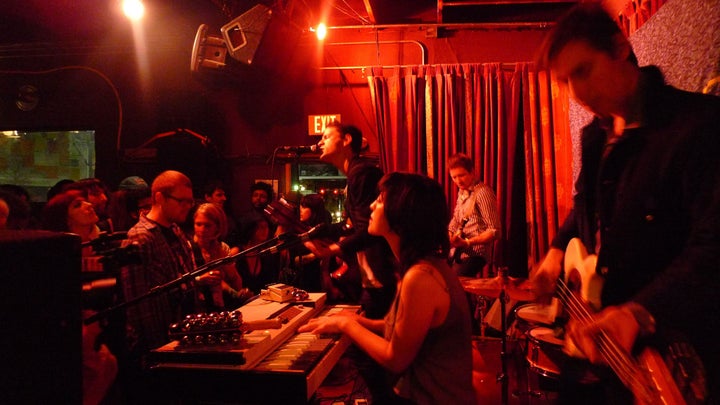 There are two factions of people at SXSW: those interested in seeing as much music as possible and those attempting to acquire as much free stuff as possible. Of course, there are subsects of both groups, but all species of SXSW music participants can trace their evolution back to these core values.
At no other places do these two groups collide more than at the Fader Fort presented by Converse.
There are many activities at the Fader Fort (one of which is watching live music) but the venue is most known for free 16-oz. Budweiser tall boys and free Bushmill's Irish Honey whiskey. Like Pavlovian dogs, people stand in line at the bar for 15 minutes, reach the counter, put a dollar in a tip jar, receive their beverage of choice and walk away guzzling alcohol. They practiced this learned behavior over and over and over for four days straight. I would know. I was one of them.
The obvious question: Why would Budweiser willingly give away so much free booze? Market share, free advertising, brand loyalty -- all that blibbidy-blab -- goes out the window when you give away 5,000 beers and the people drinking them laugh about never drinking Budweiser until they're back at the Fader Fort next year. Budweiser has been the sponsor five years in a row. That's a lot of product.
But free booze matters because then even people who don't enjoy live music congregate at Fader Fort every year. Inevitably the drunks will be drawn to the stage and exposed to some band or artist they never would have heard on the radio.
Fader is an accredited music magazine and thus has always used the Fort to bring together a blend of rock, hip-hop, electronic and alternative music from both up-and-coming and established acts. This year's featured performers included Santigold, Big K.R.I.T., Gary Clark Jr., Danny Brown and an appearance by special guest Rick Ross. You could go to Fader Fort and walk away completely satiated by your musical experience, a feat few SXSW showcases can claim.
The problem for the music snobs is they can't avoid the free booze.
There's that one band they really want to see at Fader Fort so they get there early. Then a few beers turns into several beers and then another and then just one last one -- before they know it the band they came to see finished an hour ago and they haven't even set foot within 100 yards of the stage. At that point they figure they might as well keep drinking because -- oh yeah, did I mention the booze is free?
And so the music folks avoid the Fader Fort and look down their nose at the drunks, even though we're all just one and the same.

Calling all HuffPost superfans!
Sign up for membership to become a founding member and help shape HuffPost's next chapter