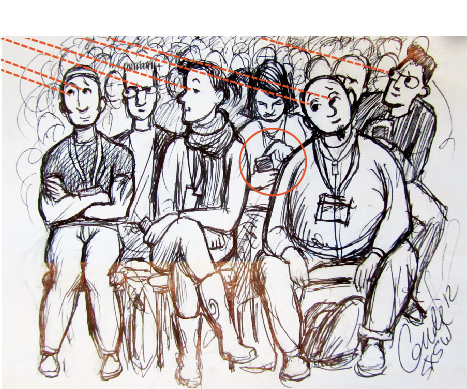 A sketch I made of what the audience looked like from our (as panelists) perspective: everyone facing forward as we spoke but looking sideways at the Twitter feed.
South by Southwest week has reminded me of a frustrating new dynamic at conferences if you're the speaker. I was on a 'visual storytelling' panel at last year's conference and, although 600+ people attended the session, only about 1/3 of them were actually "listening" to us!
Were we boring them? No, but the audience had been offered a better, more irresistible experience that they couldn't ignore. Behind our panel to our left was a screen the size of a brownstone building that was streaming the audience's tweets, a cacophony of highlights, commentary, analysis, jokes and criticism. The Prezi-like magic that zoomed the huge text in and out, up and down and right and left was visual heroin that addicted everyone present.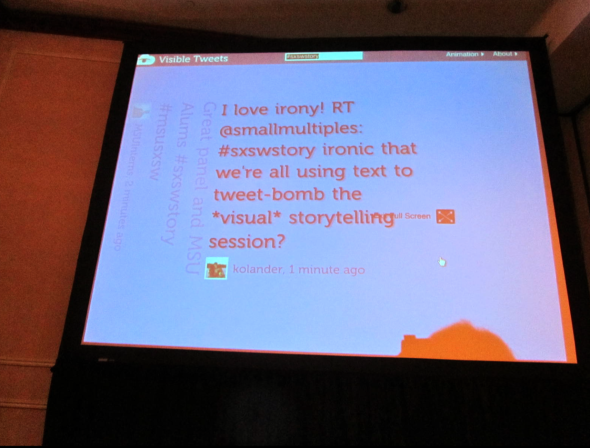 There were three types of "listeners" out there in the sea of faces:
THE NARCS: The purists who were actually watching and listening to us directly
THE PUSHERS: Those who were listening, translating and interpreting content into Twitter, which takes the skill of a seasoned United Nations translator (who, quite impressively, listen to what's being said while simultaneously translating what has already been said into another language.)
THE ADDICTS: Those who ignored us in favor of the eye candy on the screen. Hey, why should they listen to us drone on and on when the really good stuff is being digitally filtered for them? It's the difference between reading a lengthy news story and an shorter highlights article that puts it all into perspective.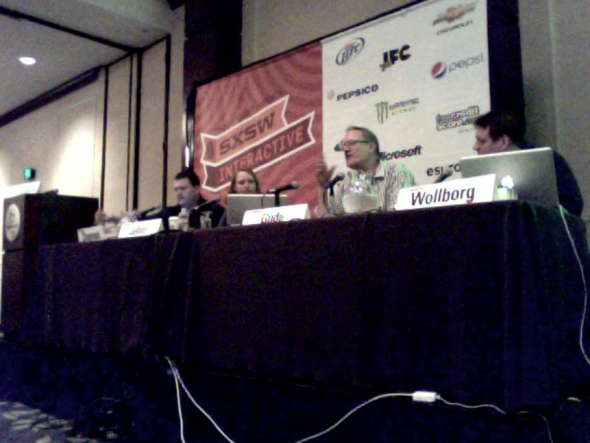 Our panel was on visual storytelling. C.C. Chapman, Charlie Wollborg, and Becky Johns were the other panelists.
But you know what, we didn't mind... we were glad they came to hear us in whichever way they chose!
Popular in the Community