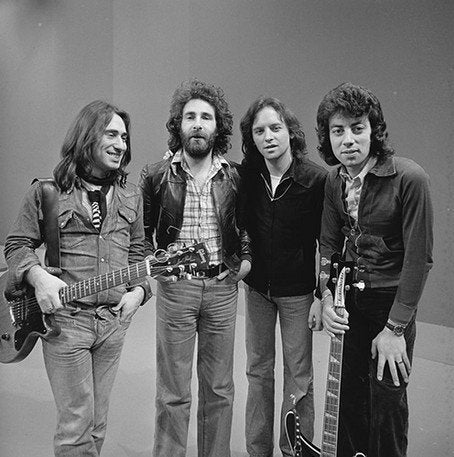 It was unexpected -- there was great music all about and I saw some really memorable performances last week (21 Pilots, Grohl/Sound City/ St. Lucia, Zedd...), but the band I couldn't get out of my head was a group barely anyone remembers these days: the iconic British art rock band from the '70s, 10cc.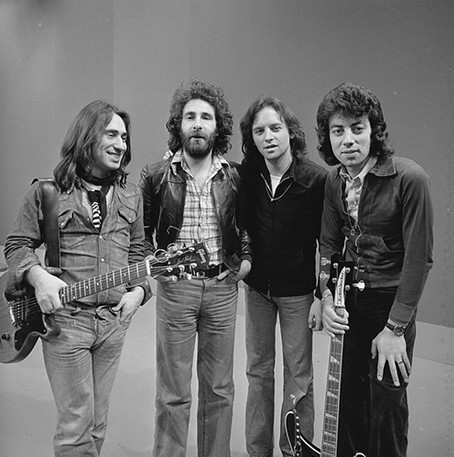 Photo Credit: AVRO
Why 10cc? It all came about because my old Irish friend Suzanne invited me to view a very cool new app called WholeWorldBand, which had been shortlisted from 500 entrants into the final 8 at SXSW Music Accelerator Awards. It was created by Kevin Godley, man of so many careers: songwriter, singer, original member of 10cc, Godley/Crème, video and film director, breakthrough work with U2 etc.
I was supposed to concentrate on the app, but even though I had met Kevin quite a few times, I couldn't stay on topic as I kept thinking about how unique that original lineup of 10cc was. And I wanted to know more about the band.
If you're not familiar with them, a brief recap of their history is in order. 10cc were four very talented guys who had played with other bands and each other, written hit songs and recorded just four albums together (with the original lineup) in the early to mid-'70s. Kevin Godley, Lol Crème, Eric Stewart and Graham Gouldman had very different musical sensibilities, yet the odd chemistry resulted in magic. A rare combination of pop and rock in its highest form, 10cc wrote witty lyrics and had great singing and musicianship. Their songs were surprisingly complex, often startling the listener with changes in tempo and multi-layered sounds. It defied a single genre definition. If their music came out today, it would trouble many a journalist as to how to describe them.
10cc was a band that kept getting better, pushed by a restless creative spirit where simple songs morphed into masterpieces like "I'm Mandy Fly Me." The brilliant How Dare You became their best, but, unfortunately, final album as the creative tension tore them in half. Godley and Crème split off, while Stewart and Gouldman carried on with 10cc in a more conventional pop direction for a few more years.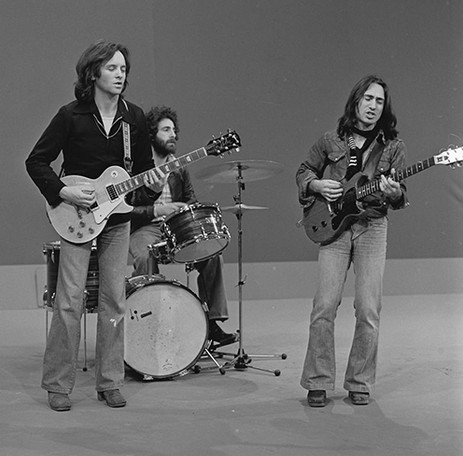 Photo Credit: AVRO
It's safe to say that the majority of times that bands break up, it would be a good thing to leave it that way. In trying to recreate the past, something important is always lost. And even though 10cc tried to put the magic back together 15 years later with a new record, as with most reunions, it didn't work.
But the band you should know is the original lineup. So if you're reading this and need an introduction, here are 10 reasons you should know this band:
Rubber Bullets

- Their first big UK hit that created heat on both sides of the Atlantic showing their early promise.
Wall Street Shuffle

- Real growth from their first album... a standout, satirical jab that brought them a lot of new fans.
Worst Band in the World

- Making fun of themselves in this self-deprecating song about making it with no real talent.
Une nuit a Paris - Clearly a major influence on Queen's Bohemian Rhapsody and a wild, fun journey.
I'm Not in Love

- Despite the fact that this song was so overplayed, its beauty and originality should not be brushed aside.
Art for Art's Sake

- Another song that packs a lyrical wallop -- the eternal turmoil of money vs. art.
I'm Mandy Fly Me

- Brilliant satire of airline ads running at the time. What a song! What a lead vocal from Eric!
Don't Hang Up

- Yes, my favorite song of theirs of all time, it was the last track of their last album together, a virtual suite of different musical styles. Godley's falsetto on the marvelous final lyrics, "When the barman said what're you drinking...I said marriage on the rocks," just takes your breath away.
SXSW: a great place to discover new music and future stars, and also perhaps to rediscover something special from the past.
REAL LIFE. REAL NEWS. REAL VOICES.
Help us tell more of the stories that matter from voices that too often remain unheard.