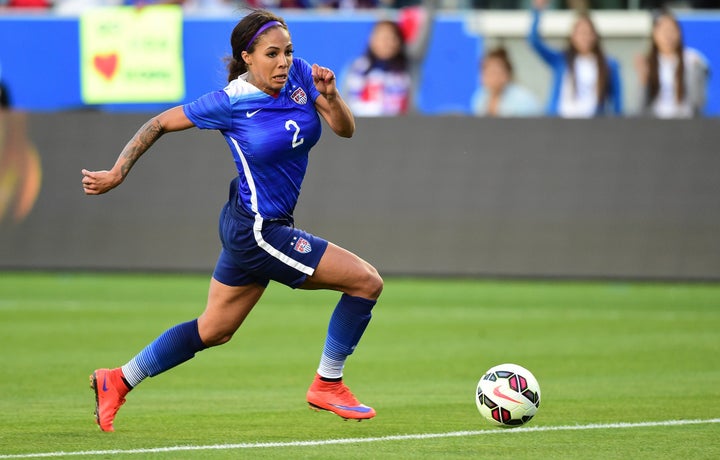 Sydney Leroux's life is so, so much different. This time last year, she was best known for justly complaining about FIFA's women's World Cup turf decision. Fast forward to present day, and she's now married to an MLS star, has a World Cup winner's medal in her back pocket and has successfully fought back against racist abuse in soccer.
Riding high off of the World Cup title, the 25-year-old Canadian-American forward is leveraging her on-field accomplishments with her own self-expression to become one of the United States' most visible black female athletes. But she's also biracial -- as the daughter of former Major Leaguer Ray Chadwick and Canadian softball player Sandi Leroux, she's trying to become the athletic role model for black and biracial girls that she never had growing up.
Speaking to The Huffington Post over the phone on Thursday, Leroux dished on what the team's World Cup triumph means for the movement for equality women's sports, why she wears makeup on the pitch and what happened when a U.S. women's soccer team stalker ended up on their hotel floor.
What was the first thing you did after winning the World Cup?
I ran to my husband and my mom and was giving them the biggest hugs and kisses. We were crying and it was a pretty amazing moment. I definitely spent that time at first with my teammates, because we all ran onto the field, and then we got time to find our families in the crowd. That was an emotional moment.
You obviously didn't have a chance to do your regular cool-off routine after winning the World Cup. How do you normally wind-down after a match?
After a match it's super important to restore your body. For me, I like something that tastes good, so Nesquik has always been a thing I use to restore my body.
Is that something that goes back to your childhood and seeing soccer moms hand out orange slices and chocolate milk cartons?
Exactly! It's always been a known thing with chocolate milk. Back then, my mom would have to make it in the powder, but now they have the bottles, so it's easy for moms to bring them for the kids after the game.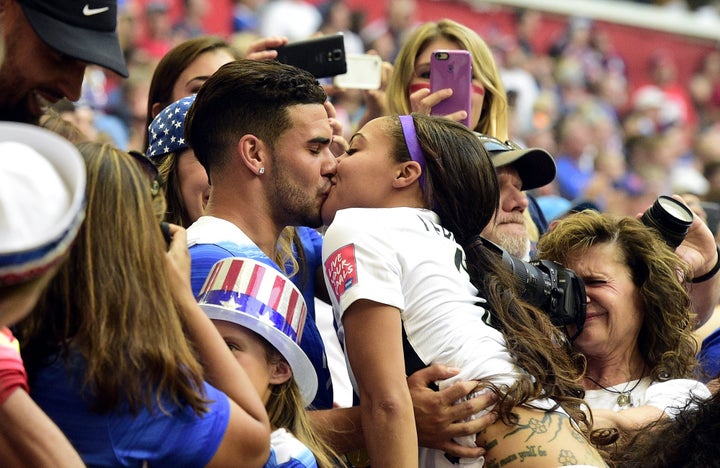 Is there any work-life balance in the life of a pro athlete? How does your husband, MLS star Dom Dwyer, and his career factor into things?
We both really try and push each other. I think I'm a lot harder on him than he is on me, but he can probably take it a little better. We try and spend as much time together as possible, but our time is fleeting. Me having this injury allowed us to spend some time at home together. He's really helped me get back in shape and back into form after my surgery. Work and life is one in the same, especially when your husband does the same thing you do.
That being said, are there any activities you both bond over in your free time?
We just got a puppy! We've been putting most of our time into training her. We don't want her to turn out like our other dog, Boss, a chihuahua who's not very friendly.
You and the rest of the team are still on the World Cup tour. What's the craziest thing someone's said to you since winning the World Cup?
We've got seven more games to go. It's just been pretty wild. We actually had a little bit of a creeper kinda creep around outside of our hotel. Obviously, he ended up getting escorted out of the hotel. It's been crazy, because the team is now pretty well known after what we did this summer.
What's the deal with this creeper? Was he stalking you guys from city to city?
Yeah! He pretty much got on an elevator with some of the girls and then came out on our floor, and that's not -- we don't have anyone else on our floor aside from our team, so they called security and he ended up getting escorted out of the hotel. That was the first time that that happened, but it goes away pretty quickly -- our security is pretty good.
You were in Vancouver, your hometown, for the Final, but you won it representing the U.S. How was that experience for you?
It's been pretty amazing. It was a little bit more emotional for me, because I got to technically come home to the city that I was born in. To win it, in the city you were born in, playing for a different country, it was an unreal situation. I think that I might be one of the only people in the world to have done that.
Me and my teammates were talking about it yesterday, and I don't think we'll be able to grasp what we did this summer for women's soccer, for women's sports in general, and how we captivated a nation until we step away from the game.
After you scored in Toronto and hushed the crowd, a Canadian SportsNet commentator called you "classless." What do you have to say to that?
I mean, I won a gold medal, so there's not much to say. I think a lot of people in my situation would do that. I always wanted to play on the best team in the world, and in my eyes, the best team in the world is the United States. I proved myself right by doing that. My path was a lot harder, and I took the road less traveled, and I think it's important to keep an open mind to what I went through to get to where I wanted to be.
I will say, during Canada, there was no problems or negative stuff that towards me on Twitter, especially after what happened in Toronto. I think that people kinda understood that it was really, really bad what happened there, and just took a step back.
Can you expand on your experience in Toronto?
There was a lot of racial stuff. There was threats. All that was documented, and people got to see what was said to me. I actually got someone during the World Cup in Canada, he sent me a Facebook message apologizing about what happened.
As a biracial child and one of America's top black female athletes, what does success mean to you, coming from what you've endured?
I grew up not living in a black community, so it was very hard for me in the beginning to know who I was. I felt like I've always known who I am, but on the outside, I really didn't know when I looked down at skin or saw pictures of myself, why I looked that way. I think now though it's so important for girls to understand it's such a beautiful thing, and now it's normal.
I met this little girl and I told this story on my Facebook page about how she changed the way I looked that myself. I realized I, as a successful black woman in sports, can have a platform for little girls who were once like me and didn't really know how to feel.
You're now a role model for young biracial girls of color. Did you have a role model like that growing up?
My role models were Muhammad Ali and Michael Jordan. I didn't have a female role model that I looked up to. I looked to these big time superstars. I think it's great now that girls have so many role models and types of women to look up to. White, black, gay, straight -- it doesn't matter. Our team is so good with having a bunch of different people that they can look up to now.
I noticed you wear makeup when you play. That's something I've seen Serena Williams do sometimes. How long have you been doing that for, and why?
Since college -- since I started wearing makeup, probably. I'm a big makeup person and a big fashion person. If I didn't play soccer, I'd be a makeup artist or a stylist. That's who I am. I enjoy that, and that carries onto the field.
The Women's World Cup and Team USA's championship run kick-started a summer where women's sports were really thrust into the spotlight. What's been your reaction to this summer in women's sports?
It can only go up. The whole turf thing was big for us, and we fought that very hard. We don't think we'll have to deal with that again. A lot of people got behind us to push, fight and have a voice, especially now that we have a voice for things that aren't equal in women's sports. We have a ways to go, but we've definitely pushed the boundaries.
Equality in women's sports has subsequently been a topic of national conversation. What would you like to see happen to level the playing field?
It's getting there. In the NWSL, for us to get connected to MLS teams, I think that's better for women's soccer. To be connected to successful teams, like what the Portland Timbers did with the Portland Thorns. They have more attendance than anyone else, so I think if the NWSL and MLS did that with more teams, we can be more successful.
How do you feel about FIFA and the pay gap between the men's and women's World Cups?
It's a tough one, because is women's soccer going to make as much money as men's soccer? Probably not in our lifetime. That's something that we have to understand. Compared to Manchester United, we're never going to make that kind of money, regardless. With stuff like that, there's a little understanding, but for our World Cup, did we think we should've made more money for winning a World Cup? Yeah, of course, but that's just life for right now.
This interview has been edited and condensed.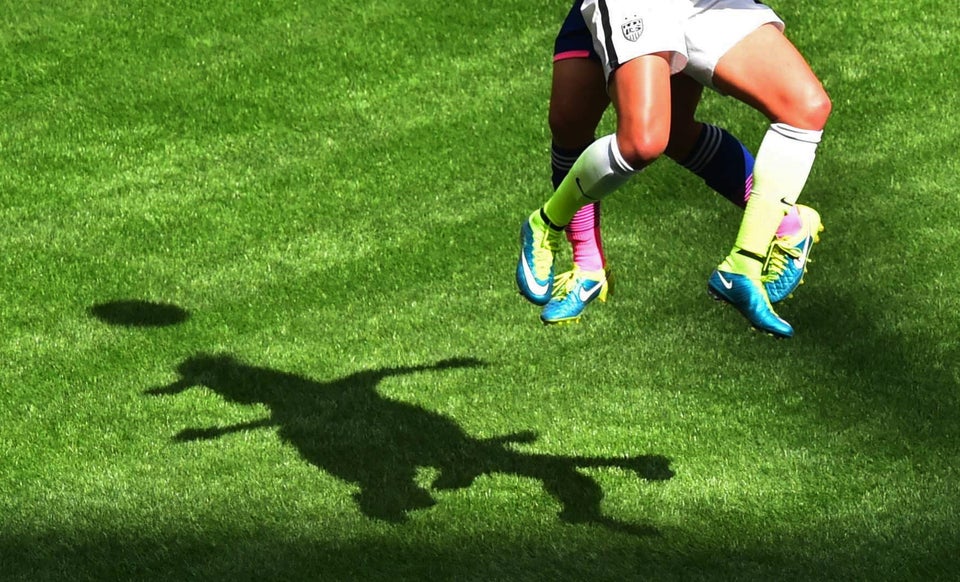 The Most Badass Photos From The Women's World Cup Final
Related