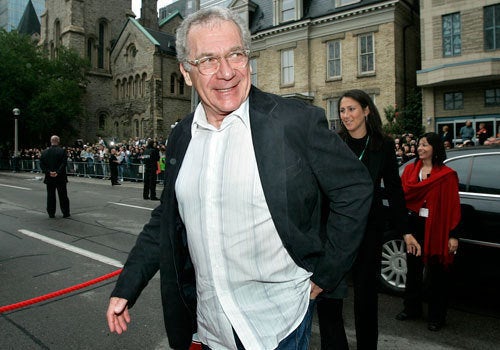 "I first met him while he was in the midst of editing Tootsie (one of the all time classics)," Cruise, who later worked with Pollack in 1993's The Firm, said in a statement released early Tuesday morning. "I'd seen every one of his pictures and he generously took the meeting."

Cruise, who was then an up-and-coming actor, recalled how the famed director - who also was involved in Eyes Wide Shut - took more than six hours to answer all of his questions.

"Throughout the years, unpretentious and never condescending, he shared with me what he loved about family, storytelling, food, flying and a great bottle of vino," Cruise said. "He was a Renaissance man and a great friend. I will miss him dearly."
"Sydney made the world a little better, movies a little better and even
dinner a little better," Clooney -- who headlined the Pollack-produced 2007 thriller Michael Clayton -- said in a statement to the Associated Press.

"A tip of the hat to a class act," Clooney added. "He'll be missed terribly."
Sydney Pollack, a Hollywood mainstay as director, producer and sometime actor whose star-laden movies like "The Way We Were," "Tootsie" and "Out of Africa" were among the most successful of the 1970s and '80s, died on Monday at his home in Los Angeles. He was 73.

The cause was cancer, said a representative of the family.
After launching his show-business career as an actor and acting teacher in New York City in the 1950s, Pollack moved west in the early '60s and began directing episodic television before turning to films.

Beginning with "The Slender Thread," a 1965 drama starring Sidney Poitier and Anne Bancroft, Pollack was credited with directing 20 films, including "They Shoot Horses, Don't They?," a 1969 drama about Depression-era marathon dancers starring Jane Fonda that earned Pollack an Oscar nomination for best director.

Known for what New York Times film critic Janet Maslin once described as "his broadly commercial instincts and penchant for all-star casts," Pollack directed seven movies with Robert Redford, beginning with "This Property Is Condemned" (with Natalie Wood) in 1966.
Sydney Pollack was a famed film director who won 2 Oscars and was nominated for many other awards.
Yahoo! Movies describes Sydney Pollack's influence on American cinema:
One of the rare Hollywood talents who excelled at both acting and directing, Sydney Pollack fell haphazardly into a craft that eventually earned him three Oscar nominations and one Academy Award. Thanks to his early career as an acting coach, Pollack developed a reputation for being one of the best - if not the best - director for actors to work with. But his filmmaking style - or lack thereof - was without a signifying mark or defining element with which audiences could identify. In fact, it was quite easy to walk out of the theater having enjoyed the movie without ever knowing Pollack was the director. Be that as it may, Pollack crafted excellent films in his four decades as a filmmaker, adding such luminous titles like "They Shoot Horses, Don't They?" (1969), "Three Days of the Condor" (1973), "Tootsie" (1982) and "Out of Africa" (1985) to the American filmmaking canon. Despite a lack of visual flare, American cinema would have suffered without Pollack's steady contributions.
Watch Pollack discuss his discuss his documentary about the acclaimed architect, "Sketches of Frank Gehry".
Watch a clip of Pollack with Dustin Hoffman in "Tootsie", a one of the most famous films that Pollack directed.
Check back for updates...
Support HuffPost
The Stakes Have Never Been Higher
Popular in the Community