Paradigm Shifters is a series of interviews with a select group of women from eclectic walks of life. It will highlight real life insight on how women have been able to turn weakness into strength. Each interview is the naked truth about breakdowns that inspired breakthroughs. These women have experienced internal changes, which make them quintessential Paradigm Shifters.
Everything I have ever done has been focused on this underlying theme of shifting the paradigm because "what we think determines what we feel, and what we feel determines what we do." Hence why Seven Bar Foundation and Empowered by You takes lingerie, which has traditionally been seen merely as a tool of seduction, and makes it a tool of empowerment.
I hope after reading these stories you will look at your own situations, struggles and accomplishments through a different lens and, at the very least, be better equipped to change your own paradigm. At the end of the day, we are our own alchemists turning the silver we were born with into the gold we are destined to become.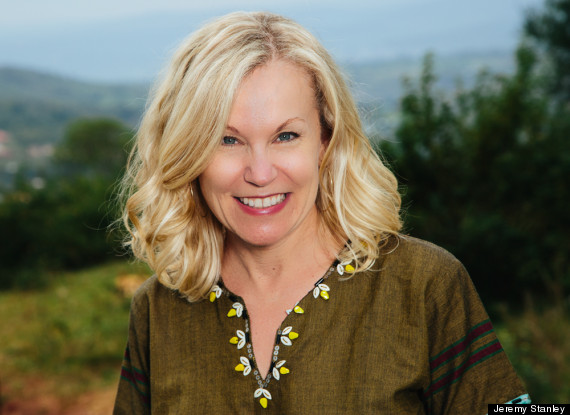 Sydney Price - Senior Vice President, Corporate Social Responsibility at Kate Spade New York
How did you and the Kate Spade New York team come up with the idea for on purpose?
On purpose is a trade initiative that was born out of the desire to transform a whole community as well as start and build up a new supplier in Masoro, Rwanda. We had been working with artisans in post-conflict countries for many years, and, through that work, we realized that moving to a trade-based model was what would truly lift up communities.
From that initial desire of community impact, the leadership of the company supported our approach of enabling artisans to lift up their community. Now, all throughout our company, people are being very hands-on in fully integrating the artisans as a manufacturing partner.
What does Kate Spade New York hope on purpose will accomplish?
We want to teach a group of 150 Rwandans how to become a profitable supplier to our family of brands -- Kate Spade New York, Kate Spade Saturday and Jack Spade. This means their whole community can reap the economic benefits of being home to a profitable social enterprise, which reinvests profits back into the community. Our hope is to enable the artisans to transform the quality of life in their community.
What are Kate Spade New York's goals for the future of on purpose?
On purpose is unlike other corporate social responsibility programs because it is founded on a for-profit business model. Our hope is that the artisans in Masoro will have a toolkit of skills to learn how to be a high-performing, profitable supplier in the global marketplace.
Our long-term goal is to ensure Masoro's economic stability and take this trade model into other communities.
In 2012, you spoke at the Concordia Summit, a gathering of thought leaders promoting solving societal problems through private and public partnerships. Now, Kate Spade New York is doing just that with on purpose. Why do you think public private partnerships are a good way to improve society?
For on purpose, this means we go beyond teaching artisans how to make remarkable products. We teach them how to pack it, how to ship it, how to invoice it, how to clear it out of customs, how to import raw materials and how to run a high functioning business. At each of those moments, we need partners in the public sector to support the local business' efforts. If we didn't do the latter, they would never be able to be an independent and thriving business.
What is the biggest paradigm shift you've experienced in your industry?
The Customer Always Votes: You do a disservice to artisans if you create products or collections that your customer won't love. We hold the artisans in Masoro to the same standards as all other manufacturing partners and we put their products through the same design process as any other products.
Do No Harm: Create initiatives with a much more long-term view. Even if you're working on a singular project, you have to think many years out and lead with economic viability. We must see artisans or small, local businesses not as charity projects but as business partners. Getting out of the mindset of "a group of people in need of our help" and moving to "how do we best equip them to thrive in the global marketplace."
What advice do you wish you could've given yourself when you were just starting out?
Embrace change, disruption and walking the path of the unknown. Resilience is essential, so when you fall -- which will be often -- brush off your knees and get going again. This is the space where innovation and dreams are born.
What kind of legacy do you wish to leave behind at Kate Spade New York and with the on purpose project?
The idea that intrapreneurial minded leaders can drive change and that there's no company that is too big for it. Also, I want on purpose to inspire other business owners and executives to examine and put into practice this new economic model that is sustainable, replicable, profitable and creates social good.
Sydney is the ultimate alchemist turning silver into gold. She is paving a path that will lead the way for others. I am proud to highlight her as a quintessential paradigm shifter. Her contribution to the fashion industry is helping to shift the paradigm of business for society.
Related
Popular in the Community