I recently attended the Summer 2014 Television Critics Association tour and the annual San Diego Comic-Con, two events that collectively provided me with information about hundreds of television series and specials that will premiere during the next six months and in some cases further off.
As I continue contemplating the dizzying number of shows that I previewed at both, I find that one of the few that I continue to think about on an ongoing basis and one of the very few that I cannot wait to see is Syfy's Ascension, an uncommonly ambitious six-hour mini-series scheduled to debut in November.
Interestingly, Ascension did not even have a pilot available for critics at the TCA tour. All they saw was a trailer, which was also screened for the audience at a well-attended panel for the show at the Con. I say "well-attended" because the room was full and people were turned away -- this for a property that at the time did not even fully exist. Perhaps it was the lure of Battlestar Galactica veteran and Con favorite Tricia Helfer, who leads the cast.
Fortunately, the very smart people at Syfy chose to feature a session with the cast and producers at TCA even though they did not have a pilot to show critics. That is unusual at TCA tours but hardly unprecedented. Also, it would have been a mistake for Syfy not to showcase it when it did, because it was the only opportunity to promote it at a TCA tour prior to its November premiere.
The session generated significant buzz, partly due to the talent involved, but primarily because of the intelligent (some might say intoxicating) premise of the show, which is categorized as a full-blown mini-series, the first from Syfy in five years (which alone makes it an event). It feels like the launch of an ongoing franchise to me in much the same way that the 2003 Battlestar mini led to a series that turned out to be widely heralded as one of the best in television history.
Anyway, it was my impression that critics and bloggers didn't stop talking about Ascension after that TCA panel. This was certainly true of the journalists I encountered at Comic-Con who had participated in the tour. And then something they saw in San Diego sealed the deal -- the spectacular Ascension Café in the Hard Rock Hotel, normally a restaurant known as Mary Jane's.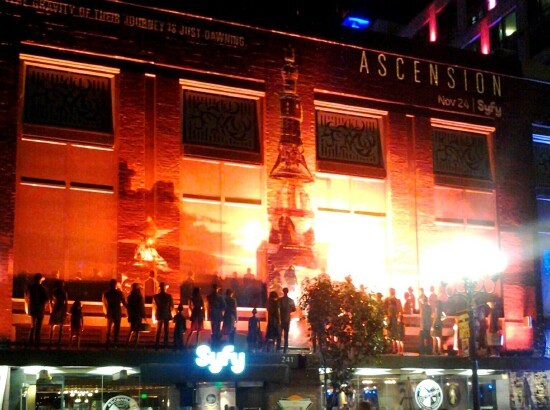 Every year at the Con, Syfy takes over the centrally located and highly visible Mary Jane's and transforms it into a theme restaurant that showcases a particular Syfy program. (In recent years it has been Café Diem, a location well known to fans of the much-missed Eureka, which really ought to return to Syfy as a TV movie franchise, and the Defiance Café, pegged to the network's current post-apocalyptic adventure-thriller.) This year it was transformed into an immersive environment that thrillingly promoted Ascension in every way, from the haunting spectacle of early-60s era individuals lining up out front to apply for a mysterious mission to the wildly detailed décor, which included video monitors at every booth that played a segment from President John F. Kennedy's historic 1963 speech about the space race. The exterior of the Ascension Café was especially eye-catching at night (as pictured above). Bathed in an eerie orange glow, it stood out amid the media circus that the Gaslamp District's Fifth Street becomes during the Con and at any given time had crowds of passers-by stopping to marvel at it.
Kennedy's enthusiasm for space exploration during the peak of what we might now refer to as the Mad Men era is the starting point for Ascension, which pulses with nostalgia, history and futuristic adventure even though it is set in the present. As the story goes, with Cold War tensions mounting and the future of America uncertain, Kennedy approves a program that sends 600 people into space in a giant vessel (with USA patriotically emblazoned on its side) with the goal of populating a new planet that it will take 100 years to travel to. The miniseries is set at the midpoint of the trip, when many of the original passengers have already passed away, leaving their children and in some cases their grandchildren to continue. The ship has lost contact with Earth, causing some of the people on board to argue that it ought to turn around and head back home.
Also, a murder has occurred on board as the miniseries begins, causing all manner of concerns and conflicts, as there had never been a killing on the ship throughout its first half-century of travel.
Nobody can tell how Ascension is going to turn out, but the buzz is already building because of its exposure at two major media events this summer, and because it is that rarest of television productions -- one that seems to have been designed to appeal to people of all ages. They include boomers who may have childhood memories of President Kennedy, the space race and everything else we have been reminded of or come to appreciate during the first 6 ½ seasons of Mad Men and Millennials who likely know nothing about any of it (education being what it is today) but nevertheless appreciate smart science-fiction adventure in any form.
Popular in the Community