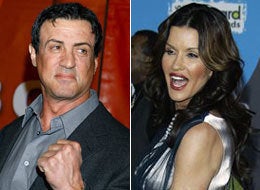 The self-proclaimed "world's first supermodel," Janice Dickinson, is a publicity hound who will say anything to get attention, according to her former fiancé, Sylvester Stallone.
The star of "Rocky" and "Rambo" is furious because Dickinson, who's now hosting "The Janice Dickinson Modeling Agency" reality show on the Oxygen channel, went on Greg Gutfeld's Fox News show, "Red Eye," this week and accused Stallone of doing steroids.
Dickinson told Gutfeld that not only did she see Stallone "juice" up with steroids but that he injected her with them as well.
"He juiced me," Dickinson said. "I'd wake up and my arm was as big as Popeye - steroids, testosterone, all that stuff that people say [mimicking Stallone voice], 'Hey, it's not that good 'cause you get really big, you know what I mean?' "
Read more of Dickinson's claims about Stallone
Popular in the Community