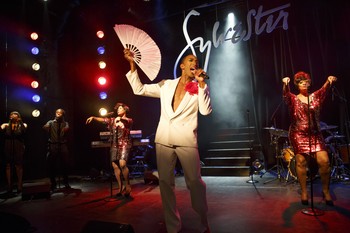 In the 1970s and '80s you could not go to a disco without hearing the silky, falsetto voice of Sylvester. With songs like "Do Ya Wanna Funk" and his signature "You Make Me Feel (Mighty Real)," Sylvester helped define an era. At a time when it wasn't as acceptable for an openly gay man, let alone an African American one, to express his feminine side, Sylvester was larger than life with big hair, bangles and beads, sequins, and furs. He developed a cult following and lived in his own truth until he died in 1988 from complications of AIDS.
Since 2012 Mighty Real: A Fabulous Sylvester Musical has been dazzling audiences and will come to Broadway next year. The show returns to New York City for one-night only on May 7 and promises to be bigger than ever. Written by Anthony Wayne, who also stars as Sylvester, and directed by Kendrell Bowman, the musical not only pays homage to Sylvester, it also provides a lesson in life.
"We all have dreams and aspirations," Bowman says. "In our show we see a man who goes through adversity, and he does it with pride, grace and strength. That makes us look at ourselves and say, 'You know that dream that I put on the backburner, I'm going to revisit and make it happen because Sylvester did it.'"
While making breakfast for each other, Wayne and Bowman talked about their passion for bringing the show to life, overcoming obstacles and how they maintain their five-year personal relationship while working together.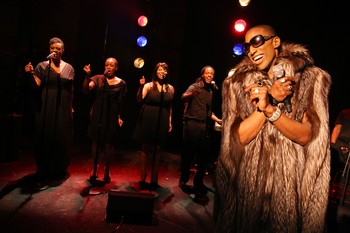 Sheryl Lee Ralph, co-producer of the show, has described Sylvester as D.I.V.A.--Divinely, Inspired, Victoriously Alive. How would you describe him?
Anthony Wayne: A trailblazer--as a man who went against the grain to just be himself when it wasn't as acceptable. I think that is enlightening for people to see because that ignites the fire within them to know that they can do the same regardless of what they are going through even in this time period.
In his life and career Sylvester faced a lot of adversity, starting with his church that disapproved of his sexuality. In your life what adversity have you faced?
Kendrell Bowman: We are young, African Americans, but we're also gay. When you're producing a show and you're sitting around a table with 50-year-old men sometimes you have to go above and beyond to show that you have your stuff together, especially when you're doing a story about a gay man. You have to prove that it's not stereotypical and there is some real truth in it for everyone.
What has been the greatest lesson you've learned while putting this show together?
Wayne: Keep evolving. You have to humble yourself and keep thinking, "What can I do to be better?"
Bowman: Be careful when you're working with your partner. Make sure you're passionate about it because it's not easy.
How have you made that work?
Wayne: We pray! And we take Advil!
Bowman: We both love the show, and we really don't have creative differences when it comes to it. We bounce ideas off each other. Sometimes it's hard as a director telling your boyfriend, "Oh, I need you to do it this way." We also have Sheryl Lee Ralph. She can play the referee.
Anthony, the idea for this show came after you watched an Unsung documentary about Sylvester. Did you know anything about him before that episode?
Wayne: I actually did not know of him before. I thought, "Wow!" I was shocked to see a man who had gone through so much adversity and was still consistent in what he wanted to do. After the show his story kept resonating in my head. His music is what really drew me in.
How can everyone, not just gay men, relate to this show?
Bowman: When you come to the show you'll see that the demographic is not one thing. It's a melting pot. Sometimes I sit in the back and look around. I see teenagers, older people and all different ethnicities. We created the musical so that everyone could be interactive. By the end of the show people are acquainted with their neighbors. You're going to party together. You're going to laugh together and of course you're going to dance together. It's not traditional theater. You're involved. I love that we're educating people on history--gay history--to people who probably would never have the chance to learn about this.
After everything you've done so far with your careers and now this show, what are you the most proud of?
Wayne: Doing this with Kendrell. As this show has developed it's been interesting to see how our relationship has grown stronger. I'm happy to see that something we've worked on for so long has grown to this point.
Bowman: When we began creating this show Anthony was just starting out as a chorus boy on Broadway. People knew him as a dancer, but nobody ever knew he could sing. With this show people get to see him the way I saw him. I always promised I would get him a Tony Award so with this show we're one step closer. We go to Broadway in the spring, and it will be a dream come true for me when Anthony wins a Tony Award for Best Actor in a Musical. We like to joke that we're like Diana Ross and Berry Gordy. That's our story.
"Mighty Real: A Fabulous Sylvester Musical" at Gramercy Theatre, May 7, 7:00 p.m. For more information and to purchase tickets visit http://www.fabuloussylvester.com
Calling all HuffPost superfans!
Sign up for membership to become a founding member and help shape HuffPost's next chapter