WASHINGTON, April 10 (Reuters) - U.S. Health and Human Services Secretary Kathleen Sebelius is resigning after overseeing the botched rollout of President Barack Obama's signature healthcare law, a White House official said on Thursday.
Her departure removes one lightning rod for critics as Obama and nervous Democrats try to retain control of the U.S. Senate in November midterm elections, but Republicans continue to see problems with the Affordable Care Act as a winning issue.
"If the Obama people thought this was going to calm the waters, I think they misread it. I think it's just going to embolden Republicans," said David Yepsen, director of the Paul Simon Public Policy Institute at Southern Illinois University.
The Oct. 1 launch of new Obamacare health insurance marketplaces, which was plagued by computer problems that stymied access for millions of people, has been condemned by Republicans as a step toward socialized medicine.
Obama has chosen Sylvia Mathews Burwell, his budget director, to replace Sebelius, the White House said. Well-known inside Washington, where her appointment was praised by the likes of Republican Senator John McCain, Burwell will have to manage the program through its next major challenges in the height of elections season.
But Burwell is relatively unknown outside the Beltway, and has a "tall order" to fix all the detailed issues with the law, and improve its standing among voters, Yepsen said.
Polls show Obamacare remains unpopular. In March, 46 percent of people said they had an unfavorable view of the law, while 38 percent said they liked it, according to the Kaiser Family Foundation.
Obama was due to announce the change with Sebelius and Burwell at his side at a White House event at 10:45 a.m. EDT (1445 GMT) on Friday. Sebelius remains on the job until Burwell is confirmed by the Senate, an administration official said.
Sebelius, 65, became the public face for the problem-plagued start to the enrollment period for Obamacare, which was meant to reduce the number of Americans without health insurance and cut into massive U.S. healthcare costs.
When enrollment opened in October, the federal HealthCare.gov website used by consumers in 36 states failed to work for weeks. The White House called in a team of management and technology experts to fix the site, which began working more or less smoothly by December.
Even as she took responsibility for the failures, Obama stuck by Sebelius, brushing aside pressure to fire her.
"Hold me accountable for the debacle. I'm responsible," Sebelius said at an Oct. 30 hearing.
The enrollment period was ultimately successful, surpassing the 7 million figure the Obama administration had predicted. But Sebelius, a former governor of Kansas, told Obama in early March she wanted to leave the administration, a White House official said.
"She believed that once open enrollment ended it would be the right time to transition the department to new leadership," the official said.

Burwell, 48, is no stranger to top-level administrative positions, having served as deputy White House chief of staff during the Clinton administration and in top roles at the Treasury Department and the National Economic Council.
She served at the Office of Management and Budget twice, as deputy director under Jack Lew from 1998 to 2001, and took over as director about a year ago. She helped the administration manage its response to a shutdown of the federal government brought on by a budget battle with Republicans in October.
In the intervening years, she worked at the Bill and Melinda Gates Foundation and as head of the Wal-Mart Foundation.
Burwell "seems to have a strong background in management, and that's what we need now," said Timothy Jost, a healthcare expert who teaches at Washington and Lee University.
"We're over some of the biggest hurdles now, and what we need is somebody who can stay the course."
Her nomination into the contentious position will likely be eased by a Senate rule change last year known as the "nuclear option," which lowers the vote threshold needed to overcome procedural hurdles for confirmation of presidential nominees.
Instead of the previous 60 votes required to override a senator's objection to a nominee, only 51 votes are needed to advance to a final vote under the changes made by Senate Democrats, who currently control the Senate 55 votes to 45.
One of the first challenges for Burwell will be to work with health insurers in the coming months as they set prices for Obamacare plans in 2015. Industry executives have warned that many states could see double-digit increases in monthly premiums as they try to account for the higher proportion of older policyholders who often cost more to cover. Such price hikes would provide fodder for Republican opponents of the law who say it creates financial burdens for individuals and businesses.
She will also be challenged to improve the health insurance exchanges before the next enrollment period begins in November, and with the Treasury Department, implement new penalties for Americans who did not buy health insurance.
Democrats facing tough races in November are pushing for politically palatable changes to the law, while Republicans will push to get rid of it.
"Secretary Sebelius may be gone, but the problems with this law and the impact it's having on our constituents aren't," said Mitch McConnell, the top Republican in the Senate.
"Obamacare has to go, too," McConnell said in a statement.

Sebelius's resignation caps a series of departures by lower-profile officials responsible for implementing the law.
Sebelius testified to Congress about the law as recently as Thursday, giving no sign that she was about to step down.
In an interview with the New York Times, Sebelius said she wished she could take "all the animosity" toward Obamacare with her when she departs.
"If that could just leave with me, and we could get to a new chapter, that would be terrific," she said.
Lawmakers from both parties gave Sebelius credit on Thursday for persevering through what Republican Senator Orrin Hatch called "one of the toughest jobs in Washington."
Analysts said Sebelius's career as secretary hit a low point soon after the Oct. 1 launch, when she continued to travel the country to promote enrollment, including an embarrassing appearance on "The Daily Show," a cable television comedy program, and regular skewering on "Saturday Night Live."
Republicans including her fellow Kansan Senator Pat Roberts called for her to step down for what he called "gross incompetence", and administration insiders said relations with the White House grew increasingly tense thereafter.
"You won't find a piece of paper saying she was fired. But it had to be uncomfortable, and not having a change in personnel after the disastrous rollout must have rubbed the administration's Democratic supporters the wrong way," said Joe Antos of the conservative American Enterprise Institute. (Reporting by Roberta Rampton; Additional reporting by David Morgan, David Lawder and Tom Ferraro; Editing by Sandra Maler, David Storey and Lisa Shumaker)

Before You Go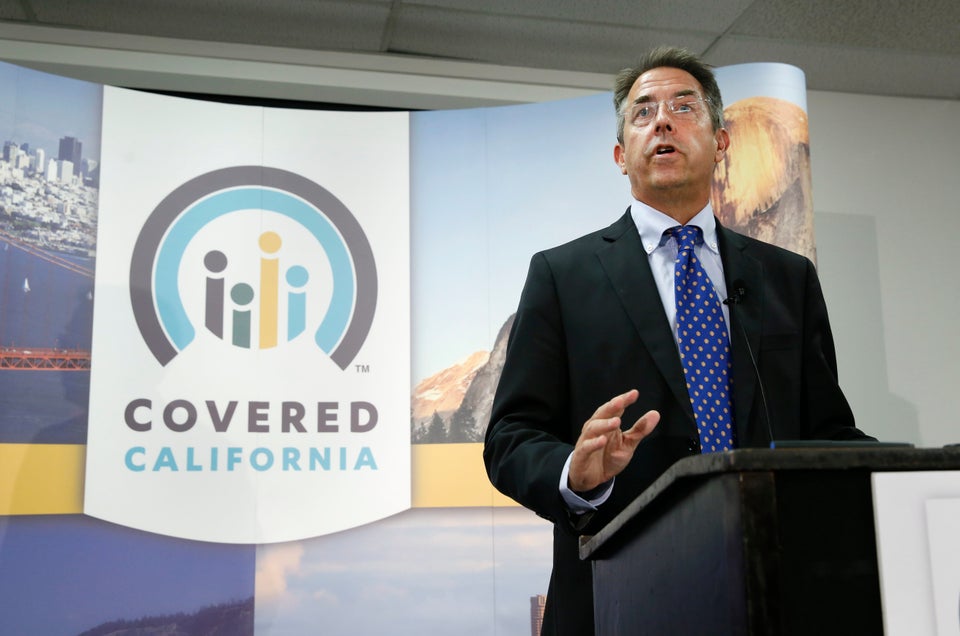 Obamacare's Biggest Losers
Popular in the Community