 Ever since I read The Bell Jar, Sylvia Plath's autobiographical novel, I've wondered if Plath had an eating disorder. Apparently, I'm not the only one. There's much discussion on the Internet about the link between Plath's dark moods and her suspected eating issues.
One chat room visitor went this far: "The internet assumes you are a girl and have an eating disorder if you're reading Sylvia Plath."
Now that a bunch of new biographies have been published commemorating the 50th anniversary of Plath's suicide, it seemed like the right time to learn more about my all-time favorite poet's food and body issues.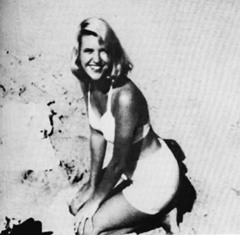 A Google search produced no corroborating evidence of an eating disorder, just a grad school thesis and a handful of websites listing the celebrated poet as one in a long line of eating-disordered celebrities. Plath's journals and published biographies may be more reliable sources, but both revealed nothing more than the poet's deep love of food. In fact, I contacted one biographer who admitted he knew nothing of an eating disorder, but would love to hear more.
Happily, I found a treasure trove of information about Plath's eating habits and body image in the only new biography written from a woman's perspective: Pain, Parties, Work by Elizabeth Winder. Although Winder explores just a sliver of the razor-sharp wordsmith's life -- the pivotal month she interned at Mademoiselle magazine -- her zoom view is wide enough to capture Plath's complicated relationship with food and body.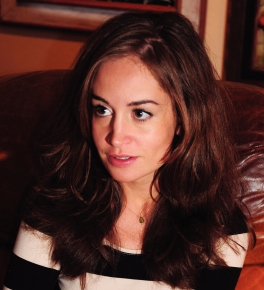 Pain, Parties, Work is a great book and, if you're a Plath fan, you should definitely read it. Winder's photographic eye for detail and illuminating interviews with Plath's fellow interns give a real sense of the woman.
Sensing that the insightful author of the soon-to-be published biography knew more, I set up a Skype interview with her. What follows are questions and answers from that recent interview, plus a video outtake on Plath's New York insecurities.
Q. In researching Pain, Parties, Work, what did you learn about Sylvia Plath and her relationship with food?
A. Sylvia Plath simply loved food the way she loved so much of the material world. From her journals, you could tell she loved to eat. She wrote about fresh honey from a honeycomb, the glint of peacock blue inside a raw oyster, the dazzling yellow of an egg yolk.
Q. In many ways, Plath was a mindful eater. She paid close attention to the taste and texture of food, the whole eating experience.
A. That's definitely what you'd call her in today's language. She didn't see food as fuel, she saw it as an experience to be enjoyed.
Q. Yet, she ate a lot more heartily than the other guest editors. What can you tell me about the prevailing attitudes toward food among women in the '50s?
A. Having a hearty appetite was considered unfeminine, maybe even more so than it is today. Today, you have actresses and models who say: "I eat hamburgers and fries every day and I just happen to look like this." In the '50s, even if you looked great, having a big appetite was considered a male quality.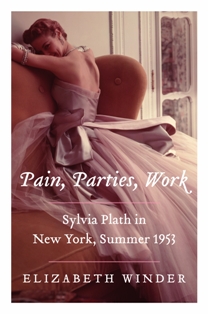 Q. What can you tell me about the diet mentality of the times?
A. There was less of an emphasis on nutrition then there is now. Smoking to keep your appetite down was considered totally acceptable, and there were more diet pills on the market. Just as having a big appetite was considered a male trait, so was physical activity. You were supposed to look great, but not be too active. Although today's models are taut and toned, the models in old copies of Mademoiselle were softer, less muscular.
Q. Like Marilyn Monroe. You write that Marilyn went low-carb, but Sylvia occasionally binged. Do you have any suspicions that Plath had an eating disorder?
A. Certainly when you read The Bell Jar, Esther Greenwood, [her fictional character,] eats all this caviar and avocados. Unlike Sylvia Plath, she didn't seem to be getting enjoyment from it. She was just eating to deal with emotional pain. I've always wondered how much of that relates to Sylvia's attitude. It makes sense that Sylvia would turn toward food to deal with emotional pain because she definitely found solace in food and in cooking.
Q. Have you noticed the legions of eating-disordered women on the internet who identify with her?
A. I have, and I completely understand why. Like so many women, Sylvia had insecurities with her body. She was a tall woman, 5'9", and felt big and oafish. She hated how she got pale in winter, and was obsessive about being suntanned. She thought her nose was too fat, her feet too big, her breasts too small. She definitely had her insecurities.
Q. If anyone struggled with an eating disorder, it sounds like her daughter Frieda did. In her confessional poetry, she writes about her bulimia. Did you learn anything about Frieda?
A. My research focused on Sylvia and the other guest editors who experienced the whole thing with her. I included their voices because I think they've got great voices, and it's their story, too.
Q. What can you tell me about Plath's weight gain after her suicide attempt?
A. She was treated with insulin therapy, gained a lot of weight, and was insecure about it. She didn't want visitors at McLean Hospital for that reason. When she got out of the hospital and lost the weight, she bleached her hair very blonde, and made a much bigger effort to be a '50s glamour girl.

Q. Anything else you'd like to tell me?
A. In one way, it might have been easier back then in terms of body image because it was perfectly acceptable, preferable even, for a woman to admit "Yes, I put effort in. Yes, I eat half as much as my husband." It's harder these days to keep up the idea that you're eating all this, but you just happen to look this good.
Elizabeth Winder photo by Reed Pedlow
Sylvia Plath photo reprinted with permission from 'Letters Home: Correspondence 1950-1963' by Sylvia Plath. Photograph by Gorden Lameyer copyright 1975 by Aurelia Schober Plath
For more by Jean Fain, L.I.C.S.W., M.S.W. on her website, click here.
For more by Jean Fain, L.I.C.S.W., M.S.W. on The Huffington Post, click here.
If you're struggling with an eating disorder, call the National Eating Disorders helpline at 1-800-931-2237.