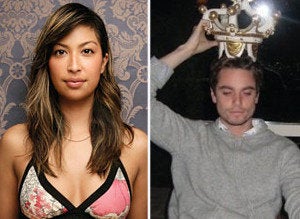 Police are questioning Nicholas Brooks, boyfriend of the fashion designer Sylvie Cachay, who was found dead in Brooks' Soho House Hotel room on Thursday.
According to the New York Post, Cachay, 33, and Brooks, 24, checked into the Soho House because Brooks accidentally set fire to Cachay's apartment while high. "He's a stoner," she told a hotel worker. "He's always stoned. Who puts candles behind the bed?"
Brooks' Facebook profile, much like the profile of any 24-year-old, shows pictures of him boozing and partying with friends, mugging with empty bottles and hash pipes.
The couple checked into the Soho House, an exclusive downtown venue with high profile guests like Gwen Stefani and the Beckhams, at around midnight. The Post reports Cachay was on drugs when she arrived at the hotel:
She told the front-desk clerk that she was "really tired" and couldn't stay awake after downing Xanax. She was so drugged, the concierge had to help her to her room.

As the clerk was leaving the room, she heard Cachay shouting at Brooks before going abruptly quiet.

Video footage shows that Brooks went in and out of the room repeatedly in the hours that followed, but was inside from 1:45 a.m. to 2:16, at which time he left to have food and drinks with a pal, sources said.

Police arrived to the hotel room at 3 a.m. to find Cachay dead in a bathtub. Nicholas Brooks came into the room shortly after.
Nicholas Brooks was born in London and grew up on the Upper East Side, and attended a prominent private school in the Bronx. DNAinfo interviewed friends of Brooks', who said he's a fun loving guy who liked to party. His father, Joseph Brooks, is an Academy Award-winning composer who was recently indicted on 82 counts of sex-related crimes.
Sources close to the couple say their relationship was "unhealthy" and that Cachay was going to break it off with Brooks hours before her death. The Daily News writes that Cachay's parents claim the couple was already broken up.
Brooks has denied any wrongdoing in her death, saying that he left the hotel room before she died, and is speaking with the NYPD. No charges have been filed, as cops await the results of her autopsy.
Sylvie Cachay was a known fashion designer who had interned with Marc Jacobs, and designed for Victoria's Secret and Tommy Hilfiger. She founded her own luxury swimsuit label, Syla, in 2006.
Friends and family of Cachay released a statement on this horrific incident, saying that "the world has lost a beautiful soul. She will be deeply and painfully missed..."
Popular in the Community