In its most simplistic form, community is defined as a group of people who share a close proximity. Though true by default, community is more of a human necessity than a coincidental proximity. The underground music community is one of the strongest and farthest reaching communities to date. What makes the music festival community unique, is that it is not limited by proximity. From Costa Rica to California and beyond, musical gatherings are populated with familiar faces, Third Eye Pinecones, and a curated collection of musicians and artists that attract attendees from all over the world. It is this deeply rooted connection that turns community into family.
Celebrating its 10-year reunion on September 17th-20th at the Woodward Reservoir in Oakdale, California is Symbiosis Gathering. A fan favorite of many individuals in the festival community, Symbiosis returns after a one-year hiatus in 2014 to present their most epic gathering yet. Situated in Northern California, Symbiosis is taking place on the same pristine and sandy lake peninsula as in 2013, offering one of the most unique elements to any festival: water!
In an on-going effort to support and give back to its community, Symbiosis Gathering has just announced the personalities for talks and panel discussions at the 10 year Re:Union. The Symbiosis Gathering workshop series will bring together leaders across a range of disciplines to offer in-depth discussions and lectures throughout the festival weekend. The inclusive workshops offer community members a chance to fully embrace the ethos of the event through finely tuned educational immersion.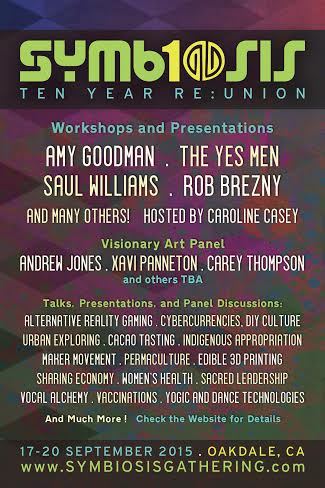 Headlining workshop leaders include Amy Goodman of Democracy Now!, Andy Bichlbaum and Mike Bonanno of the Yes Men, slam poet Saul Williams, syndicated columnist and author of Signs of Success Rob Brenzy, national radio host Caroline Casey, Green Festival founder Kevin Danaher, and talks and panel discussions about alternative reality gaming, cryptocurrencies, DIY culture, urban exploring, cacao tasting, maker movement, permaculture, edible 3D printing, sharing economy, women's health, sacred leadership, vocal alchemy, vaccinations, yoga and dance technologies, and more. You can check out the full lineup of speakers and panel leaders at the Symbiosis Gathering website.
The stages are set amidst golden hills on a sparkling, azure backdrop as floating "art boats" and water toys zip by. The juxtaposition of music and water creates a deeper connection between the attendees and the venue itself. As opposed to battling the searing desert climates of most West Coast festivals, Symbiosis offers a calming balance between earth and liquid, allowing patrons to dance buoyantly in the water as they feel the pulse of their favorite songs. Attracting much of the Burning Man crowd, Symbiosis is also an option for those who either cannot attend Burning Man or who want to continue the adventure after Burning Man.
With Burning Man selling out so fast these days a lot of the core community camps haven't been able to get the tickets they need to create the projects they used to make. This year we are seeing a lot of these groups putting their energy into Symbiosis, from everything from giant art boats and floats to big art in which they also give grants to help support the artists.
- Antennae
Headliners like Nicolas Jaar, Tipper, Damian Lazarus and The Ancient Moons, Cocorosie, Four Tet, edIT & Ooah present Crying Over Pros and Of Porcelain, and Shpongle, performance troupes The Lucent Dossier Experience and Quixotic, as well as bass music favorites The Polish Ambassador, Minnesota, G Jones, Kaytranada, GriZ, and Random Rab, just to name a few.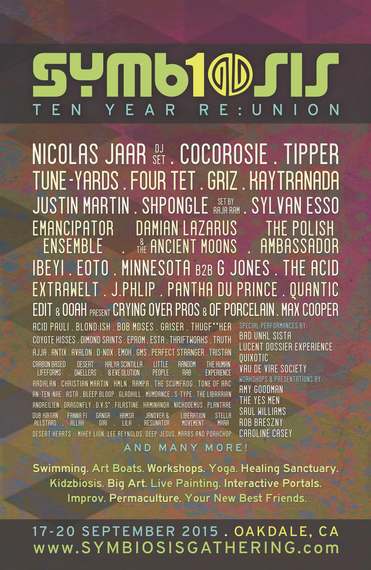 The Desert Hearts crew who have been seeing a meteoric rise in success will be dosing dancers with heavy hits of house and techno. In addition to this pulse-raising lineup, Symbiosis reunion will feature a series of very rare performances including the first edIT & Ooah present Crying Over Pros and Of Porcelain set since Symbiosis 2009, Tipper's only 2015 California appearance, Carbon Based Lifeforms 1st U.S. appearance, and Raja Ram of Shpongle's first solo West Coast appearance. With a diverse lineup featuring artists from five continents this will truly be an international gathering.
While the musical aspect of the festival is what draws its audience, Symbiosis is so much more than a festival. They are truly taking the next step in integrating this vast community. Their newest media project titled We Are Symbiosis is a fourteen episode web series that showcases the unique talents of the Symbiosis community outside of the gathering itself. The mini-series was filmed and directed by Noah Hussin whose documentary America Recycled was recently awarded "Best U.S. Feature Documentary" at the American Documentary Film Festival in Palm Springs. The first four videos from the series feature sustainability education pioneer Jonathan Youtt, botanist Brian Wallace, Kundalini yoga instructor Naomi Charanpal, and tattoo artist Philip Milic. Philip Milic is also an instructor for the Elemental Alchemy Visionary Arts program and designed this year's Symbiosis Gathering ticket artwork.
We Are Symbiosis - Episode 1
This project is the first of its kind as it connects the present tense of the music festival with the future tense of the outside world. Being immersed in the festival community, we are always planning for the next event. We Are Symbiosis not only gives those who are apart of the festival community a way to stay connected to each other in between festivals but also gives those who are not yet apart of the community a window into a world that they never knew they wanted to join.
Another community strengthening aspect of Symbiosis is their Elemental Alchemy Immersives that offer enlightening instruction from thought-leaders in permaculture, yoga and visionary art. From September 12th-16th, participants may choose one of these three tracks, which include guided courses and three home-cooked local organic meals a day set within the creatively nurturing atmosphere of the Woodward Reservation Regional Park.
Timo Granzotti and Ryan Rising will join a team of ecology experts to demonstrate permaculture ideals across subjects like fire ecology, rainwater harvesting, and biomimicry. The legendary Android Jones, Chris Dyer, Shrine, Xavi Panneton, Carey Thompson, and Philip Milic, together with other established artists, will instill the values of personal expression and inspiration-generation in the visionary art immersive. Bendy blossoms Andrea Brook and Aykanna will guide courses in Kirtan, Pranayama, intention-setting, and meditation for the program's yoga immersive.
Symbiosis Gathering has added two more dimensions to an already 3-dimensional festival community. With the Elemental Alchemy Immersives, the gathering itself, and the We Are Symbiosis mini-series, the Symbiosis community has transformed from a circle to a sphere. To be a part of a community that is as intimate as it is vast is already changing the world. The cosmic consciousness which we share creates art, music and beauty, educates, gives, plants trees, helps our planet, and nurtures our souls so that we may evolve our world into an Age of Enlightenment.
Calling all HuffPost superfans!
Sign up for membership to become a founding member and help shape HuffPost's next chapter