As many places in the world begin swapping out the swimsuits for scarves, the California music festival scene is still powering through, untouched by the chill fingers of fall. Symbiosis Gathering, the crown jewel of California festivals, was meant to be every other year, however last year's success inspired them to organize one more festival at the Oakdale location.
Originally, the Symbiosis team was planning to move the event to Oregon in 2017 in celebration of the first full solar eclipse in decades. While this plan is still in full effect, they decided to throw one last party at the beautiful Woodward Reservoir that has been the festival's home since 2013. Known for its nomadic nature, Symbiosis Gathering has taken place at numerous locations, keeping the organizers on their toes and the community fresh. With a constant re-circulation of attendees and new environments, Symbiosis will never become stagnant or played out.
This year promises to be as epic, if not more so, than last year. With many of the art installations that survived Burning Man surely making an appearance, the aesthetics of this event will be nothing short of grandiose. With an eclectic lineup to boot, there is something for everyone to enjoy, even families with children. The event will be taking place from September 22-25 of 2016 and will offer on-site camping for the full immersion experience.
While there were problems last year with sound ordinances and low volumes for late night bass music acts, Symbiosis Gathering is still one of the best produced music festivals out there. Organizing an event of this scale will undoubtedly have its complications and pitfalls, but when thousands of people are happily dancing, skipping, swimming, splashing, and smiling, it's hard to see anything less than perfection.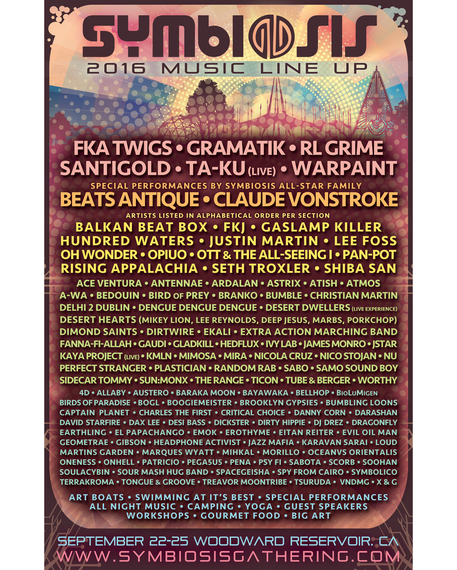 REAL LIFE. REAL NEWS. REAL VOICES.
Help us tell more of the stories that matter from voices that too often remain unheard.