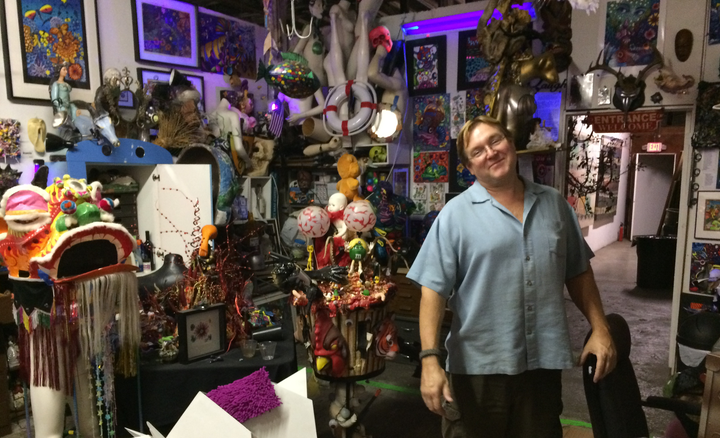 For 25 years Solomon Kane the artist, has been trapped in the Harris County Sheriff's Department, often working in the psych unit at the County Jail.
His real name is Jeff Reese.
"I've just retired from the crazy world of law enforcement, mental health, and abuse," he says. "It's amazing what harm we are capable of inflicting on one another as human beings." An FBI-certified hostage negotiator, Reese's art is about negotiating our freedom from spiritual laziness and mental frailness.
"The crime here is that society has jailed so many people because we refuse to pay for mental health treatment. Left out on the streets, the mentally ill can often behave irrationally - and the result is they end up paying for their illness by being locked up," he explains. "Many so-called Christians in our community haven't lifted a finger in protest. Both law-enforcement and religion have too many hypocrites who are in it for their own glory. As usual, the poor end up suffering the most."
Reese's work is inspired by Soren Kierkegaard - the Danish theologian, whose Attack on "Christendom" rings just as true now as did back in the 19th century.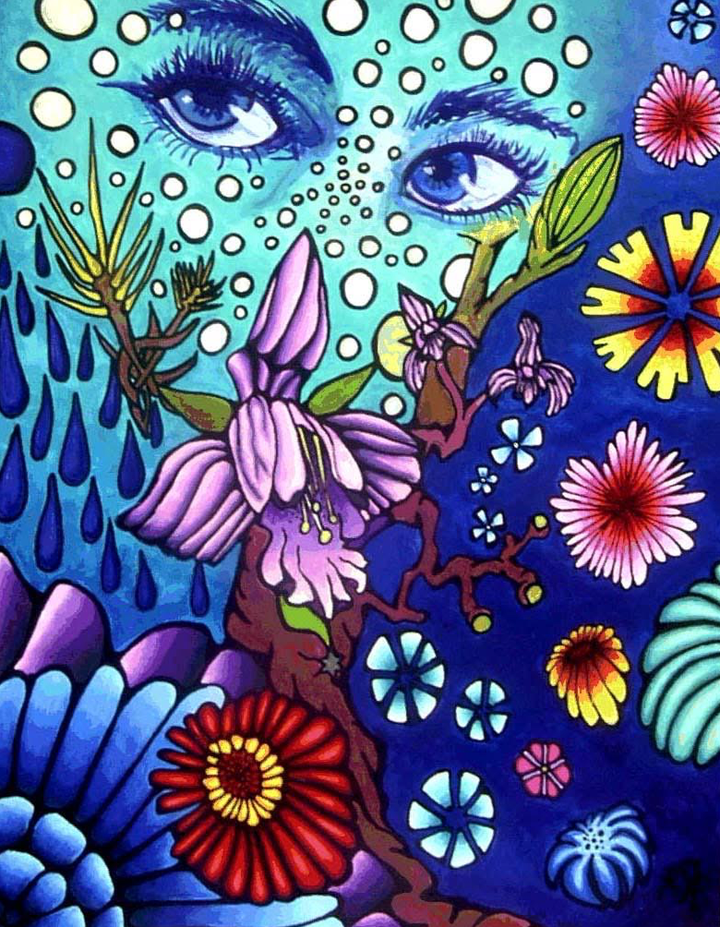 "Blasphemy of the Holy Spirit - Correcting Religious Misconceptions" 2000, 20" x 15" x 1" Lithograph
Solomon Kane's "Inner Dimensional Art" is a deliberate experiment in vibrant, psychotic art that challenges the boundaries of religious thought and philosophy. The symbolic nature of his work represent consciousness and spiritual forms and ideas in both 2 and three dimensions. The 60s influence is evident in the use of psychedelic colors. His work reacts to black light - revealing more luminescent messages and symbols. His message? Reality isn't what you think it is.
For Reese, the search for meaning is an existential one - at the core of what it means to be human.
"My art is not a hobby," he says, smiling. "It's what I've been doing since I was six - through Art School, my work in Jail, down to this very second." Reese studied at the Glassell and the Texas Academy of Art before starting his law-enforcement career.
"I used to smuggle canvases into the Harris County Jail, and the inmates thought I was crazy. I went into law enforcement thinking that I would be able to help people, but that's not what law-enforcement is set up to do and the lack of time, resources, man power and money restraints ensure this."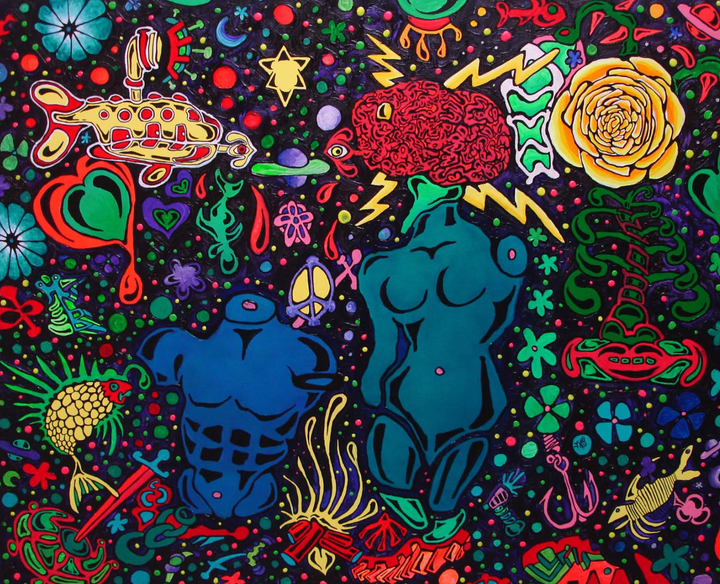 "The Yellow Submarine in the Garden of Good and Evil" 5' x 6' x 2" Acrylic on Canvas
Reese (Solomon Kane) was selected Houston Press Best Artist - Reader's Choice in 2007. In the fall of 2009, Solomon Kane was the featured artist for the Houston Arts Alliance at the Bayou City Arts Festival. In 2012, He was selected as a winner in a competition show at Kallinen Contemporary by judges, Bert Long jr., Lester Marks and Catherine Anspon. His work is in collections around the world and locally in the private collections of Lester Marks, Dr. Carolyn Farb, Catherine Anspon, Congresswoman Shelia Jackson Lee and many others.
Here are a few more works by Reese (SK):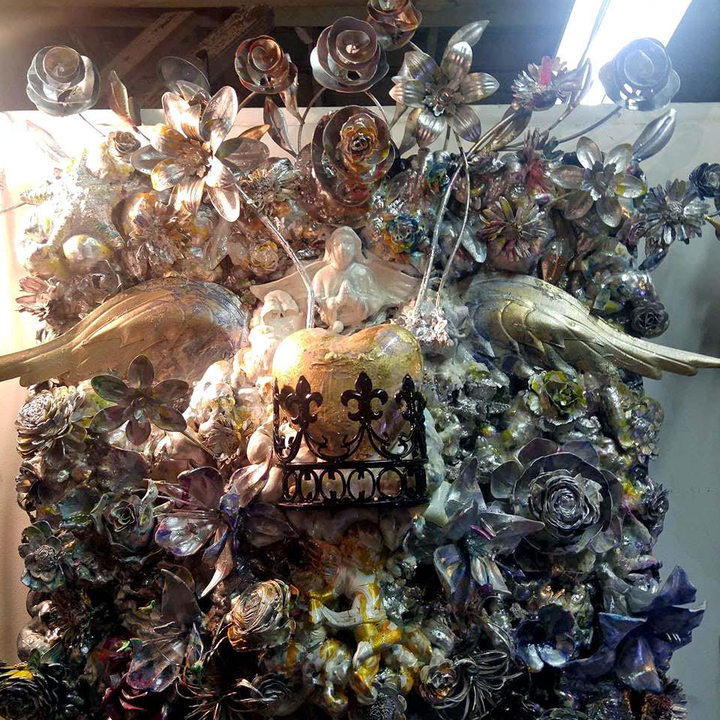 "Requiem for the American Dream" 30" x 42" x 6" Mixed media, collection of Christian Brunn and Marie Myers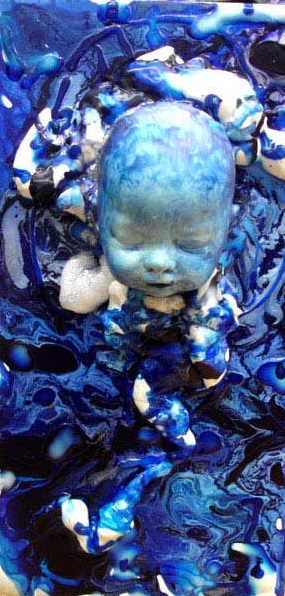 "Where Were We Before We Were Born?" 2012, Car Paint on Wood, 12" x 6" x 4" Collection of Lester Marks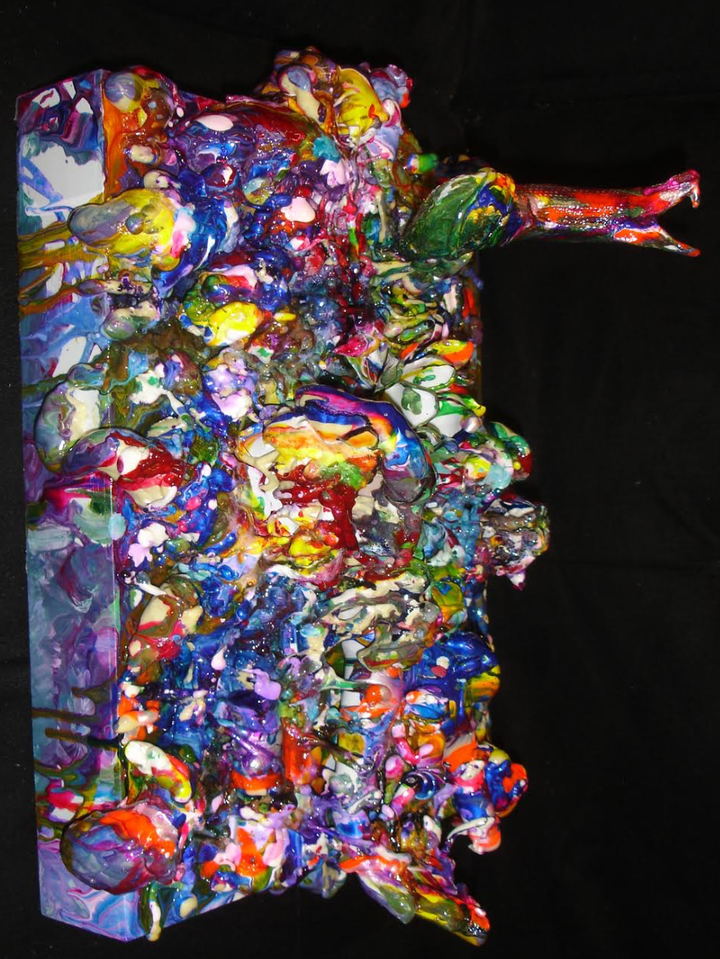 "Origins of Consciousness" Mixed media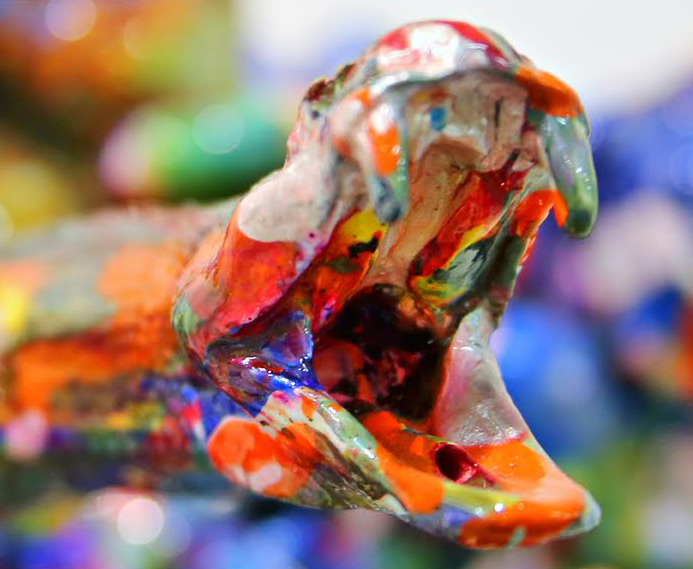 "Origins of Consciousness" (detail) Mixed media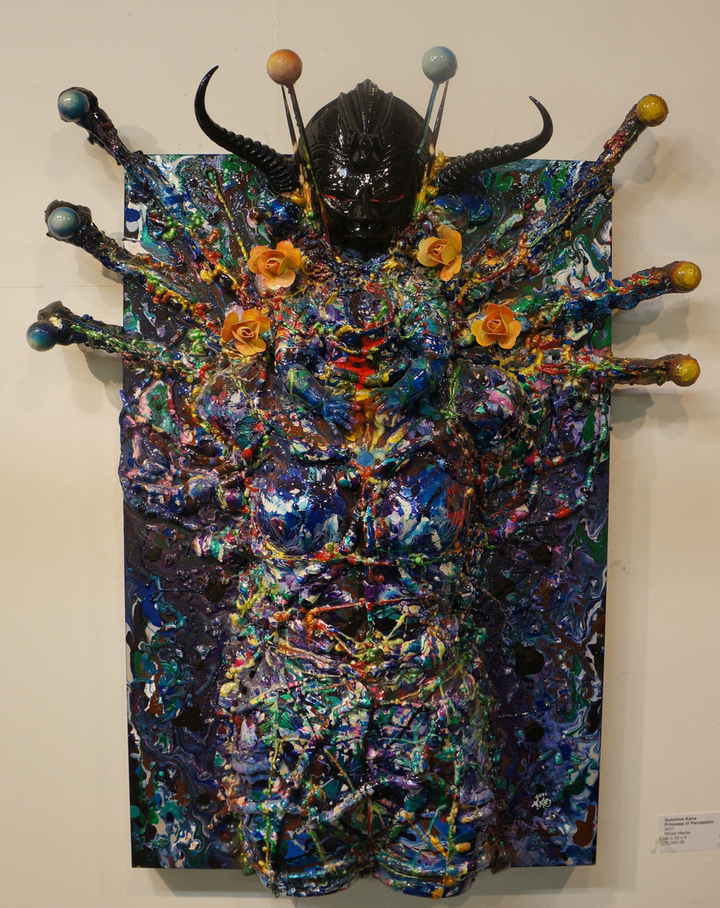 "Princess of Perception," Mixed media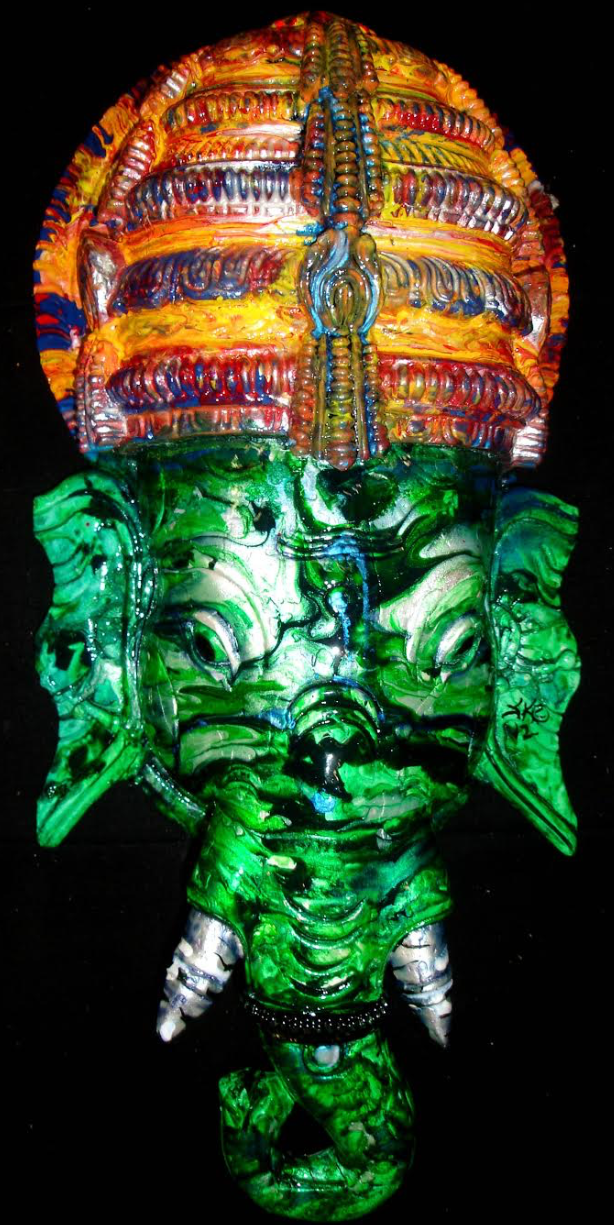 "Ganesh" 2012, Car Paint on Wooden Relic from India circa 1940, 18" x12" x 8"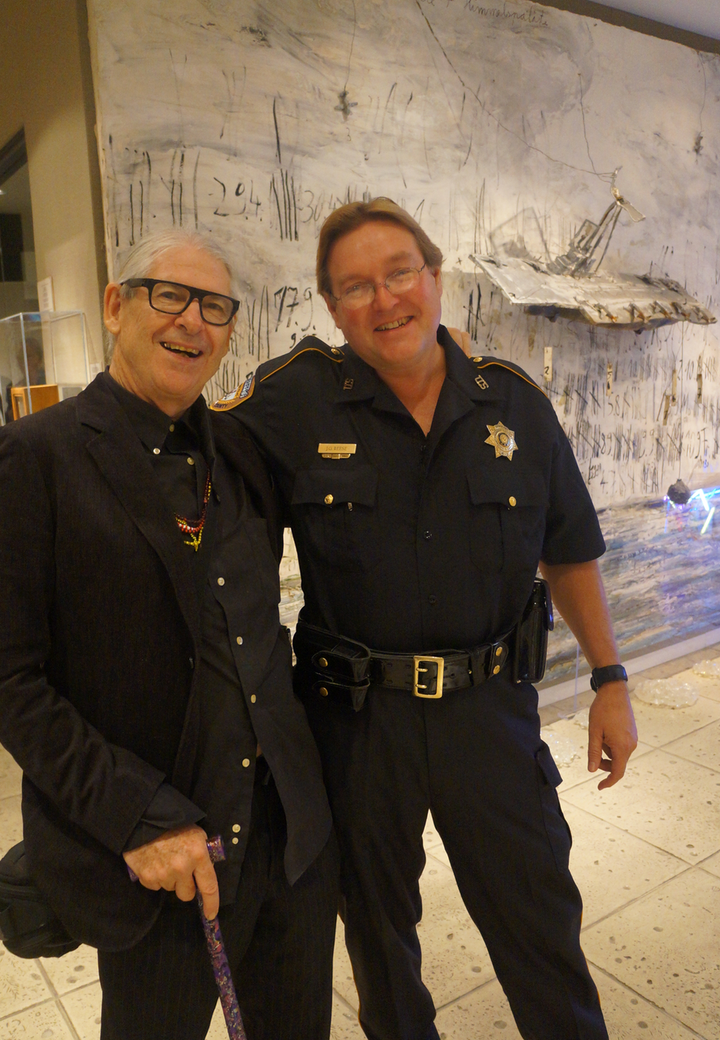 Guarding the Rauschenberg: Clark Fox and Solomon Kane (at Lester Marks' place)
What strikes me most about Solomon is his genuine concern for others. He is a true friend and connector in Houston's Art world - working to support other artists behind the scenes. He helped create and was one of five panelists for the "Art of Quantum Physics-Parallel Universes" show in 2009, 2010, and 2011. He was featured in Paul Horn's group show, "Use Your Illusion" with Daniel Johnston in 2010 at Colton Farb Gallery. He helped sponsor and create "Paul Mart" with Paul Horn, part of the "Plastic Fantastic" show curated by Catherine Anspon from Paper City magazine at Colton Gallery in July 2011. Kane's tribute show: Dark Matter, An Art Show of Science and Civil Rights…in memory of Bert Long Jr at the legendary Mother Dog Studios, Houston, Texas was well received in 2015.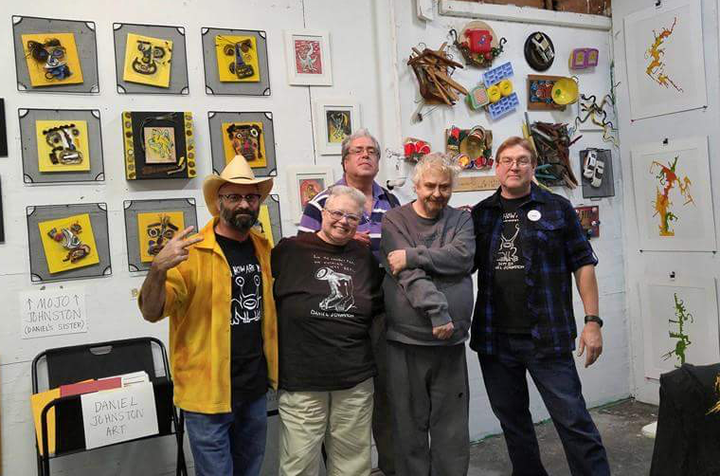 Art Posse: David Krase, Mojo Johnston, Daniel Johnston, Jonathan Rosenstein, and Solomon Kane
In 2016, Kane helped organize the Global Corpocracy Pop Up Show at the University of Houston Honors College, as well as two shows: The Original Downtown Artcrawl and Trees at Mother Dog Studios.
Popular in the Community