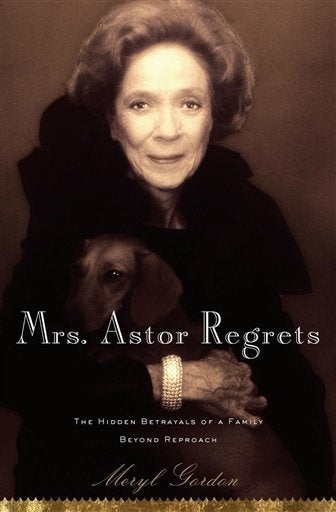 On Thursday morning, Charlene Marshall was sobbing, her eyes bloodshot and bright red when she walked into Supreme Court in Manhattan where her husband Anthony is on trial, charged with manipulating his Alzheimer's Disease-stricken mother, the philanthropist and socialite Brooke Astor, into changing her will in his favor, plundering her estate and selling off her favorite painting in the last few years before her death at age 105 in 2007. Marshall was crying because that morning, she'd been referred to as "a villain," "Miss Piggy," "a social climber" and "a bitch" on the front page of the New York Times. It was the Marshalls' 17th wedding anniversary.
Marshall's evident distress attracted the not-terribly-sympathetic attention of the pack of journalists who watched, a few feet away, most of them sitting on the prosecution's side of the courtroom. Though that side of the chamber offered a better view of Marshall and of the day's prosecution witness, Astor's friend Annette de la Renta, it also seemed symbolic. There may be two sides to every story, but one side hijacked this narrative almost three years ago with a shocking tale of elder abuse and ever since, sympathy for the 84-year-old Marshall and his third wife, who left a Maine pastor to marry an Astor, has been in acutely short supply.
Andrea Peyser, a columnist for the New York Post, has led the ravening mob braying for the Marshalls' blood. Her role in the affair is gob sister (as opposed to sob sister), spitting on the elderly couple while polishing the saintly pedestal on which New York placed Tony's mother long before her tortuously slow descent. Early this week Peyser called the defendant a "depraved, whipped, elderly slug who allegedly robbed and tormented his beautiful, sainted mother." That "alleged" notwithstanding, Peyser is not one to let facts get in the way of a good rant.
A couple of days later, she reminded readers of a sofa, allegedly shabby and urine-soaked, on which Marshall supposedly forced his mother to sleep in a frayed old nightgown. It was Exhibit A for the Marshalls' guilt when one of his twin sons sued his father in summer 2006 to remove Astor from Tony's care and have the Chase bank and de la Renta named her guardians. De la Renta, Peyser wrote, was "the superhero [who] got Mrs. Astor off that rancid couch." Never mind that the official Court Evaluator found the charges of elder abuse not substantiated and, according to someone in the Marshall camp who has seen his report, unfounded. Never mind that a court-ordered inspection of the couch found it to be in excellent condition. Never mind that photos of the couch shown in court yesterday made it look like something any of us would want to lie on, the stink of those charges still clings to the Marshalls and likely always will. Never mind that the prosecution has yet to close its case, Peyser is sure of how it will end: "Anthony Marshall will burn."
I spent a day and a half at the trial this week, curious because Astor, Marshall and de la Renta were all trustees of the Metropolitan Museum of Art, the subject of a book I just published. In my research, I'd found that in its 139 years, the museum has often taken off its gloves to fight bare-knuckled with families for money and art in estates, just as it is now fighting, in part through de la Renta, one of its vice-chairmen, for money Astor first left it and other institutions in the early 1990s when, apparently upset by Marshall's marriage to a woman she didn't like, she rewrote her will, not for the first time, the defense contends, taking away Tony's ability to dispose of her residuary estate (which she'd placed in a trust separate from that of her long-dead third husband, Vincent Astor) however he wished.
The prosecution's argument boils down to a contention that Astor, suffering from Alzheimer's, was not of sound mind when she kept changing her will, slowly returning to Tony the right to decide how her trust -- and a share of Vincent's, too -- would be disposed of. But one after another, prosecution witnesses have admitted that after her decline began, they were more than happy to accept her hospitality, coddle her and even facilitate other transfers of her wealth, never questioning her judgment or their own in accepting her generosity. This week, for instance, de la Renta testified that she accepted Astor's gifts of jewelry few Americans could afford after repeatedly seeing what she deemed clear evidence of her friend's mental deterioration. One day in Central Park, angry at Annette for grabbing the leashes of her beloved dachshunds and refusing to hand them back after Astor had let the dogs run off, the grande dame berated de la Renta, claiming she should have listened to "a man" who'd told her de la Renta was not her friend. In de la Renta's telling, there was no such man, no such warning. Yet the next day, when Astor sent an apology and a pearl necklace, de la Renta accepted both.
In that hand-written note, Astor called de la Renta her "dearest child," noting that "there is no one in my life like you," since "my son dear Tony is so happy at last with a wife that loves him so that I hardly see them." A rather different portrait of Brooke's view of her only child from the one painted in the tabloids. But it isn't only the Marshalls who have been rendered in two dimensions. After I got home from court yesterday, I spoke to a journalist who recalled interviewing Astor before her decline and noted that she had her son (then serving as her notably successful investment manager) sit in, but treated him shabbily. The journalist's conclusion? "She was the meanest mother in the world, gratuitously castrating. If you don't feed a dog, how can you expect he won't bite?"
That was not the saintly Brooke Astor the world knew, loved and still, quite appropriately, mourns. But as I said, there are two sides to every story.
Calling all HuffPost superfans!
Sign up for membership to become a founding member and help shape HuffPost's next chapter