What defines America's "musical voice"?
One might say jazz, or native-american folk tunes, or perhaps hiphop or George Gershwin… America's cultural musical identity is as diverse as our nation itself. And the San Diego Symphony is devoting the entire month of January to celebrating that diversity.
The festival, entitled "Our American Music", poses the impossibly complex question: "is there a uniquely American musical voice, and if so, what is it?" They dive through a series of concerts, lectures, panels, and exhibits throughout the month that probe that question from every angle. Performances feature classical, folk, hiphop, jazz, and more, with events all month long.
Now, normally I don't write a blog post about any specific organization as much as I prefer to feature broad-concepts about arts-innovation and change. However, I was so struck by the ideas behind this particular festival. So I spoke in depth with Chelsea Allen, the Manager of Community Engagement at San Diego Symphony.
Below are the highlights from our conversation.
INNOVATIVE PROGRAMMING
The San Diego Symphony is taking a bold step in weaving classical music into the fabric of current events with contextualized themes and broad-genre performances. Though the SDS plays host to the full festival, the orchestra itself doesn't appear on many of the programs. The festival is a true collection of the many diverse American voices, from hiphop artist Talib Kweli to singer-songwriter Rosanne Cash, and everything in-between.
Philosophically, SDS is the place where great music happens. We invite those patrons who come for classical music to expand their experiences, and stumble on something they wouldn't consider themselves connected to. Maybe not connected by genre, but by theme. Likewise we invite people who don't think of themselves as classical listeners to probe, "Why does hiphop share the same bill as Bernstein?"
Personally, I appreciate the immense respect that the San Diego Symphony gives to each individual genre on the festival's bill. Rather than blending the genres in a concert program to fit the Symphony in, the festival hands the stage over to each facet of the American voice; allowing each genre to shine in its purest and truest form. And the SDS trusts that the San Diego audience will be adventurous, defying their musical comfort zone to experience new perspectives on something familiar. There's a level of trust in every facet of this festival, and it's unique.
CENTER FOR UNIFICATION AND UNDERSTANDING
The question of America's cultural identity has been asked since Copland's Appalachian Spring and Ellington's Harlem, or even further back to the music of Amy Beach. And the San Diego Symphony, rather than answering that question, asks listeners, "What does it mean to be an American, and how have artists throughout America's history responded to that call?"
We believe great art is relevant already, but… these same questions of identity are still being asked by people today. That's an amazing opportunity to invite people to see the relevance of past artists who were asking these same questions, and to hear how they responded through their art."
The timing of this January "Our American Music" festival is uncanny, with the election just behind us and Inauguration Day on January 20, 2017. While the San Diego Symphony recognized and planned for the festival to overlap with this political milestone, their goal is not to take a political stance so much as it is to serve as a hub for unity and understanding.
OUT OF THE HALL, INTO THE COMMUNITY
The "Our American Music" festival is a city-wide celebration of the American voice, and therefore the SDS planned significant activity outside the concert hall.
The symphony partnered with two local organizations— The David's Harp Foundation and the Moniker Group — to launch the San Diego Soundbooth, an auditory kiosk placed around the city to capture the noises indigenous to San Diego. Using a drum pad with symphonic sounds and beats, as well as pre-recorded San Diego city sounds, passersby can mix sounds into a track of their own, regardless of their musical ability.
It's like we all live in a quilt, and while that quilt has its borders and each square is unique, we all experience those set parameters differently. We're bringing that quilt to the city level… everyone can make their own San Diego sound all month long in different sites around the city.
The best part? The partners of the booth project are equally as invested in the wellness of creative culture in San Diego, and draw great benefit from this as well. The David's Harp Foundation works with homeless and at-risk youth to teach them sound engineering. Their kids have created the software and tech for these booths. The booths are fabricated by a local makers group, the Moniker Group, who also covered the booths in chalkboard paint with prompted questions that people can jot answers on and share online.
It's an invitation for everyone to create, all throughout the city.
IN CLOSING
Before wrapping up my conversation with Chelsea Allen, I asked her to describe the Our American Music festival in just one word. Her answer:
Freedom — ultimately the reason we have this wealth and diversity of artistic expression is because we live in a place where we have freedom. We have the right to compose jubilant songs of patriotism, as well as music that expresses the frustration of being an outsider… we all have a voice to express freely, and that's something to celebrate.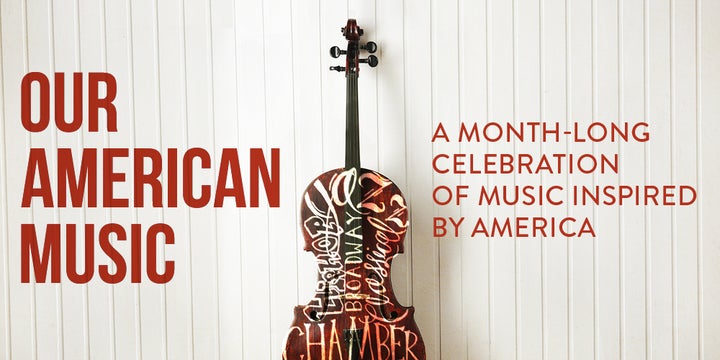 Popular in the Community