Symphony in C
Dominic Armstrong, tenor
Rossen Milanov, conductor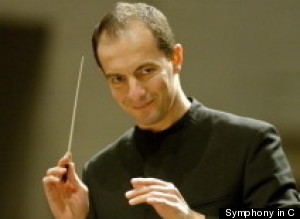 Since his days as associate conductor at the Philadelphia, Orchestra Rossen Milanov has continued to emerge as an adventurous and versatile conductor. Even while the Fab Phils were going through not so fab times in the 2000s, Milanov seemed to be above the fray and on his own trajectory. Currently he is musical director for three orchestras, including for the last 14 years, Symphony in C based in Rutgers University-Camden, NJ -- the uniquely dynamic professional training ground for orchestral talent. As Milanov seems to prove with every concert, to have players for a relatively short time, while keeping an orchestra consistently fine, takes vision and passionate dedication.
Audiences have gotten used to Milanov as a classical music ambassador, often chatting the audience up before a concert and he certainly could bask in the limelight of a recent New York Times feature story about how artistically successful he's been. But at the Symphony in C January 18 concert, Milanov had no introductory remarks , letting the music speak for itself, as he lead the Symphony in C musicians in an evening of impressive technical artistry and ensemble esprit.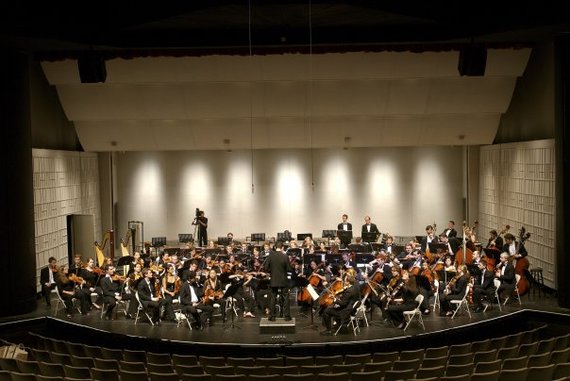 Symphony in C photo credit
Opening with Maurice Ravel's Pavane for a Dead Princess, that ethereal horn line punching through another dimension may have been momentarily wayward, but then kept blooming with quiet lushness. A noble sonority held in the lower strings and penetrating crystal cascades by harpist Madeline Blood, just bathing the hall like a musical catharsis. Even though Milanov didn't back away from the somberness of the Pavane, he kept it at a crisp, pulsing tempo.
The central work, Benjamin Britten's Serenade for Tenor, Horns and Strings, written for his lover, tenor Peter Peers, presents demanding seven-song cycle with texts from English poets. Just the opening horn prologue with its assaulting conch-like herald, with dissonant lines coming from principal hornist, Audrey Flores, seated in the back of the orchestra. Flores then moved to the front of the stage for the Pastoral in proximity to tenor Dominic Armstrong launched into the Pastoral from an ancient poem by Charles Cotton is set in a countertenor register, and outside of a salon at Oxford, might seem haughty, but Armstrong skillfully makes it as earthy as Britten intended.
On Tennyson's poem Nocturne, Armstrong open up his full vocal power, and fluid passagio that is so suited to this material, exacting sterling diction and phrasing. The Dirge is a 15-century anonymous poem so full of humanity in Armstrong's controlled reading... After that jagged horn prologue, Flores played Britten's warmer, smoother passages with equal virtuosic authority.
In the closer, Milanov brought out the chamber music structures in Franz Schubert's Symphony No. 9, his violin and cello inner circle displaying vibrant detailing. Schubert's sharp progressions had the full orchestra thundering in (nailing that shoved off the cliff arrest in the third movement.) Among the many standout soloists, principal oboist Rita Mitzel masterful with the exploratory, almost jazz lines, that surf the orchestrals. Powerful delicacy and thrust in the strings toward a gallopy finish, but, crucially, not overdone.
REAL LIFE. REAL NEWS. REAL VOICES.
Help us tell more of the stories that matter from voices that too often remain unheard.