Jim Boeheim's talented Syracuse team started off the season 25-0 and looked like a shoo-in for the NCAA Tournament's top overall seed. Then they stumbled at home to a downtrodden Boston College and fell to Duke in Cameron, controversy and all. The Orange was then trounced on the road to a top-10 Virginia team and fell once more in the dome, this time to woeful Georgia Tech. True, there were a few wins in there, but they were against teams like Maryland and North Carolina State -- and those weren't even easy victories.
March is generally the time of year to be peaking, not falling, and there seems to be a palpable sense of panic around the 'Cuse. Could they conceivably drop to a four-seed? What happened to Trevor Cooney's jumper? Can Boeheim right the ship? While the Orange is undeniably struggling, a lot can still happen between now and the tournament. Let's take a look at three reasons why we shouldn't panic.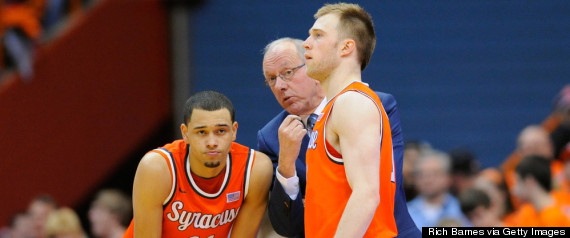 Syracuse coach Jim Boeheim hopes to have his two guard standouts, Tyler Ennis (left) and Trevor Cooney, come up big in March.
Jerami Grant Matters That Much
The 6-foot-8 sophomore forward may not boast the gaudiest of numbers (he averages 11 points and 7 rebounds in ACC play), but his length and general activity in the 2-3 matchup zone is essential to that play's overall effectiveness. Since Grant tweaked his back against Duke, the Orange has been out-rebounded and outscored by double digits.
"Everybody feels that he will be all right," Boeheim says. "I would think it would be in a couple days that he will be able to go back and practice." When Grant does return, his ability to contest shots and grab defensive rebounds will ignite a Syracuse transition game that has been severely lacking.
Trevor Cooney Will Get Hot Again
Cooney's perimeter shooting was a major factor throughout Syracuse's 25-0 start. Just a sophomore, he has been one of the league's most improved offensive players. With Grant out of the lineup the past three games, however, Cooney's transition looks have decreased, as have his opportunities in the half-court, where Grant's screening and relentless offensive rebounding pursuit create second-chance kick-outs. Cooney is converting just 21 percent from distance during that span. When Grant returns, expect those numbers to rise.
Tyler Ennis Is Still Learning How To Be The First Option
Syracuse has a star in the making with Ennis, a freshman point guard and a born facilitator and playmaker. Despite his natural ability to score, Ennis prefers to create opportunities for his teammates. Most of the time, that is precisely what you want from your floor general. But between Grant's absence and Cooney's struggles, Ennis has been asked to score the ball more. He's averaged 15 shot attempts in Grant's absence -- up from 10 per game -- evidently looking to be more aggressive in isolation and pick-and-roll opportunities. His efficiency has stayed about the same, though. Think of this experience as a learning process for Ennis, one that just so happens to be on the job with the entire country watching. In its previous five games -- four of which were losses -- Syracuse has shot a mere 37 percent from the floor. Ennis is too talented, and Boeheim too good of a coach, not to right this team's offensive ship come tourney time.
Email me at jordan.schultz@huffingtonpost.com or ask me questions about anything sports-related at @Schultz_Report and follow me on Instagram @Schultz_Report. Also, be sure to catch my NBC Sports Radio show "Kup and Schultz," which airs Sunday mornings from 9-12 ET, right here.
Related
Popular in the Community