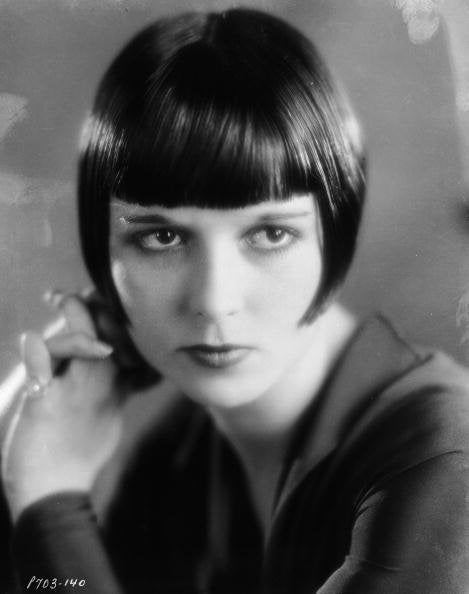 Silent films have enjoyed a good deal of attention lately, thanks to the Academy Award-winning efforts of Michel Hazanavicius (The Artist) and Martin Scorsese (Hugo). Each took the silent era as the subject of their recent work, and each of their films took home five Oscars. New fans to early film have a world to explore.
Cinefest, an annual movie convention held in Syracuse, New York, is set to screen one of the more unusual films from the silent era: Herbert Brenon's The Street of Forgotten Men (1925). Long thought lost, this "underworld romance" has seldom been seen since its debut 87 years ago. The Library of Congress holds one of the only surviving prints, and representatives of the LOC will bring their copy to Cinefest for this rare screening.
Described at the time as "strange and startling" and "a drama of places and of people you have never seen before," The Street of Forgotten Men tells the story of a gang of professional beggars whose underworld headquarters is known as a "cripple factory." Led by the colorfully named Easy Money Charlie (played by Percy Marmont), the gang preys on public sympathy by disfiguring themselves and feigning various disabilities.
The Street of Forgotten Men also tells the story of Mary Vanhern, played by winsome Mary Brian, whose life is linked to these con artists as well as to a young millionaire, played by handsome Neil Hamilton. (Yes, that Neil Hamilton -- Commissioner Gordon from the 1960's television series, Batman.)
Set on the Bowery and shot in part on the streets of New York City, the film is a mix of old-fashioned melodrama and gritty realism. It was based on a short story by George Kibbe Turner, a muckraking journalist and novelist of the time. In its review of the film, New York's Daily News stated, "The Street of Forgotten Men dips into the dark pools of life. It shows you the beggars of life -- apologies to Jim Tully -- and in showing them, it shows them up." On the other coast, the San Francisco Bulletin noted, "For fine dramatic detail, for unusualness, for giving us a glimpse into a world we never see and into the other sides of characters we simply pass in pity on the streets, The Street of Forgotten Men is a photoplay revelation."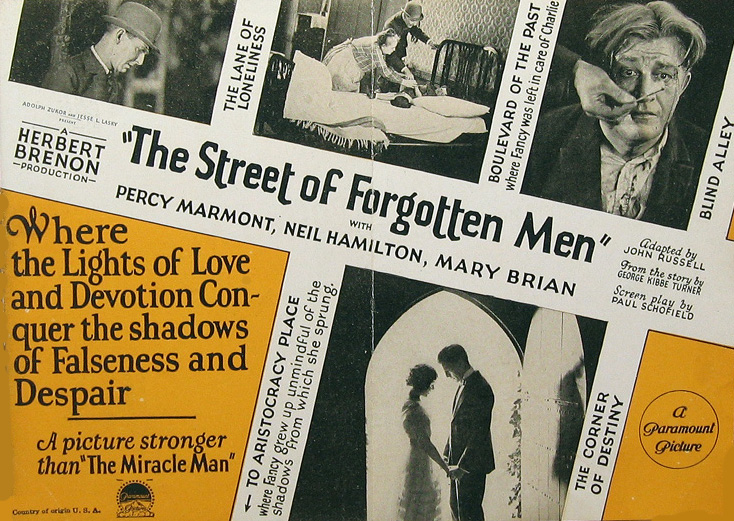 image courtesy Louise Brooks Society
The film's most unusual scenes occur when this band of beggars check into work and are fitted with fake bandages, artificial arms and legs, false high heeled shoes and other trick paraphernalia for the luring of sympathetic coins into battered tin cups. Canes and crutches along with signs that read "I Am Blind" and "Please help a cripple" lend atmosphere to the group's "changing room." According to studio press sheets, a mendicant officer and 20-year veteran of the Brooklyn Bureau of Charity served as adviser for scenes shot inside the dingy cripple factory.
Though the film and its source material was a look back at the Bowery and the then practices of the disreputable down-and-out, a 1926 article in the New York Times reported that the film may have inspired a group of fake beggars. "The police are investigating the speakeasy. It was recalled that several months ago a motion picture, The Street of Forgotten Men,... showed just such an establishment for equipping 'cripples' as that described by Williams, and the police thought the movie idea might have been put to practical use."
Aside from its strange subject matter, there is much to recommend in The Street of Forgotten Men. The film was shot in the Astoria studios on Long Island, as well as on location in 1925 New York City. One memorable scene -- when Marmont and Brian come across the character known as Bridgeport White-Eye -- was filmed on a busy Fifth Avenue near Saint Patrick's Cathedral. Shot with a concealed camera, the unaware crowds passing on the street along with images of shops and businesses from long ago -- including a vegetarian restaurant -- prove striking. According to press reports from the time, which should be taken with a grain of salt, the appearance of pathetic-looking actors dressed in disheveled attire drew spontaneous donations from passers-by not realizing a motion picture was being filmed. Another memorable scene with a good deal of local color takes place at the still standing Little Church Around the Corner on East 29th.
Two performers not listed in the film's credits also made their mark in The Street of Forgotten Men. One was a dog named Lassie. (This bull terrier-cocker spaniel mix predated the more famous Collie.) A 1927 New York Times article about the canine stated, "It is said that the death of Lassie in The Street of Forgotten Men was so impressive that persons were convinced that she must have been cruelly beaten. Her master, Emery Bronte, said that the dog seemed to enjoy acting in the scenes, and that after each 'take' she went over to Mr. Brenon and cocked her head on the side, as if asking for a pat or two." Regrettably, one of the reels of The Street of Forgotten Men is missing, and not all of Lassie's scenes are extant.
The other performer who made an impression was Louise Brooks, who was dancing with the Ziegfeld Follies when she agreed to play a bit part in The Street of Forgotten Men. Though not credited, the film marked her screen debut. As a moll, Brooks' role was slight -- she appears on screen for only about five minutes. Nevertheless, her brief role drew the attention of an anonymous Los Angeles Times reviewer who singled out the actress when they wrote, "And there was a little rowdy, obviously attached to the 'blind' man, who did some vital work during her few short scenes." This was Brooks' first film review.
Like the film, the director of The Street of Forgotten Men has fallen into the shadows of history. Herbert Brenon enjoyed a long career which lasted from 1912 to 1940, but today he is one of those early directors who is largely forgotten though deserving of greater recognition. The Street of Forgotten Men was made shortly after Brenon made the film for which he is best remembered, Peter Pan (1924). His other notable efforts include The Spanish Dancer (1923) with Pola Negri, Dancing Mothers (1926) with Clara Bow, Beau Geste (1926), The Great Gatsby (1926), God Gave Me Twenty Cents (1926), and Laugh, Clown, Laugh (1928) with Lon Chaney. All were major hits.
Though little known today, The Street of Forgotten Men was well regarded in its day. Marmont, a leading star of the silent era, was singled out for his exceptional Lon Chaney-like performance, and director Brenon was praised for his realistic depiction of Bowery life. The National Board of Review named the film one of the best pictures of 1925, and it was picked as one of the best of the year by newspapers around the country. This rare screening gives Cinefest attendees an opportunity to see a film which should be on DVD.
The Street of Forgotten Men will be shown as part of Cinefest 32, which is set to run Thursday, March 15 through Sunday, March 18, 2012. Other films on the bill for the four day festival include a vintage multi-color demonstration reel from maverick film producer and business magnate Howard Hughes, as well as such features as Get Your Man (1927) with "It" girl Clara Bow, Mr. Fix-It (1918) with Douglas Fairbanks, Confessions of a Co-Ed (1931) with Sylvia Sydney, Surprise, Surprise (1937) with The Three Stooges, and Love Thy Neighbor (1940) with Jack Benny and Fred Allen.
Georges Mèliés, the subject of Scorsese's Oscar winning Hugo (2011), will be featured with a screening of his classic short, A Trip to the Moon (1902). Other works from the silent, pre-code, and early sound era will also be shown. Have you ever seen The Untamed (1920) with Tom Mix and Pauline Starke, Bad Company (1931) with Helen Twelvetrees, or the Gracie Allen Murder Case (1939) with dapper Warren William? If not, here is your chance.
Thomas Gladysz is an arts journalist and silent film enthusiast. He is also the founding director of the Louise Brooks Society, an online archive and international fan club devoted to the legendary film star. Gladysz has organized exhibits, contributed to books, appeared on television, and introduced the actress's films around the world.

Calling all HuffPost superfans!
Sign up for membership to become a founding member and help shape HuffPost's next chapter