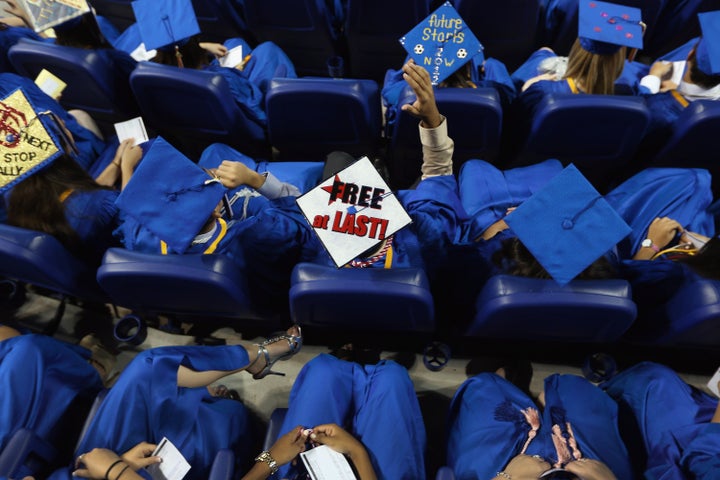 It is not a secret that the graduation rate in the city of Syracuse is horrible. In June 2011, the rate was 48.4 percent and while that rate has increased from previous years, the achievement gap of African American and Latino students is still incredibly wide when compared to white students. While there is the option for students who do drop out get their GED, there seems to be little preparation or career counseling available to put these students on the right track. On the flip-side, those students who graduate from a poor performing school like Fowler HS will find it difficult to excel in college due to a similar lack of preparation.
There are so many questions that need to be answered about the youth in Syracuse. How do we help students from under-performing high schools with their career goals? Do we help those who graduate over those who don't because they have a better chance at success? Do we pay attention to those who don't graduate because they have more of a need? More importantly, what role should institutions of higher education have in all this? Many people have questioned the efforts of "Scholarship in Action" introduced by Chancellor Nancy Cantor at Syracuse University, but it is that initiative that enables us to think about what our responsibility is to the community at large.
Thanks to a partnership with CNY Works, we employ youth from the Syracuse community to help them gain a meaningful work experience that they can put on their resume. While CNY Works may not be the answer to solve the all issues with the youth in our community, it does provide a chance for these young men and women, regardless of socio-economic status, to get a leg up on the job market. What makes this partnership with Syracuse University special is that the youth in this program get to really experience what life is like on a college campus even if it is for just six weeks or six months. This experience is crucial for kids ages 14 to 21 because this type of environment can invigorate someone's pursuit for a higher education or dream of a career.
Student Centers and Programming Services (SCPS) has been involved with CNY Works for the last five years and we have seen some truly amazing individuals walk through our doors. We treat them like we would our college student employees. We take the time to train these kids and help them set goals for themselves. Goals that make them think about what they can do after the completion of the program and prepare them with how to use the transferable skills learned in the workforce.
When I look out my office door, I see something truly amazing. I see young students actively engaging and succeeding in the work we, as professionals, do every day. I am most proud of Terrelle, who has been with us for about four months. I've watched him grow from a shy kid to a phenomenal employee. I would never consider him or any of these kids to be "projects" but I would like to think of them as part of the reason why I love to work at SU -- developing students. Terrelle has created relationships with everyone in the office and he is even asked for by name from clients on the phone and email. No one doubts that he just another college employee with exceptional talent.
I often joke with him about how fast he does his work. When he first started, he was so eager to make an impression that no matter what task was given to him he would complete it faster than we were used to. He is receptive to the level of responsibility that we have given him and in the long-run, that is what anyone wants in an employee. I can trust him to complete a task quickly and efficiently to the point that should I expect him to make the simple mistakes so that he can learn from them, but his willingness to learn about what we do as given him all the education he needs. These educational moments are opportunities for us to teach all of our employees how to deal in the real situations because the real world is less forgiving.
Watching students like Terrelle has made me understand that my place as an Afro-Latino professional is to help the younger generation of Black and Latinos succeed both academically and professionally. The youth in this community will only succeed if we are providing the tools they need to become successful.
Related
Popular in the Community