Idea Summary: Syracuse will establish an identity as an international city by designing the blueprint by which to harness the talents and energies of New Americans, showcase diversity, and transform distressed neighborhoods. Click here to vote for this idea.
Syracuse, like other Northeastern cities, was built by immigrants who came here to do the work of the industrial age. Irish, Italian, German, Polish and other ethnic groups settled into enclaves and developed neighborhoods with remarkable character and quality of life. We in Syracuse are proud of this cultural heritage: a fact that can be seen in the banners that hang from neighborhood light poles and in the festivals that fill our public spaces. However, our cultural identity is evolving. Today, Syracuse continues to welcome immigrants and refugees from dozens of countries around the world who are bringing a new vitality to our historic immigrant neighborhoods. Unfortunately, our foreign born community also struggles at a disproportionate rate - with over 50% living in poverty. Yet New Americans often thrive when given tools and opportunities while their children commonly excel in city schools. Translating this potential into a force for long-term change is a defining challenge for our city in the years to come.
I believe that for Syracuse to continue our emergence as a thriving city in the 21st century, we must reestablish our reputation as one the most welcoming and opportunity-rich cities for New Americans in the United States. We need to empower our current and future generations of New Americans to grow the economy and reshape the city's brand. This requires us to do better at fostering prosperity among diverse residents, but beyond that, we need to help New Americans invest in the city and make it their own.
World Market Square, Syracuse's proposed innovation for the Mayors Challenge, seeks to cultivate this dynamic, starting with our "Northside" neighborhood - an historic gateway for New Americans. The Northside, like other American urban neighborhoods, is in the early stages of revitalization. Rather than deferring to the forces of gentrification, imagine what would happen if we harnessed the energy of the neighborhood's residents and unleashed it into the neighborhood. In developing World Market Square, we will transform a vacant intersection into a hub of opportunity for Northside residents and a unique cultural destination for the broader Syracuse community.
The Square's anchor will be The Marketplace - a large indoor commercial space, featuring local products with a global influence, which will employ residents and leverage their native skills and creativity. This space will be enhanced by a resource center and a plaza will serve as a community gathering place. More than just physical places, these spaces will be animated by people and unique programming that fosters community vitality. World Market Square will offer Northside residents a comprehensive set of programs in workforce development, entrepreneurial training, and community leadership.
These programs will be aligned with resources that offer program graduates incentives to invest in the Northside, whether that means opening a business, buying a home, or taking on a leadership role within the neighborhood. World Market Square will also offer "cultural exchange programs," ranging from classes in foreign languages, ethnic dance, and cooking, to a soccer program that can connect an array of Northside cultures with youth from throughout the metro area, to cultural festivals that will draw diverse crowds.
This combination of programs within the Square will generate economic activity and attract investment to the Northside, while empowering Northside residents to translate new resources into economic opportunities. The Square will be the epicenter for a grassroots revitalization process that leverages neighborhood assets to restore vitality to a once-great urban district.
Our innovation is predicated on an underlying belief that our New American residents are not problems to be minimized, nor clients to be served, but assets to empower. We are harnessing the potential of immigrants and refugees - investing in both people and place - collectively empowering New Americans to transform their own lives, while simultaneously transforming our city.
The World Market Square can be a blueprint for other neighborhoods in Syracuse and throughout the country, and we hope you share in our excitement.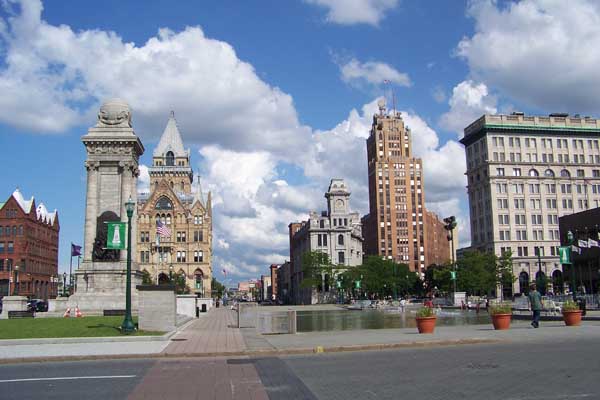 This post is an entry in the Mayors Challenge Fan Favorite Selection, a partnership between The Huffington Post and Bloomberg Philanthropies that allows readers to vote on their favorite idea among the 20 Mayors Challenge finalists. The Mayors Challenge is a competition to inspire American cities to generate innovative ideas that solve major challenges and improve city life. To view the ideas from the 20 finalists, click the grid below -- and then vote for your favorite here! And follow the conversation on Twitter with hashtag #MayorsChallenge.
Watch videos and view posts from the other
Bloomberg Philanthropies' Mayors Challenge finalists:
Calling all HuffPost superfans!
Sign up for membership to become a founding member and help shape HuffPost's next chapter