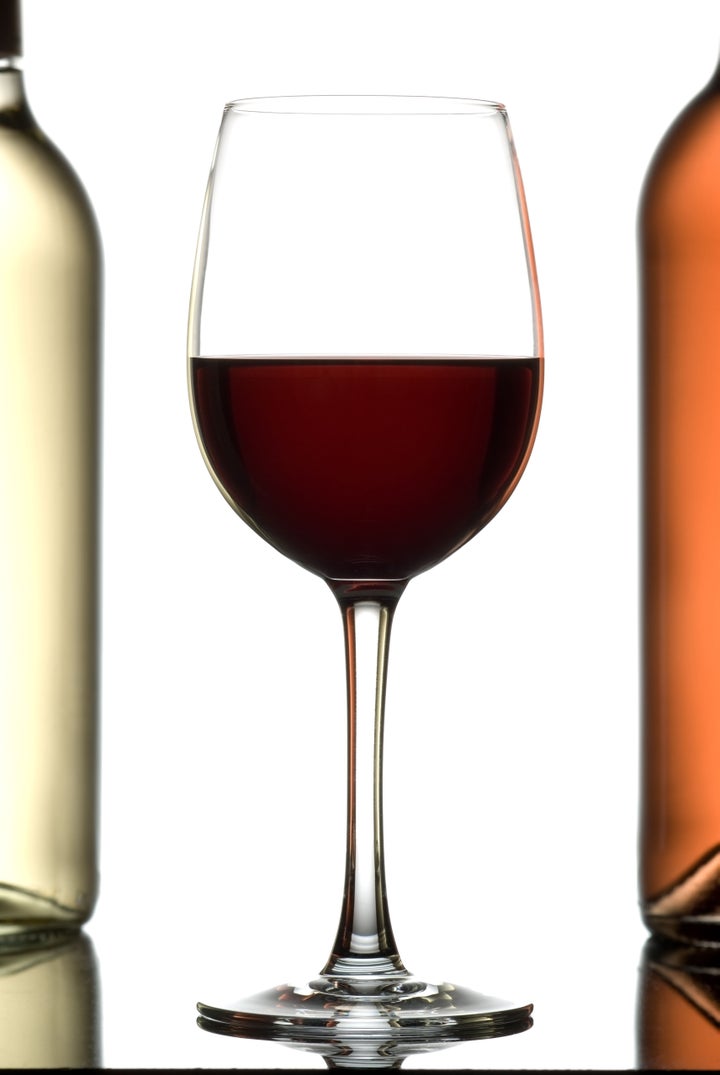 Syrah is a black grape that, unlike Pinot Noir, is relatively easy to grow and to make great wines from. Unfortunately, while it is a grape that is popular with winemakers, and there are many very well made and reasonably priced bottlings on the market, it has yet to gain much respect among U.S. consumers.
The standard joke in the wine business the past couple years has been, "What's the difference between syphilis and Syrah? You can get rid of a case of syphilis." I believe the lack of consumer acceptance in this country has a lot to do with the different styles of Syrah, and the fact that consumers here experienced mainly the jammy, high alcohol style before they got to try more profound, complex and savory versions. As a result, many seem to have tuned out on the grape entirely without giving other styles of Syrah-based wine a chance.
Syrah is the great grape of France's Northern Rhone region, producing complex, powerful and long aging wines on the steep slopes of its Hermitage, Côte-Rôtie and Cornas appellations. It originated in this part of the world, probably centuries ago, as the result of a natural crossing between two obscure grapes -- the black grape Dureza and the white grape Mondeuse Blanc.
Its success in the Northern Rhone and the fact that it is relatively easy to grow led to Syrah being widely planted in the Southern Rhone and other winegrowing regions of Southern France starting in the mid-'70s. It has long been the most widely planted black grape in Australia, where it is known as "Shiraz." It has also become a major black grape in Washington State, South Africa and Argentina. As a result, it is estimated that Syrah is now the world's seventh most planted grape.
California was slow to get on the Syrah bandwagon, starting only in the early 1990s. The number of Syrah vines planted quickly skyrocketed after that, however, going from around 800 acres in 1992 to over 19,000 by 2010.
Syrah is practically Pinot Noir's opposite. Where Pinot prefers cooler climates and is hard to grow, Syrah likes somewhat warmer conditions and is a hardy grape that is much less susceptible than Pinot to diseases and rot. Unlike Pinot's relatively low amounts of coloring material and tannin, Syrah is full of anthocyanins, producing dark purple and tannic wines. Syrah also very much benefits from whole cluster pressing, or stem inclusion, whereas delicate Pinot fruit can often be obscured and overwhelmed by more than a little bit of stem inclusion. And while Pinot Noir is celebrated in an endless array of festivals and events, there is no event in this hemisphere solely devoted to Syrah.
Yes, Syrah grown in very warm climates and allowed to get quite ripe can produce jammy, chocolaty, blueberry and black fruit flavored, high alcohol wines. There's a market for that, but very inexpensive Shirazes from Australia--we're talking brands like Yellow Tail and Rosemount--have saturated the demand for that kind of wine. They're also not at all food friendly.

Syrah grown in cooler locations--like Edna Valley, the Sonoma Coast and Mt. Veeder in California; the Margaret River and Adelaide Hills regions of Australia; and Washington State--reminds me a lot more of Syrah from the Northern Rhone. These wines show white and black pepper, savory flavors like olive and green herbs, along with tart black fruits, berries and good acidity. They also tend to age very well, eventually showing such delicious mature flavors as bacon fat and beef brisket.
I, for one, think it's high time that Syrah got some love. Frankly, consumers would get a lot more value -- wines of more interest and complexity -- if they plunked down $25 or $35 for a Syrah than the average Cabernet. The wines tend to go with the same kinds of foods -- grilled meats, game, beef stews, barbecue -- and will satisfy those looking for big, serious, hearty wines.
The world's greatest Syrahs -- Chave's Hermitage, Guigal's Côte Rôtie bottlings -- often run hundreds of dollars. One of the relative bargains among great Syrah from the Rhone are the complex and delicious wines made by Thierry Allemand in Cornas, which go for $60 to $80. Australia also makes some truly great Syrahs/Shirazes, such as Torbreck's Run Rig and Penfold's Grange, but these are hard to find and very pricey. Washington State's best Syrahs are very much in demand in that state, with bottlings from Cayuse being sought after by collectors around the country.
For much less money, savvy shoppers can get world-class Syrah from California producers. Among the best are wines from Arnot-Roberts, Bedrock, Cabot, Copain, Peay and Qupé. Syrahs from these producers range in price from $25 to $50. One of my favorites, year after year, is the great Mt. Veeder Syrah from Lagier-Meredith, which sells for less than $50.
If you have never tried Syrah, you owe it to yourself. If you previously gave up on Syrah/Shiraz because it was jammy and high in alcohol, try some of the producers listed above. Syrah really is a world class grape and there are lots of outstanding versions of it around.
Calling all HuffPost superfans!
Sign up for membership to become a founding member and help shape HuffPost's next chapter