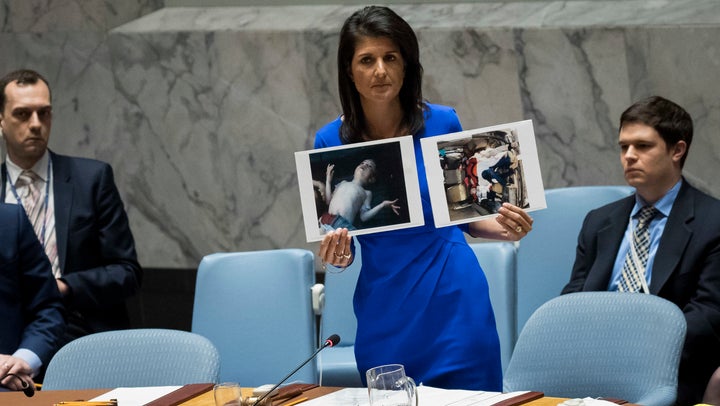 UNITED NATIONS – With almost every UN Security Council member calling for an investigation of Syria's attack in Idlib province, it is doubtful the results, no matter how convincing, will result in accountability for Damascus—at least in the Council.
Russian President Vladimir Putin called on Wednesday for a UN investigation in The Hague of the chemical attacks, said to be a nerve gas. This has already been announced, although Moscow has questioned the impartiality of the body that will conduct the probe.
After the U.S. bombing of Syrian airfields, Bolivia called for a meeting of the 15-member Council, saying it should be closed to the public. But U.S. Ambassador Nikki Haley, this month's Council president — who is often the only clear voice of American foreign policy — insisted it be public so defenders of attacks could be heard.
To date every report that chastises Syria for alleged war crimes is criticized by Russia as not being authentic enough, of needing further study or of being influenced by the West.
After chastising the British ambassador for a lack of respect and jumping to conclusions, Vladimir Safronkov, Russia's deputy UN ambassador, cast doubt on the impartiality of the Organization for the Prohibition of Chemical Weapons (OPCW) and its Joint Investigative Mechanism (JIM).
The OPCW, based in The Hague, said it was investigating. Safronkov said this body listened to NGOs (non-governmental organizations) of "doubtful reputation" and used experts that opposed Damascus. (The JIM panel is from Argentina, Romania and Germany)
Last year the JIM concluded there was "sufficient" information to blame the Syrian government for dropping chlorine-filled bombs on three occasions in 2014 and 2015. The Council was unable to take any action. Russia, and at times, China have used their veto power seven times on Syrian issues.
That leaves the Security Council, the most powerful body in the United Nations, with few alternatives.
But the 193-member General Assembly adopted resolutions to take some action, albeit the results will take time. Ambassador Christian Wenaweser of Liechtenstein, the main leader of the move with strong support from Canada and others, backs a "mechanism" that will gather information on Syrian atrocities from executions to deliberate starvation to unleashing lethal barrel bombs.
"It will interact with NGOs and others collecting a lot of material documenting crimes in Syria. It will develop case files on individuals who can be held criminally accountable on the basis of that evidence," Wenaweser told a group of reporters.
But he said it was not clear at this point in which court or tribunal criminal prosecutions could take place, although states could use the information for a persona non grata list.
Since 2011, more than 400,000 Syrians have been killed, about 5 million people have fled the country and more than 6 million are displaced from their homes.
The World Health Organization reported that 84 people died in the chemical weapons attack so far and another 546 were seriously injured. Turkey, which was treating some of the victims, said they were poisoned by sarin, a lethal nerve gas.
What they said at the meeting
At Friday's meeting, chaired most nations did not comment positively about the U.S. air strikes (which did not cripple the facility). For example, Sweden and Uruguay said unilateral action violated the U.N. Charter. France, Britain, Italy and Japan spoke favorably about the strikes.
Others, like Egypt, said Russia and the United States should put more efforts towards a political settlement. There has been a long-running process in Geneva for negotiating an end to the war and forming a transitional government in an effort to put Humpty Dumpty together again. But the talks have been marked by fits and starts.
Haley on Russia and Assad
Haley has often criticized Russia on the Ukraine and Assad on Syria. Last Wednesday she showed pictures of the victims in Idlib (see above), which Russia's Safronkov called a cynical display.
"Assad did this because he thought he could get away with it. He thought he could get away with it because he knew Russia would have his back. That changed last night," she said. "The United States took a very measured step. We are prepared to do more, but we hope that will not be necessary."
In answer to questions at an April 3 news conference, Haley said she consulted before she spoke with heads of the National Security Council, the Defense Department and Homeland Security, among others, making it clear she was not free-lancing.
Russia has said that the gas attack was caused by rebel chemical weapons stocks inadvertently released by a Syrian government air strike. Mounzer Mounzer, Syria's deputy ambassador, denied Damascus had used chemical weapons and accused the United States of unauthorized aggression.
But the contention that rebels had a depot of the dangerous nerve gas was quickly disproved, not just by the United States but a reporter from The Guardian who examined a warehouse and silos directly next to where the missile had landed. (A second strike hit the hospital where the injured were treated)
"He found nothing but an abandoned space covered in dust and half-destroyed silos reeking of leftover grain and animal manure," The Guardian said.
REAL LIFE. REAL NEWS. REAL VOICES.
Help us tell more of the stories that matter from voices that too often remain unheard.
BEFORE YOU GO