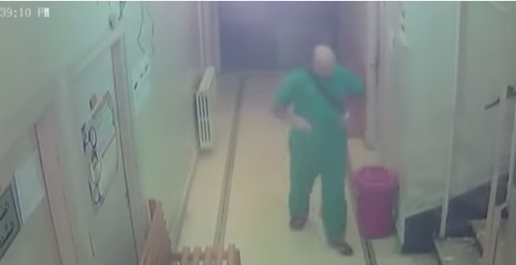 Airstrikes rocked a hospital in a rebel-held part of Aleppo, Syria, last Wednesday, killing at least 27 people, including three children and six staff members. British broadcaster Channel 4 News on Saturday published to YouTube a video of closed-circuit television footage documenting the attack.
In the video (below), pediatrician Dr. Muhammad Waseem Maaz prepares to enter the al Quds Hospital's emergency unit to begin his night shift, dressed in scrubs with a bag slung across his body. The time stamp on the video is marked 8:41 p.m. 
At 8:42 p.m., everything goes dark.
Another piece of footage with the same time stamp shows a road being pummeled by airstrikes. Grainy footage toward the end of the video appears to show a woman carrying a baby out of the rubble after the disaster.
Maaz, who friends and colleagues described as Aleppo's "most qualified" pediatrician and "one of the only ones left in this hell," was killed in the airstrikes. The 36-year-old doctor had stayed in Aleppo to take care of the city's babies, and had been waiting for the Syrian war to end to get married, a surgeon in Aleppo told BBC World Tonight.
As a result of the airstrikes, there are now six doctors left in the hospital, where eight doctors and 28 nurses had worked full time, Miskilda Zancada, the head of Doctors Without Borders' Syria mission, told Agence France-Presse.
To date, almost 730 medical personnel have been killed in Syria since the beginning of the war, according to nonprofit Physicians for Human Rights. Over 680 were killed by Syrian or Russian government forces, the NGO noted.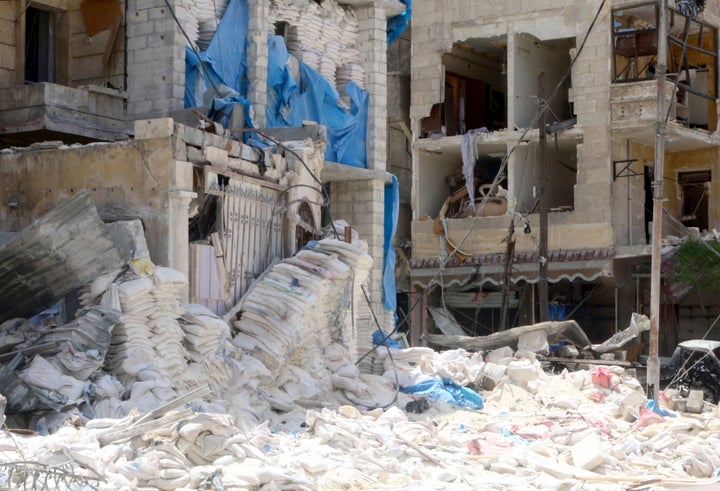 Aleppo, Syria's largest city in terms of population, has been one of the hardest hit areas in the Syrian war. Government forces and rebels have been vying for control in parts of the city since 2012.
The country saw a relative calm after government forces and some rebel groups agreed to a U.S. and Russia-brokered cease-fire on Feb. 27, but a new wave of violence came in recent weeks as some groups amped up their attacks once again, particularly in Aleppo. Almost 250 people have died as a result of fighting in the city last week alone, Reuters reported. About 30 airstrikes hit rebel-held parts of Aleppo last Saturday, the wire agency added.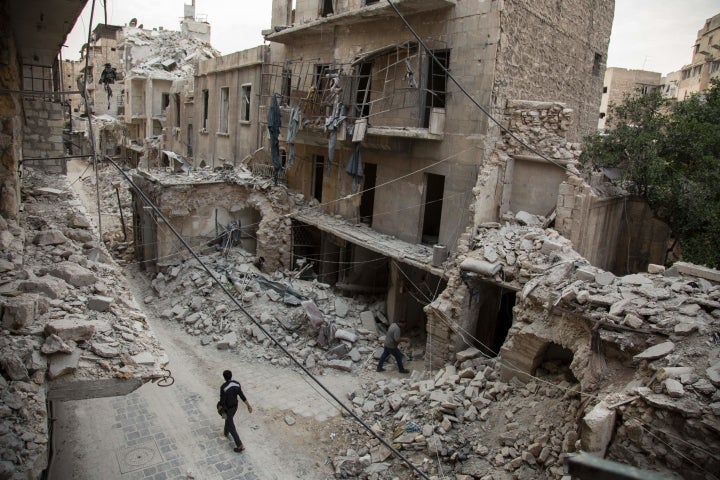 U.S. Secretary of State John Kerry arrived in Geneva on Sunday to join diplomats in a bid to resuscitate the Syria cease-fire after Staffan de Mistura, the United Nations envoy to Syria, said the pact was just "barely" alive.
Some 470,000 people died as a result of the Syrian war by the end of 2015, according to nonprofit Syrian Center for Policy Research. More conservative statistics from the United Nations put the number at 250,000 earlier that year.
Read more:
Calling all HuffPost superfans!
Sign up for membership to become a founding member and help shape HuffPost's next chapter
BEFORE YOU GO
PHOTO GALLERY
Inside Syria's War