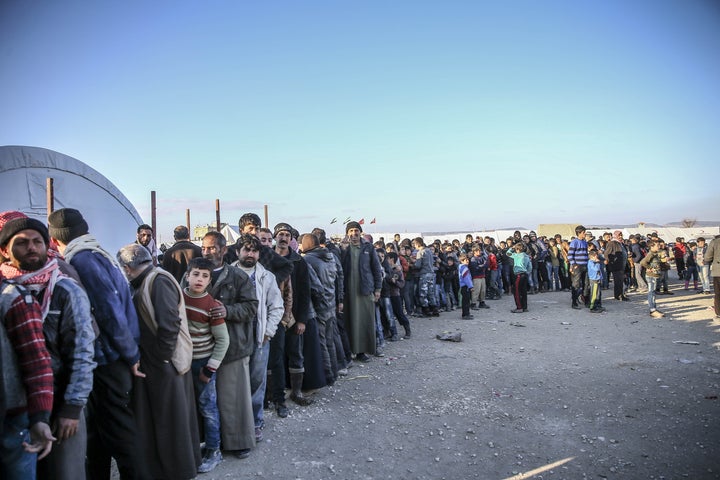 The Russian-supported onslaught on the city of Aleppo and surrounding countryside has forced more than 50,000 people to flee their homes and head north to the Turkish border. But as the border remains closed and the weather gets colder, Syria's displaced are stranded with nowhere to go.
Pro-government forces backed by heavy Russian airstrikes have forced tens of thousands to flee their towns and villages in northern Aleppo and head towards the Turkish border, fearing an imminent government siege on the city and its rural surroundings. But Turkish reluctance to let in more refugees has left more than 50,000 people stranded along its border.
Over the past week, Syrian troops and allied militia forces have taken control of a number of villages and towns across northern Aleppo, with the initial aim of breaking a three-year siege on the Shiite towns of Nubul and Zahra, encircling the rebel-held areas of Syria's northernmost city in the process.
The Syrian army and its allied militias have cut supply routes to the city, severing Aleppo from its northern rural areas, and isolating villages from each other. The offensive, backed by heavy Russian air strikes, has killed more than 500 people since it began about two weeks ago.
Government troops have surrounded the villages of Kafar Naya, Misqan, Ihris, and Kafar Nasih, placing them under siege and forcing people in neighboring villages to abandon their homes and head toward the Turkish border.
Thousands of people continue to arrive to the Bab al-Salameh border crossing every day, but the Turkish authorities have refused to let any of the displaced Syrians – barring extreme medical cases – to pass through into Turkish territory, instead focusing their efforts on cross-border relief.
"The fighting is putting enormous pressure on civilians. The temperatures are extremely low and, without an adequate supply of food, water and shelter, displaced people are trying to survive in very precarious conditions," said Marianne Gasser, head of the International Committee of the Red Cross (ICRC) in Syria, who is currently stationed in Aleppo.
"The situation is extremely difficult for tens of thousands of people because of the upsurge in violence. The situation was already desperate for many people before this latest violence," she said.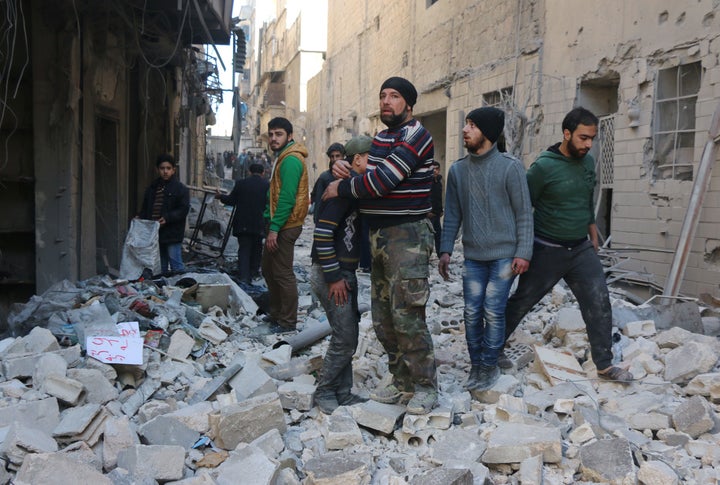 Northern Aleppo has, for much of the past three years, been a place of shelter for Syria's displaced, due to its proximity to the Turkish border. It is partly due to the area's increased population that the latest Russian-backed government push has displaced so many people.
The Turkish charity group Humanitarian Relief Foundation (IHH), the only Turkish NGO operating across the border in Syria, told Syria Deeply it has set up large community tents in 18 displacement camps, most of which are between three to six miles from the Turkish border.
"We've set up two camps near the Bab al-Salameh border crossing and are working on setting up others," said IHH spokesman Mustafa Ozbek.
While IHH has installed hundreds of tents to protect people from the cold winter weather, residents said the charity simply can't keep up with the number of displaced arriving on a daily basis, and that many are sleeping on the streets or in the surrounding farmlands.
"Tens of new families come to the area every day. The Turkish authorities refuse to open their doors to those who have fled the shelling and the siege. Every day, people protest here in an attempt to pressure the Turkish authorities to open the border crossings, but the protests have all gone in vain," said Mumtaz Abu Mohammad, a media activist from Azaz.
"The situation here is miserable. People sleep in the streets. Last Monday, a man in his forties froze to death. Every day, IHH sends more tents, but there are too many people. The situation calls for urgent international intervention. One relief organization will not be able to cover the needs of all of these people."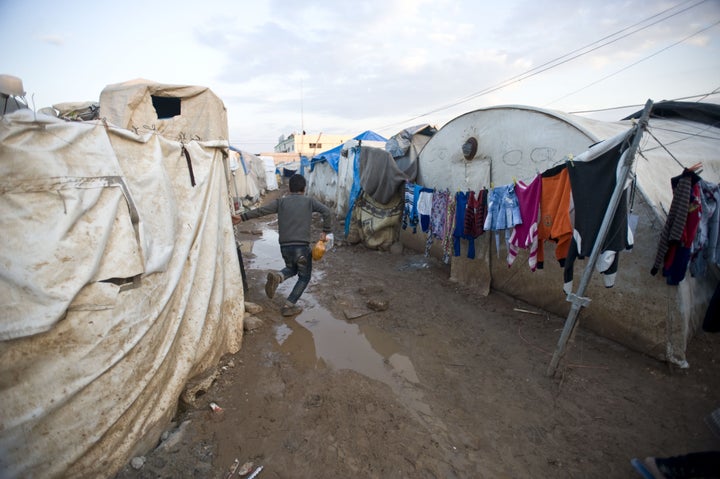 Um Mohammad fled from the village of Hardtin, north of Aleppo, one of the many villages recently taken over by pro-government forces. "We've been here for a week, without food, water or restrooms. Our children are freezing to death. The tent we live in has more than 50 people living in it. How do we continue in this situation?" she said, surrounded by her five children, bundled in jackets and blankets outside a communal tent.
"We have been begging the Turkish government and [President] Erdogan to open the borders for us, but no one cares. We do not want food and tents. We want to live in safety, like normal people."
While displaced residents are glad to escape Russian and government air raids, the humanitarian situation at the border is steadily worsening – there are no toilet facilities, there is little food, and there are no heaters to protect them from the cold. Residents said that while the IHH tents shield them from the rain, they do little to block out the freezing winter temperatures.
Aisha, 20, arrived to the border camps at the beginning of the week after fleeing from her home village of Ratyan ahead of a government takeover of the area.
"If we had not come here, we would have been killed. Everyone from the villages of northern, rural Aleppo fled their homes," she said. "The regime would have killed them all if they had not left."
But although the camp may be safer than home, the conditions aren't easy. "We feel that we are going to freeze to death every night, but there is nothing that we can do," Aisha said.
"Syrians have opened their homes to Iraqi and Lebanese refugees [in the past], but everybody has abandoned us now. We never imagined that the Turkish government would close its doors in our faces."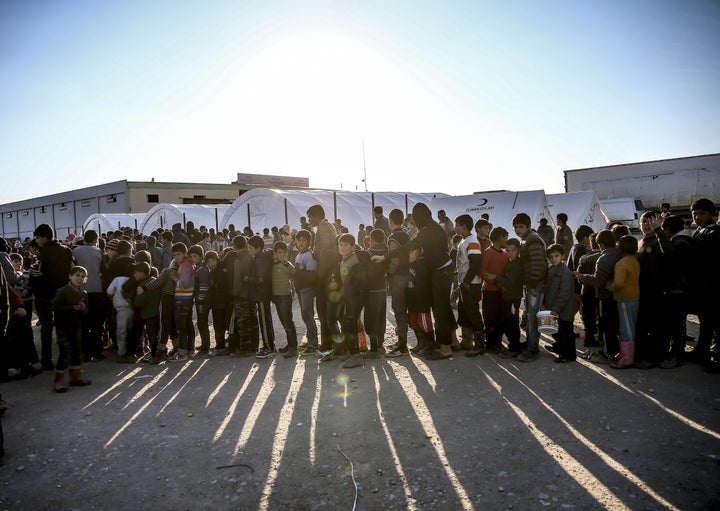 The Kurdish People's Protection Units [YPG], which controls the largely Kurdish area of Afrin and its rural areas, have an agreement with the opposition factions to transport needy people to Afrin, where they will be provided with shelters and tents.
According to the British-based Syrian Observatory for Human Rights, some 2,500 families have passed through Afrin and on to Idlib or other rebel-held areas in the north of the country since the offensive started earlier this month.
"The YPG allows no more than six buses of displaced people to pass through the area of Afrin every day," said activist Mumtaz Abu Mohammad. "Our estimation is that 300 people are passing through the city every day, after waiting for hours at the city's checkpoint, waiting for the search and security procedures to end."
In the rebel-held areas of Aleppo city and the surrounding rural areas, some 320,000 residents worry about of an impending government siege. Food and fuel prices have soared over the past two weeks, after pro-government forces cut off access to the Turkish border via the main road, hindering any movement by rebel forces or relief organizations attempting to deliver goods to the wartorn city.
"The situation is getting worse every day," said Abu Mohammad, 61, who has remained behind in Aleppo to look after his home. "First we were scared that they might bomb us, then we were scared that we would have no water or electricity, and now we fear a siege."
This article originally appeared on Syria Deeply. For weekly updates about the war in Syria, you can sign up to the SyriaDeeply email list.
Read more on Syria's refugee crisis
If History Is A Lesson, Aleppo Faces A Grim Future Under Siege
Syrian War Has Killed Or Wounded More People Than Entire Populations Of These 15 States
Record Number Of Refugees Brave Deadly Winter And Clampdown In Europe
Haunted By War, Many Syrian Kids Have No Psychological Support. This Group Wants To Change That.
Also on HuffPost: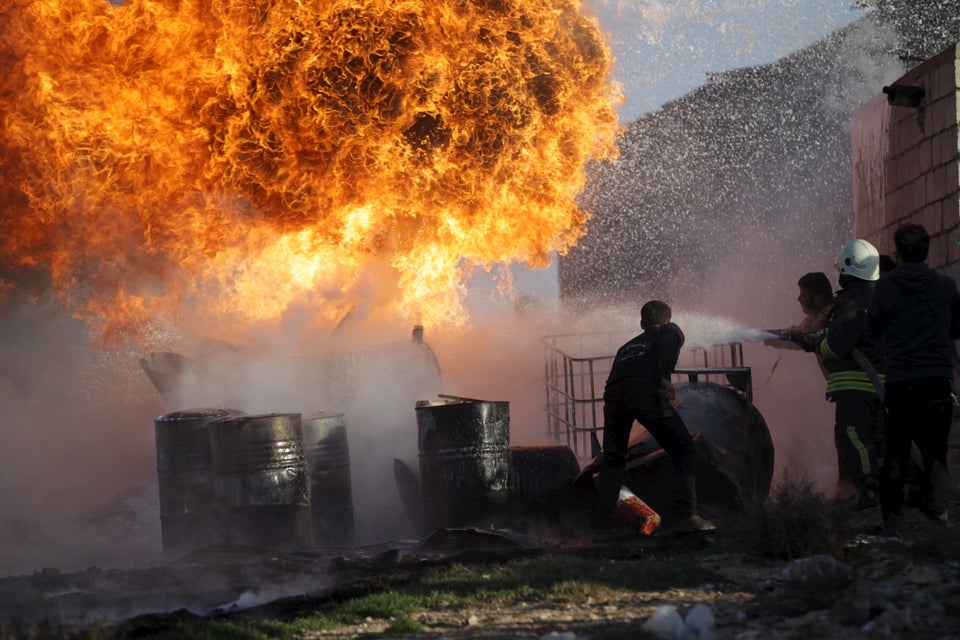 Inside Syria's War
Popular in the Community