Syria's Ministry of Tourism has churned out a number of promotional videos in recent weeks, encouraging foreigners to visit places like Aleppo ― one of the most dangerous cities in the world today.
The ancient metropolis has a rich cultural history, stunning medieval architecture, a temperate climate and even holds a spot on the United Nations' list of World Heritage sites. It was also described as a place of "sheer terror and unbearable suffering" in a 2015 report by Amnesty International, aptly titled "Death Everywhere."
Ripped apart by Syrian insurgents, President Bashar Assad's authoritarian regime and its Russian allies, Aleppo has descended into a violent bloodbath.
Years of relentless airstrikes and barrel bombs have left the city in ruins as the nation's civil war rages on. Hundreds of thousands of residents are being besieged by their own government and trapped in a war zone with no access to desperately needed humanitarian aid. A recent U.S.- and Russia-brokered ceasefire deteriorated within days, dashing modest hopes of a chance at lasting peace.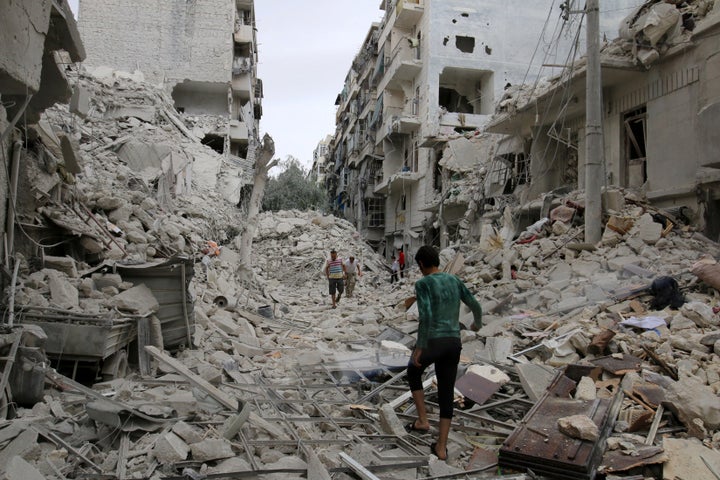 The U.S. Department of State strongly urges Americans to avoid traveling to Syria altogether, citing the risk of kidnapping, murder, bombings and chemical warfare, among other dangers.
"No part of Syria should be considered safe from violence," the advisory warns. "Due to the security situation in Syria, the U.S. government's ability to help U.S. citizens kidnapped or taken hostage is very limited."
"Syria is among the richest of the earth's countries, with a diversity of civilizations, archaeology, as well as diverse natural phenomena such as deserts, mountains, plains, the sea and rivers," the ministry boasts on its website. "Major cultural achievements were born on this land, on the hands of the efforts and experience of its inhabitants."
Syria admitted millions of tourists in the years leading up to the civil war, but their numbers quickly plummeted as tensions erupted in 2011.
The ongoing crisis has not deterred the nation's efforts to attract more visitors.
The ministry's latest video, inexplicably set to the "Game of Thrones" theme song, loops through the same undated, unverified shots of select parts of Aleppo that appear unharmed by the conflict. Another video shows the same strip of a Syrian beach over and over again from different angles.
Some experts note that this kind of propaganda is indicative of the Syrian government's efforts to exert its influence on supporters and promote a semblance of normalcy. 
Here's some very different footage of Aleppo to check out before booking your ticket:
Read More:
Calling all HuffPost superfans!
Sign up for membership to become a founding member and help shape HuffPost's next chapter
BEFORE YOU GO
PHOTO GALLERY
Aleppo, Syria