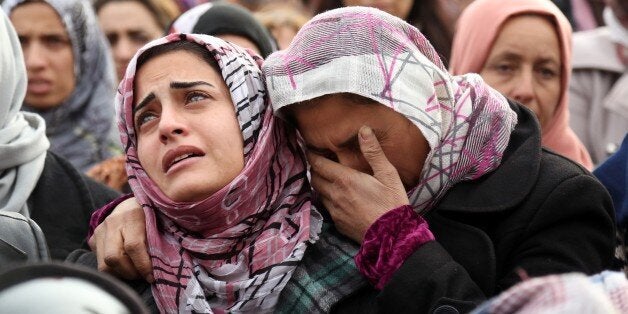 March 15, 2016 marks the fifth anniversary of the Syrian civil war, a battle that began in 2011 with scattered anti-government demonstrations and has since become a full-blown geopolitical and humanitarian crisis. So far, the conflict has mired regional and world powers in what some experts describe as a proxy war, taken more than 250,000 lives, left 13.5 million people in need of humanitarian assistance, internally displaced more than 6.5 million, forced 4.8 million into refugee life and seen the terrorist group the Islamic State rise from the ashes of Al Qaeda in Iraq to become a self-proclaimed "caliphate" that controls parts of the country.
Since the start of the crisis, numerous crimes against humanity and war crimes have been documented, including the use of nerve agents, chlorine and other toxic chemicals; indiscriminate weapons, such as barrel bombs; torture and execution; siege and the denial of assistance; and sexual violence and sex slavery. Currently, the only signs of peace are a fragile truce and fractious, stuttering peace talks that started up again on March 14. These talks will focus on stopping the violence, organizing a monitored peace and transitioning to a new government. There also will be negotiation for a possible political "out" for President Bashar al-Assad. What is not on the table is a transitional justice mechanism for the conflict's innocent victims.
While peace and post-conflict efforts are in their infant stages, the international community must begin thinking about redress for Syrian civilians when the fighting ends. The people of Syria must not feel that they are alone in their suffering, and it is incumbent on those who value the rule of law to stand up and pledge that some day justice will be done. After all, noncombatants in this conflict have endured some of the most horrific atrocities the civilized world has ever witnessed.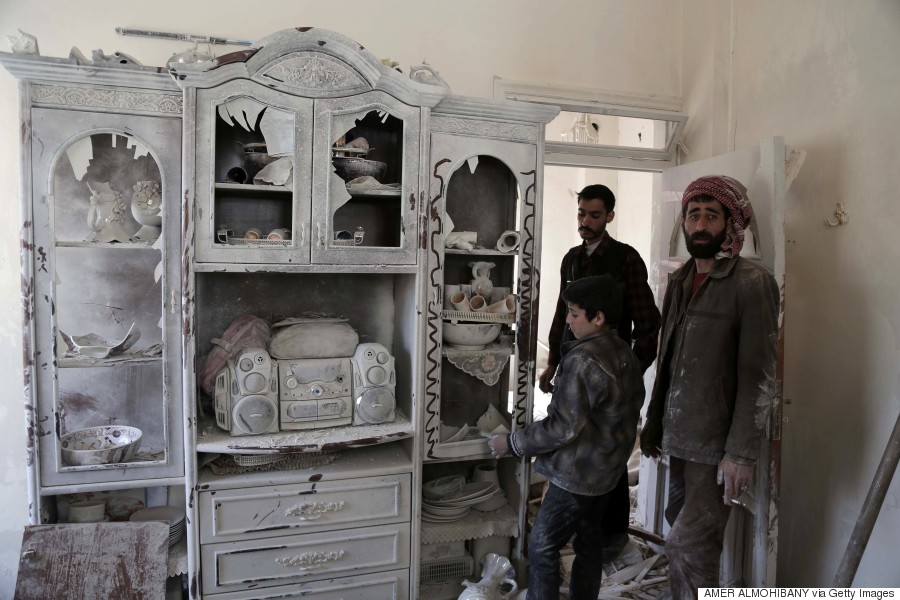 Syrians collect items in the buildings that were left behind by residents fleeing violence on February 27, 2016 in the rebel-held town of Douma. (AMER ALMOHIBANY/AFP/Getty Images)
In international law, crimes against humanity and war crimes, such as those perpetrated upon innocent Syrian people, are covered under the 1998 Rome Statute of the International Criminal Court. However, Syria is not a signatory to the Rome Statute, so the ICC has no direct jurisdiction over the country, and efforts so far by the U.N. Security Council to adopt a resolution to refer the situation to the ICC have been opposed by permanent members Russia and China.
Nevertheless, justice for Syrian victims and their families can be attained, especially if the international community reaches out to the Syrian people to understand how they view justice and what mechanism -- beyond the ICC -- could work for them.
For instance, there are four possible transitional justice mechanisms for Syria that could be organized by the U.N. outside the Security Council: a fully domestic Syrian court; an internationalized domestic court; a regional special court; or an international hybrid special court, similar to the Special Court for Sierra Leone.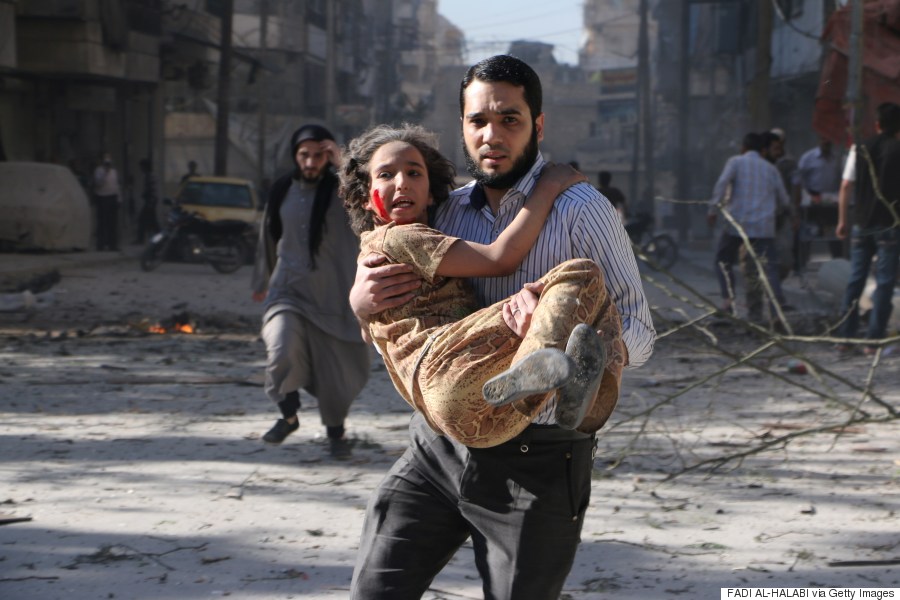 A man carries a wounded girl following a reported bombardment with explosive-packed 'barrel bombs' by Syrian gov't forces in Aleppo on April 27, 2014. (Fadi al-Halabi/AFP/Getty Images)
The Special Court for Sierra Leone was created by the U.N. for the people of Sierra Leone in 2002 after that country's civil war. SCSL -- for which I was a chief prosecutor from 2002 to 2005, indicting former President Charles Taylor, who was convicted in 2012 -- used both local and international justice mechanisms. Importantly, the special court reached out to ordinary Sierra Leoneans with town hall meetings that explained the nature and purpose of the court and why it would use representative crimes in order to seek transitional justice. At the same time, these meetings enabled ordinary people to share their stories in an unofficial form of "truth and reconciliation."
In preparation for whatever transitional justice mechanism the Syrian people choose for themselves -- and working under the maxim that "justice delayed is justice denied" -- the Syrian Accountability Project, a student-run project at Syracuse University College of Law, where I now teach, has been carefully documenting atrocities that have occurred in Syria.
In recent months, SAP has turned its attention to the issue of sex crimes because somewhere within the millions affected by the conflict, there is an indeterminate number of victims of sexual violence and rape. Recognizing the severity of the sexual violence in this conflict, and closely following the conflict's fifth anniversary, on March 24, SAP will publish a white paper called "Looking Through the Window Darkly: A Snapshot Analysis of Rape in Syria, 2011-2015." The threat of rape is so grave in Syria that many families prematurely arrange their daughters' marriages to shelter them. Rape is also a primary motivator for families to flee the country.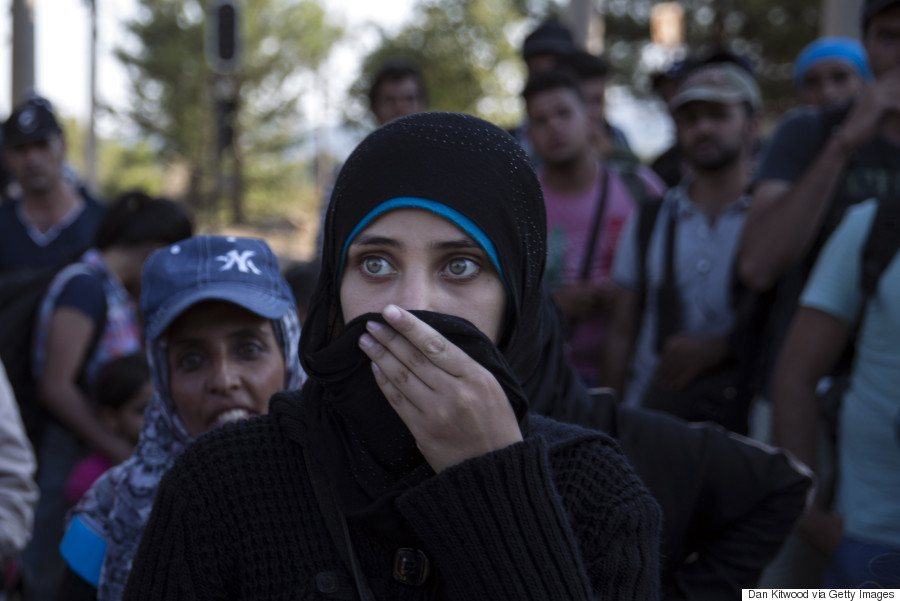 A young Syrian woman waits to cross the border with her family after waiting 20 hours on September 2, 2015 in Idomeni Greece. (Dan Kitwood/Getty Images)
Our white paper -- the first to closely analyze the extent of sexual violence -- draws on five years of documentation by SAP. Every year since 2011, Syracuse University students have diligently performed the somber task of gleaning open source documents for examples of crimes against humanity, using newspaper accounts and ground reports from NGOs close to the fighting, such as the Violation Documentation Center in Syria. The students record and describe the crime, then assign it an international or national statute which it violates, either from the Rome Statute, the Geneva Convention's Common Article III or Protocol Additional (II) and/or the Syrian Penal Code. Specific crimes they have documented include rape and sexual assault, the intentional targeting of civilians, extrajudicial execution, human shielding and attacking aid or medical personnel. It is important to note that evidence has been gathered on many parties on all sides of the conflict, including the Assad regime, the Free Syrian Army and jihadist groups.
SAP's work is of the utmost importance because one day it might be used in a Syrian special court, but only if the international community has the will to follow through on the wishes of the Syrian people for this or some other mechanism. Their work also is crucial because it shows the Syrian people that they are not forgotten and that their suffering will one day come to an end. Sometimes justice takes time, but it can and it does prevail. I know this from first-hand experience. We now hope and pray for a diplomatic breakthrough that will set Syria on the path to transition.
Molly E. White, juris doctor candidate (2016), Syracuse University College of Law, and chief registrar, Syrian Accountability Project, contributed to this article.
PHOTO GALLERY
Life As A Syrian Refugee
Calling all HuffPost superfans!
Sign up for membership to become a founding member and help shape HuffPost's next chapter